Master Mind-Body Fitness, this March!


STOTT PILATES is a Senior Partner of IDEA
Health & Fitness Association
Complete Your Studio with STOTT PILATES® Barrels!

Buy any Barrel Combo – Arc Barrel, Spine Corrector, Spine Supporter or Ladder Barrel, combined with the Complete Barrel Repertoire DVD and save an additional 25%!†


Find out more

Happy St. Patrick's Day from STOTT PILATES!

Save 20% on our green Pilates Express™ Mats, Deluxe Mats and 3 lb. Toning Balls.**


Get Details

Dear Friends,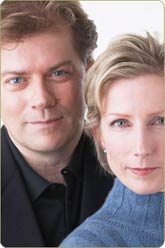 How do you know when you or your client is ready for the next level of fitness? In order to keep your routine and programming fresh, it is important to keep your mind in tune with your body to keep the connection. Whether you're working with new clients or setting up your own studio, it is clear that 'challenge' is what motivates and excites us. The endless possibilities of contemporary mind-body fitness have inspired Pilates enthusiasts to advance their training, fitness instructors to boost their income with STOTT PILATES® Certification and facility owners to offer in-demand courses and workshops to increase profits - there are a multitude of paths to choose! Despite what perks your interest, STOTT PILATES® will always be here for encouragement, guidance and overall support. Thank you for your continued dedication to Pilates and your interest in growing the mind-body fitness phenomenon!
Yours in good health,


Lindsay & Moira Merrithew
Co-founders, STOTT PILATES®
Golf + Pilates = A Hole in One
Although we can't guarantee that you'll have a "Tiger Woods" swing, by pursuing Pilates before, after and during golf season you will surely notice the benefits on and off the green. Not just golfers, but professional athletes everywhere have let their secret out – Pilates is their source of power, core strength, flexibility and mental alertness. Read about Pilates for Golf Conditioning.

Join STOTT PILATES® on
MySpace & Facebook!
If you are a Pilates instructor, studio owner or even a Pilates enthusiast that can't get enough of contemporary mind-body fitness, then you won't want to miss out on our brand-new MySpace and Facebook groups! With event updates, special announcements on upcoming sales and exclusive Facebook and MySpace giveaways, there's so much to benefit from by joining. Have you joined our groups yet?

Our first ten MySpace friends will receive a free copy of the

Power Paced Pilates

DVD.

Join MySpace today!

Bits n' Bites:


The 2009 STOTT PILATES® Tour
Coming soon to a city near you! We are travelling the world to share the best of Pilates with you. With an exciting line-up of workshops lead by world-renowned Instructor Trainers - don't miss out on this unique opportunity to advance your skills on your home turf!
It's official - STOTT PILATES and Can-Fit-Pro broke the Guinness World Record for the World's Largest Pilates Class. Congratulations to everyone who was involved.
STOTT PILATES is listed on Wikipedia! Learn more about our co-founders, company history, the Five Basic Principles and more.
Share Your Success Stories
Last Chance to Enter the Studio Photo Contest– Only One Month Left!
Be a part of STOTT PILATES' first-ever photo contest – the winner will be announced April 2009! All you have to do is submit a few photos of your studio and a brief description explaining what makes your facility stand apart from the rest, and you could be the lucky winner of a Group SPX Max™ Reformer†* Valued at $2,495 USD.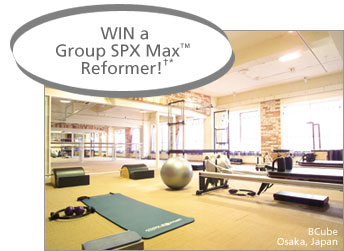 We will also highlight our favorite studio entries online – a great tool for promotional use! You've got nothing to lose – enter today!
Must haves:
At least one high resolution photo (300dpi is ideal).
A brief statement explaining the uniqueness of your facility, and why you think you should win.
Email your submission to stories@stottpilates.com.
Contest closes March 31, 2009 midnight EST.
†* Shipping not included.
Read a selection of testimonials!
Featured DVDs and New Products
Announcing the Top Selling DVDs of 2008
Whether training for your STOTT PILATES® Certification, or working towards the next level of fitness – there is a DVD in our library to help you achieve your goals. Serving as educational tools and/or your own personal fitness coach, DVDs are a great way to boost your programming knowledge as well as your strength and flexibility.
Click on a DVD title below for more information and to watch exclusive clips.
Plus, read the press release Best Sellers & New E–Store!.
New ISP Support Materials
STOTT PILATES is introducing the new Injuries & Special Populations Support Material. This supplementary manual is ideal for anyone who works with clients in a recreational, athletic, rehabilitation, personal or group training environment and is an excellent compliment to the ISP Resource Guide. Based on the slide presentation used in the course, full-colour diagrams and point-form information make the Support Material easy to use and reference. The book details structural anatomy, muscle classifications, integrated model of motor control and optimal function and dysfunction for specific areas of the body including the lumbo-pelvic region, hip, knee, cervical spine and shoulder. A wide range of musculo-skeletal injuries and conditions and special populations including pregnancy, breast cancer, osteoporosis and diabetes are covered providing a breakdown of exercise guidelines and examples using STOTT PILATES equipment and props.

The ISP Support Material will be ready to ship in early April, you can pre-order your copy today. Contact one of our representatives at 416–482–4050 ext. 312 and get in on the action early!
Job Opportunities

STOTT PILATES Job Board
Visit our online Job Board for a list of Pilates instructor positions worldwide.
Facilities looking for STOTT PILATES instructors may fill out a Job Board submission form.

Toronto Head Office Careers
If you're passionate about Pilates and you're looking for a rewarding, fun and fast-paced career, check out available positions.
Education — Where to Train
For more information on STOTT PILATES courses and workshops, please contact our Education Department or call 800–910–0001 ext. 261. STOTT PILATES training and certification courses and workshops are available at Licensed Training Centers and various Hosting Sites throughout the world.



What's New at Our Corporate Training Centers?

TORONTO, ONTARIO

Interested in customizing workouts for clients with injuries and/or special needs? Learn all of this and more from STOTT PILATES® Master Instructor Trainer Melanie Byford-Young!

TRIBECA, NEW YORK

Can't find the time in your week to obtain STOTT PILATES Certification?

DENVER, COLORADO

Take part in a weekend of new STOTT PILATES workshops on May 1-3, 2009 at the Colorado Athletic Club - Inverness.

Licensed Training Centers & Hosting Sites

Click here for locations closest to you and links to more info, including times and dates.

Spotlight FAQ
Q. Can I submit a non-STOTT PILATES anatomy or exercise science workshop for STOTT PILATES approval and CECs?
Trade Shows
STOTT PILATES May Be In Your Neighborhood Next!
IHRSA is one of the largest fitness events of the year! Visit us at booth 518 in San Francisco, CA on March 16-19 for the 28th Annual International Convention & Trade Show. Our team of experts will be available for FREE business consulting for ventures big and small. Plus, our brand-new bundles will be available at 25% off – you could save up to $1600!

Stimulate mind and body with STOTT PILATES at the Yoga Pilates Conference & Tradeshow, April 2-5 in Toronto, Ontario, Canada! Visit us at booth 300 for great show specials on DVDs and equipment, including brand-new Reformer Bundles. Plus, enter for your chance to win five free private classes at our Toronto Corporate Training Center.

Mark your calendars for Body Mind Spirit on April 15-19 in Santa, CA! Not only are we offering high-caliber training opportunities, but great giveaways and demo equipment sales too. Studio owners can also find out how to increase their ROI by discussing business opportunities with our expert staff.

Don't miss FIBO 2009 on April 23-26 in Essen, Germany. You'll find us in Hall 1, booth C24 to help satisfy all of your Pilates needs. With fantastic offers on Reformer Bundles, on-site business consulting from our expert Full Solutions™ team and innovative programming options – you won't want to miss this event!

Last but not least, the STOTT PILATES European Symposium is coming up on April 25 & 26 at the Sheraton Essen in Germany. These two days are jam-packed with cutting-edge workshops lead by world-renowned STOTT PILATES Master Instructor Trainers and a whole lot more!


View our complete list of events for 2009.
Sidebend

Targets internal and external obliques to laterally flex spine and scapular stabilizers

STARTING POSITION

Begin seated one hip, facing the side, with your pelvis and spine in neutral. Ensure both knees are flexed and your top leg is laterally rotated, foot flat on the Mat and slightly forward of your sit-bones. Your bottom leg should be resting on the Mat with foot behind the top foot. Support your torso with one hand in line with your feet. Your other arm should be extended with the palm up, resting on your knee.

EXERCISE

INHALE

Stabilize your supporting shoulder, and left pelvis towards the ceiling, while laterally flexing torso, extending your knees and connecting inner thighs to create a bow shape between hands and feet. Simultaneously, reach your free arm overhead. Be sure to keep eyes focused straight ahead.


EXHALE

Flex knees and lower your pelvis back down to the Mat.
Return to starting position and lower your free arm down to the knee.

Complete 3-5 repetitions on each side.

This exercise is excerpted from the Comprehensive Matwork Manual.


Find more exercises in the STOTT PILATES teaching manual library comprised of 10 titles that document the entire STOTT PILATES exercise repertoire. Three titles are also available in Japanese, French and Spanish.

Remember to start your workout with a warm-up routine.


CAUTION: Please note the following important cautions before attempting STOTT PILATES exercises.

Consult with your doctor before beginning this or any other exercise program, as not all exercises are suitable for everyone. This or any other exercise program may result in injury.

If you experience pain or discomfort during exercise, stop immediately and consult your doctor. To reduce risk of injury, never force or strain during exercise.

STOTT PILATES videos and manuals are sold without warranties or guarantees of any kind so the creators, producers, performers, participants and distributors cannot guarantee their suitability and safety for each individual.

Any liability, loss or damage in conjunction with any use of this program, including but not limited to any liability, loss or damage resulting from the performance of the exercises demonstrated, or the advice and information given here is expressly disclaimed.
Past Newsletters
Unsubscribe:
If you wish to be removed from our mailing list, please click here.

Privacy Statement:
At STOTT PILATES, we are committed to protecting your privacy. We use information we collect to process orders and inform you of STOTT PILATES products and services. We will occasionally make our customer lists available to official STOTT PILATES Education Partners. If you would prefer that we not pass your name on, please click here

---