Conference Details
Yoga Pilates Conference & Trade Show

STOTT PILATES® is the official equipment supplier of the Pilates conference!

Experience our innovative, high-performance equipment at the show as featured in all Reformer-based sessions.

Trade Show Hours

Friday, April 3 | 10am-8pm
Saturday, April 4 | 10am-8pm
Sunday, April 5 | 10am-6pm

Conference
Location

Metro Toronto Convention Centre
255 Front Street M5V 2W6
North Building Hall C

Register Online
click here
FREE Tradeshow Pass
click here

Need Accommodations?
---
Enter to Win These Two Phenomenal Prizes!
Win a V2 Max Plus™ Reformer*
It's Pilates Transformed™
Not all Tower Reformers are created equal! The revolutionary V2 Max Plus Reformer is the first Pilates machine of its kind, created to support the most breakthrough Pilates programming ever. The V2 Max Plus is changing the way people do Pilates. Find out more about the V2 Max Plus Reformer. Fill out a ballot for a chance to win this one-of-a-kind Pilates machine! Contest details...

Win Five FREE Private Workouts at the Toronto Corporate Training Center!
Our peaceful, sunlit facility provides a space for certified instructors, students and clients to practice the STOTT PILATES method in an environment committed to mind-body balance. Whether you've been practicing Pilates for years or are just beginning your journey, STOTT PILATES can help you achieve your mind-body fitness goals. To win this prize (valued at $350) download a ballot and bring yours to the show!
---
World's Largest Pilates DVD Library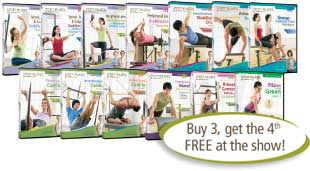 Over 120 titles in our award-winning catalogue - 51 new releases now available!
Maximize your earning potential and increase client retention by adding fresh new programming options by STOTT PILATES. Become one of the most sought-after instructors in the industry with STOTT PILATES' diverse collection encompassing everything from the fundamentals to post-rehab, sport-conditioning, prenatal, and lifestage-specific programming.
View new DVDs and exclusive clips.



Attention all conference attendees

Check your delegate bag to find an exclusive coupon for a FREE Mini Stability Ball™ when you buy the Mini Stability Ball Workout DVD.
---
Save 25% on Demo Equipment


RECEIVE OUTSTANDING SAVINGS
Purchase floor models and demo equipment at the show at remarkable savings. Quantities are limited. To reserve yours, call 416-482-4050 ext. 264 or email sales@stottpilates.com.

EQUIPMENT

REGULAR PRICE

TRADESHOW PRICE

$5,500
$4,125

$3,900

$2,925

Split Pedal Stability Chair
$1,500
$1,125

$230

$173

$15.95

$12

$43.95

$33
---
Thinking About Starting a Pilates Business?
We're Experts at Putting all the Pieces Together.


Our Full Solutions™ team, a group of seasoned fitness industry professionals, works with facilities big and small to help implement and run strong, profitable Pilates programs. We can provide a customized ROI analysis and one-on-one expert advice on everything from staffing, equipment selection and studio layout scenarios, studio operations and strategic marketing.

Build a successful Pilates business today with the help of our Full Solutions team!
---
Introducing STOTT PILATES' Reformer Bundles.
Reformer Bundles
Do you have everything you need to effectively train your clients on the Reformer? Save hundreds of dollars on our popular Reformers, now bundled with all the accessories!
Get all the details of what each Reformer Bundle includes!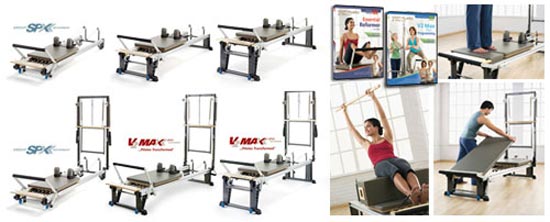 | | |
| --- | --- |
| Bundle | Bundled Price $CDN |
| SPX Max™ Reformer | $3,200 |
| Professional Reformer | $4,350 |
| Rehab Reformer | $4,825 |
| SPX Max Plus™ Reformer | $5,750 |
| V2 Max Plus™ Reformer* | $6,900 |
| V2 Max Plus Rehab Reformer | $7,350 |
Please note: Not all Reformer Bundles will be available at the show, however orders can be placed at any time. Please call equipment sales at 1-800-910-0001 ext. 264 to find out which models will be at the Yoga Pilates Conference or to pre-order yours and save!