Conference Details

IHRSA 29th Annual International Convention & Trade Show

Date

March 10-13

Trade Show Hours

Thursday, March 11 | Exercise Classes: 6:30-8:30am Trade Show: 1-6pm
Friday, March 12 | Early Morning Workouts: 6:30-8:30am Trade Show: 11am-6pm
Saturday, March 13 | Early Morning Workouts: 7:30-8:30am Trade Show: 8:30am-12pm

Conference Location

San Diego Convention Center
111 West Harbor Drive, San Diego, CA 92101


Contact IHRSA

800-228-4772

Register Online
click here
---
Want to Attend the Trade Show for FREE?
Enjoy a FREE VIP Pass for IHRSA 2010 from STOTT PILATES!
Receive a complimentary three-day IHRSA 2010 Trade Show VIP Pass, plus a special opportunity to hear Olympic rowing legend Silken Laumann, who endured a devastating training accident and went on to win a bronze medal in the 1992 Olympics. Her message is touching and inspiring!
Plus, all VIP Pass holders will enjoy complimentary admission to one educational session of their choice on Saturday, when you register online! That's "by invitation only" from STOTT PILATES!

Register online and list the sponsoring company as STOTT PILATES.
Deadline is March 15, 2009. Valued at $50. Quote Code: VIPPASS.
---
Exercise Classes

Thursday, March 11

6:30-7:30am

Total Body Toning with PJ O'Clair
A combination of two distinctive, energizing workouts, part one of this workshop uses a soft, weighted Toning Ball to sculpt and define the arms and upper body. Then get sleek and strong from head to toe with a seamless combination of Toning Ball resistance and STOTT PILATES precision using exercises adapted from the Matwork repertoire.

First twenty participants take home your 2lb. Toning Ball™ and Pilates Express™ Mat for FREE after the workout! Valued at $46.90

Friday, March 12

6:30-7:25am

Mini Stability Ball™ Workout with PJ O'Clair
Join us for an energizing workout incorporating the 12" Mini Stability Ball! Learn innovative programming options for a total-body strengthening and conditioning routine using this lightweight prop for balance and resistance. The exercises work on improving posture with a major focus on core stability and back mobility while also lengthening and strengthening the surrounding muscles. While applying the elements of the STOTT PILATES Five Basic Principles, participants learn how to add variety and fun to traditional Matwork routines.

First twenty participants take home your Mini Stability Ball™ and Pilates Express™ Mat for FREE after the workout! Valued at $43.90
---
STOTT PILATES Presents: Pilates for Everyone: Market to ALL Members
High-quality Pilates programming and equipment is available for every exerciser at every type of facility.
Date: Thursday, March 11 11am-12:30pm

The real trick is to determine how to best design and market your Pilates offerings to meet the needs of your individual membership. While most programs target the female constituent, specialized Pilates programming can be geared toward niche markets. From athletes to new moms, post-rehab exercisers to the active aging, Pilates spans every age and fitness level. This interactive session will provide you with cutting-edge marketing tools designed to attract specific target groups along with programming ideas to address all populations. You'll also get the chance to try a selection of innovative exercise options specifically designed for unique markets. Leave armed with strategies to increase Pilates participation and your bottom line.
---
Meet Our Presenters
Carol Tricoche, Executive Director, Full Solutions™
With over 17 years of experience in the fitness industry, Carol Tricoche has been influential to the success of STOTT PILATES® programs worldwide. She first joined STOTT PILATES in July 2006 as Sales Manager, Full Solutions™, and has recently been promoted to Executive Director, Full Solutions. The Full Solutions team is instrumental in the consultation and ongoing support for facilities (large and small) looking to implement a customized Pilates program. As Executive Director, Carol's role involves identifying new sales perspectives and driving business growth by working together with facilities as well as STOTT PILATES business partners; Distributors and License Training Centers. Prior to joining STOTT PILATES, Carol was the Group Exercise/Pilates Director at the Claremont Club in California for eight years where she pioneered a successful Pilates program which continues to thrive today. During her time there, Carol gained invaluable experience and expertise in implementing Pilates programs from the ground up. A Certified STOTT PILATES instructor, Carol also has certifications in Johnny G Spinning, and AFAA Certifications. Carol was also the Owner/Operator of Make It Happen Health and Fitness Personal Training Studio in Covina, California; and VP Commercial Sales for Holiday Travel. Today, Carol sits on the Board of Directors for FISA Fitness Industry Suppliers Association and is a sought-after presenter at top fitness events around the globe.
PJ O'Clair
STOTT PILATES® Master Instructor Trainer PJ O'Clair has been a leader and consultant in the fitness industry for more than 25 years. She is featured in numerous fitness videos, including over 25 titles with STOTT PILATES. PJ won the prestigious IDEA Program Director of the Year Award in 2008 and was a finalist in 2007. She is a sought-after speaker and consultant at fitness conferences and spas worldwide and has written numerous articles for industry publications. No matter where she goes, PJ takes her trademark enthusiasm and dynamic personality with her.
---
We Put all the Pieces Together…
Book an appointment at IHRSA with one of our Full Solutions™ consultants to find out how your facility can earn up to $310,000 gross yearly, and see a return on your investment of 270% in one year. Start your program for under $10,000 with the Reformer Studio Starter Package. We're experts at putting all the pieces together to deliver the right Pilates solutions for you.
We go the distance to help you succeed…
every step of the way.

To speak with a consultant today,
please email fullsolutions@stottpilates.com
or call 800‑910‑0001 ext.203

---
STOTT PILATES is Coming to Europe! April 23-25
Back by popular demand STOTT PILATES European Symposium is coming to the Sheraton Essen, Germany. Meet and train with world-renowned STOTT PILATES Master Instructor Trainers in a series of cutting-edge workshops. Any fitness professional can attend!

Learn ground-breaking programming options from leaders in the industry, featuring the V2 Max Plus Reformer, plyometrics on the new Cardio-Tramp™ and more. Plus, increase client retention with our selection of sport-tailored and lifestage-specific workshops†!
---
Exciting New Equipment!
Don't miss the chance to try out the latest plyometric workout with the new Cardio‑Tramp™. This innovative accessory board easily transforms any STOTT PILATES Reformer into an extreme cardiovascular machine.

Visit our booth and test drive one for yourself!
---
Stretch Your Dollar with Bundles
Now get our popular studio equipment with all the accessories you need at one low price. Simply select a bundle that suits your space and clients needs best and discover the endless possibilities these comprehensive packages have to offer!
Bundle options include:
The complete range of STOTT PILATES® Reformers
Stability Chair™ with Handles
Ladder Barrel
A complete equipment line-up for small spaces
Equipment presented in our Rehabilitation Program.
Shop or browse our bundle options

---
World's Largest Pilates DVD Library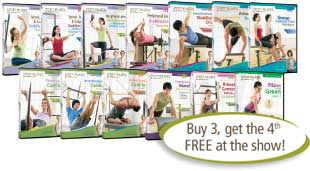 Upgrade your collection with over 120 award‑winning titles
Maximize your earning potential and increase client retention by adding fresh new programming options by STOTT PILATES. Become one of the most sought‑after instructors in the industry with STOTT PILATES' diverse collection encompassing everything from the fundamentals to post-rehab, sport-conditioning, prenatal, and lifestage‑specific programming. View new DVDs and exclusive clips.
---
Save 25% on Demo Equipment at IHRSA 2010

RECEIVE OUTSTANDING SAVINGS
Purchase floor models and demo equipment at the show at remarkable savings. Quantities are limited. To reserve yours, call 416-482-4050 ext. 264 or email sales@stottpilates.com.


Reformer Bundles
$US Regular Price
$US Trade Show Price

$6,395

$4,796

$6,695

$5,022

$2,795

$2,096
$5,195
$3,896

†includes Mat Converter, Maple Pole, Reformer Box, Platform Extender
‡includes Maple Pole, Reformer Box, Platform Extender

Equipment
$US Regular Price
$US Trade Show Price

$1,350

$1,013

$300

$225

$190

$143

Double Loop Straps
$74.95
$56
Mat Converter – SPX
$250
$188

Individual Reformer accessories may be purchased separately. Please contact sales@stottpilates.com or call 800-910-0001 (within North America), or 416-482-4050 (Worldwide) ext. 264 for more information.