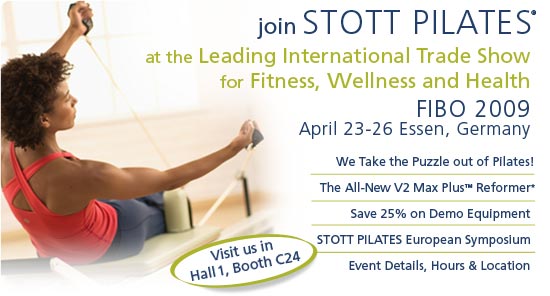 Conference Details
FIBO 2010 Annual International Convention and Trade Show
The leading international trade show for fitness, wellness and health

Date

April 22-25, 2010

Trade Show Hours

Thursday, April 22 to Sunday, April 25 | 9am-6pm

Conference Location

Exhibition Centre Essen, Hall 1/C24
Messe Essen, Norbertstrasse, 45131 Essen, Germany


Register Online
click here
Accommodations
For hotel and travel information click here
Contact FIBO
Telephone +49 0-201-7244-290 | Fax +49 0-201-7244-248
EMail info@messe-essen.de

We Put all the Pieces Together…
Book an appointment at FIBO with one of our Full Solutions™ consultants to find out how your facility can earn up to €225,000 gross yearly, and see a return on your investment of 270% in one year. Start your program for under €10,000 with the Reformer Studio Starter Package. We're experts at putting all the pieces together to deliver the right Pilates solutions for you.
We go the distance to help you succeed…
every step of the way.

To speak with a consultant today,
please email fullsolutions@stottpilates.com
or call 800‑910‑0001 ext.203

---
Stretch Your Dollar with Bundles
Now get our popular studio equipment with all the accessories you need at one low price. Simply select a bundle that suits your space and clients' needs best and discover the endless possibilities these comprehensive packages have to offer!
Bundle options include:
The complete range of STOTT PILATES® Reformers
Stability Chair™ with Handles
Ladder Barrel
A complete equipment line-up for small spaces
Equipment presented in our Rehabilitation Program
Shop or browse our bundle options

---
Take our Reformers for a Test Drive!
Visit the STOTT PILATES booth and sign up for a FREE Reformer class!
Experience the V2 Max Plus™ and SPX Max Plus™ Reformers first-hand and see what all of the buzz is about! Not your average Reformers! With an increased range of motion, the V2 Max Plus is the premier tool for sport-specific, rehab and cross-training movement. You get maximum utility in a minimum amount of space, and limitless exercise possibilities.

Don't miss the chance to try out the latest plyometric workout with the new Cardio‑Tramp™. This innovative accessory board easily transforms any STOTT PILATES Reformer into an extreme cardiovascular machine.

Come and test drive one for yourself!
---
World's Largest Pilates DVD Library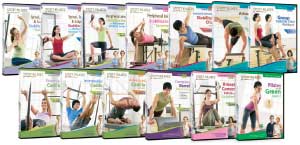 Upgrade your collection with over 120 award‑winning titles
Maximize your earning potential and increase client retention by adding fresh new programming options by STOTT PILATES. Become one of the most sought‑after instructors in the industry with STOTT PILATES' diverse collection encompassing everything from the fundamentals to post-rehab, sport-conditioning, prenatal, and lifestage‑specific programming. View new DVDs and exclusive clips.
---
Save 25% on Demo Equipment at FIBO
RECEIVE OUTSTANDING SAVINGS
Purchase floor models and demo equipment at the show at remarkable savings. Quantities are limited. To reserve yours, call 416-482-4050 ext. 264 or email sales@stottpilates.com


Reformer Bundles
$US Regular Price
$US Trade Show Price

$6,395

$4,796

$6,695

$5,021

$2,795

$2,096
$5,195
$3,896

†includes Mat Converter, Maple Pole, Reformer Box, Platform Extender
‡includes Maple Pole, Reformer Box, Platform Extender

Equipment
$US Regular Price
$US Trade Show Price

$1,350

$1,013

$300

$225

$190

$143

Individual Reformer accessories may be purchased separately. Please contact sales@stottpilates.com or call 800-910-0001 (within North America), or 416-482-4050 (Worldwide) ext. 264 for more information.
---
STOTT PILATES is Coming to Europe! April 23-25
Back by popular demand STOTT PILATES European Symposium is coming to the Sheraton Essen, Germany. Meet and train with world-renowned STOTT PILATES Master Instructor Trainers in a series of cutting-edge workshops. Any fitness professional can attend!

Learn ground-breaking programming options from leaders in the industry, featuring the V2 Max Plus Reformer, plyometrics on the new Cardio-Tramp™ and more. Plus, increase client retention with our selection of sport-tailored and lifestage-specific workshops†!