currently offering:

course IMP Intensive Mat-Plus
spring 2002 4 weekends 40 hours instruction level one
Apr 6, 7 | Apr 13, 14 | Apr 20, 21 | Apr 27, 28
Saturdays 12pm-6pm; Sundays 9am-3pm (includes 1 hour break daily)
NOTE: This course will be offered at our Portland Studio

summer 2002 2 weeks 40 hours instruction level one
July 29, 30, 31, Aug 1, 2 | Aug 5, 6, 7, 8, 9
Monday to Friday 10am-2pm

fall 2002 4 weekends 40 hours instruction level one
Sept 14, 15 | Sept 21, 22 | Oct 5, 6 | Oct 12, 13
Saturdays 12pm-6pm; Sundays 9am-3pm (includes 1 hour break daily)

---
course IR Intensive Reformer
fall 2002 5 weekends 50 hours instruction level one
Oct 26, 27 | Nov 2, 3 | Nov 16, 17 | Nov 23, 24 | Dec 7, 8
Sat 12pm-6pm; Sun 9am-3pm (includes 1 hour break daily)

---
course ICCB Intensive Cadillac, Chair and Barrels
summer 2002 4 weekends 50 hours instruction level one
June 7, 9 | June 14, 16 | July 12, 14 | July 19, 21
Fridays 6pm-9pm, Saturdays 12pm-6pm, Sundays 9am -2pm
(includes one hour break Saturdays, half-hour break Sundays)
---
Functional Anatomy
spring 2002 2 weekends 24 hours instruction level two
Mar 23 | April 6
Saturdays 12pm-6pm (includes up to 1 hour break daily)
---
course AMR Advanced Matwork and Reformer
spring 2002 3 weekends 24 hours instruction level two
May 4, 5 | May 10, 11 | May 18, 19
Friday 4pm-8pm, Saturday 12pm-5:30pm, Sunday 12pm-4pm
---
course AM Advanced Matwork
spring 2002 1 weekend 6 hours instruction level two
May 4, 5
Saturday & Sunday 12pm-3pm
---
course AR Advanced Reformer
spring 2002 2 weekends 18 hours instruction level two
May 10, 11 | May 18, 19
Friday 4pm-8pm, Saturday 12pm-5:30pm, Sunday 12pm-4pm
---
course ACCB Cadillac, Chair and Barrels
spring 2002 2 weekends 12 hours instruction level two
June 13, 14 | July 18, 19
Thursdays 12:30pm-3:30pm, Fridays 1pm-4pm
---
WORKSHOP New Mat Curriculum
spring 2002 1 day 3 hours instruction earn 0.3 CECs
April 27 Saturday 12pm-3pm
---
WORKSHOP Flex-Band
summer 2002 1 day 3 hours instruction earn 0.3 CECs
June 1 Saturday 12pm-3pm
---
WORKSHOP Fitness Circle
summer 2002 1 day 3 hours instruction earn 0.3 CECs
July 27 Saturday 12pm-3pm
---
A written & practical exam is required for certification
exam may be taken within six months of completing course(s)
---
Space is limited! To register or for costs and additional information regarding these courses email washington@stotteducation.com or call Leslie Braverman, Melanie Byford-Young or Jean Leavenworthat Pacific Northwest Pilates 360-574-7800
REQUIRED MATERIALS
for a list of recommended and required course materials please click here.
EARN ACE CREDITS STOTT is recognized by the American Council on Exercise® as a Continuing Education Specialist. Earn 3.0 ACE CECs for Matwork course. Earn 5.2 CECs for Reformer course
PREREQUISITES The intensive courses above are recommended for certified fitness instructors, personal trainers, and other fitness & health professionals who want to expand their knowledge and enhance their business. Applicants must have, at least three years experience teaching fitness, dance or movement, familiarity with the works of Joseph Pilates, formal anatomy training and a working knowledge of muscle origins, insertions and functions, in order to attend the course.
---
Pacific Northwest Pilates
is located at
9901 North East 7th Avenue
suite C-247
Vancouver, Washington 98685

phone: 360-574-7800
email: washington@stotteducation.com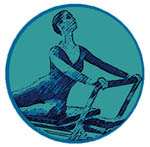 visit Pacific Northwest Pilates at www.pacificnorthwestpilates.com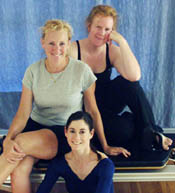 Leslie Braverman, (co-owner), has been teaching the STOTT PILATES method since 1997, and training instructors since 1998. Leslie brings fifteen years of professional dance experience to her teaching and has worked with a variety of athletes, including dancers, skaters and gymnasts.

Melanie Byford-Young, (co-owner), certified as a STOTT PILATES instructor in 1999. She worked as a physiotherapist in Canada for 10 years, specializing in orthopedics and manual therapy. She enjoys working with people of all ages and levels of fitness.

Jean M. Leavenworth, (co-owner), is a former modern dancer and dance educator with an M.S. in Kinesiology. She has taught STOTT PILATES in physical therapy clinics, health clubs and private studios since 1998. She has been a STOTT PILATES instructor trainer since 2000. Jean is also a certified Yogilates instructor.

Getting There
see map.

From Portland: Take I-5 North through downtown Vancouver. Continue heading north until exit 5 at 99th Street. Take a left at 99th Street and then turn right immediately on 9th Street. PNWP is located in Stockford Square on the left. We are in building C which will be the second driveway on your left, just behind Pogys restaurant. Our studio is located on the second floor of Building C opposite to Pogys restaurant. We regret that at this time there is no wheelchair access.

From Seattle: Take I-5 south to Vancouver. Just after the I-205 junction take exit 5 at 99th Street. Turn right at 99th and then turn right again at 9th Street, or take 2nd right at 7th Street. From East Vancouver: Take Hwy. 14 or Hwy 500 to I-5 northbound and follow above directions for northbound travelers. Or take I-205 to I-5 and turn south on I-5 and follow above directions.