currently offering:

course IMP Intensive Mat-Plus
spring 2001 2 weeks 40 hours instruction
May 14 to 18 | May 21 to 25
class times: Monday through Friday, noon to 3pm
---
course IR Intensive Reformer
summer 2001 4 weeks 50 hours instruction
June 4 to 8 | June 11 to 15 | June 18 to 22 | June 25 to 29
class times: Monday through Friday, noon to 3pm
---
course ICCB Intensive Cadillac, Chair and Barrels
winter 2002 6 weekends 50 hours instruction
dates TBA
---
A written & practical exam is required for certification
exam may be taken within six months of completing course(s)
---
Space is limited! To register or for costs and additional information regarding these courses email minnesota@stotteducation.com or call Jill Winegar at The Sweatshop 651-646-8418
REQUIRED MATERIALS
for a list of required (and optional) course materials, please click here
NOTE REGARDING EXAMS you are not obliged to write (and pay for) two exams if you are planning to take both courses. You may choose to wait until completion of the second course to write your exam. If you prefer to pause between courses, you may choose to take an exam to become certified in Matwork only, and another exam after completing the second course to become certified in Reformer work. In this case two exam fees would apply.
EARN ACE CREDITS STOTT is recognized by the American Council on Exercise® as a Continuing Education Specialist. Earn 3.0 ACE CECs for Matwork course. Earn 5.2 CECs for Reformer course
PREREQUISITES The intensive courses above are recommended for certified fitness instructors, personal trainers, and other fitness & health professionals who want to expand their knowledge and enhance their business. Applicants must have, at least three years experience teaching fitness, dance or movement, familiarity with the works of Joseph Pilates, formal anatomy training and a working knowledge of muscle origins, insertions and functions, in order to attend the course.
---

The Sweatshop
is located at
167 Snelling Ave. N.
Saint Paul, MN 55104

phone:
651-646-8418
email:
minnesota@stotteducation.com

visit The Sweatshop at www.sweatshopfitness.com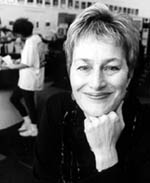 Gayle Winegar
Founder and president of the SweatShop, Gayle Winegar practices a unique and inspirational approach to physical, mental, spiritual, and social health.

Winegar gained international attention in 1998 when she launched Take Back the Beach, an all-out crusade for more realistic expectations of body image. Her bold views, intelligence, and bravada were an instant hit with the media. Interviews with the Chicago Tribune, Forbes Magazine, Club Business International, and England's Health and Fitness magazine brought her distinctive voice to even broader groups of people hungry for her vision. America's Health Network was so impressed with Winegar's hour-long appearance on their national cable channel that they have maintained an on-going relationship. Winegar was named a 1997 Newsmaker of the Year by Minnesota Women's Press.

For nearly 20 years, Winegar has been an industry resource, educating professionals through speeches, seminars, and interviews. Above all, Gayle Winegar sees herself as representative of women across the United States. A single mother and entrepreneur, she is striving to make our world more peaceable for all of us, which truly makes her a woman for our time.

Jill Winegar
Program Director Jill Winegar is a STOTT PILATES certified Instructor Trainer

The Studio
Founded by Gayle Winegar in 1982 as a boutique health club, the SweatShop Health Club adopted a mission to help its members balance fitness, health, and life. To that end, the SweatShop provides cardio and strength training equipment, aerobics classes, and supportive staff. Over the years, the SweatShop introduced cutting-edge programs to the Twin Cities, including PACE Life-management, personal training, Stott Pilates, cardioboxing, cardiotap, tai chi, yoga, and certification and ongoing training for fitness professionals.

Named by Mode Magazine as one of only a handful of "body (and brain) friendly gyms", the SweatShop has always made healthy body image a part of its mission. In 1997, Winegar led her staff and members in a Body Image Rally in which they shredded and recycled images of emaciated models from high-fashion magazines. The message: Our bodies are not accessories to how we look.

In 1998, the SweatShop followed up with the nationally-recognized Take Back the Beach campaign, in which she poked fun at the infamous Sports Illustrated Swimsuit Issue with the REAL Swimsuit Calendar. The brave models for the calendar were members or friends of the SweatShop-- representing every shape, size, and age-- and demonstrating that everyone can show off their "average" body proudly.

Today, Winegar characterizes the SweatShop as a hothouse for industry innovations. She credits the SweatShop's success to its independence -- the SweatShop is able to incorporate advancements more quickly than the big national fitness chains. And SweatShop members have come to anticipate that their club will be at the leading edge of health, fitness, and lifestyle breakthroughs.

Getting There
see map