currently offering:
---
course IMP Intensive Mat-Plus
fall 2002 3 weekends 40 hours instruction
Sept 6, 7, 8 | Sept 20, 21, 22 | Oct 5, 6
call for class times
---
course IR Intensive Reformer
summer 2002 3 weekends 50 hours instruction
July 18, 19, 20, 21 | August 2, 3, 4 | August 16, 17, 18
class times: Thurdays, Fridays 1pm- 6pm / Saturdays, Sundays 8:30am- 2pm
---
course ICCB Intensive Cadillac, Chair and Barrels
winter 2002 6 weekends 50 hours instruction
dates TBD. please call if interested.
---
course AM Advanced Matwork
fall 2002 1 day 6 hours instruction
Oct 18

---
A written & practical exam is required for certification
exam may be taken within six months of completing course(s)

Space is limited! To register or for costs and additional information regarding these courses, see the Iowa Stott Pilates Association website, email iowa@stotteducation.com or call Rise Karnsat Body Symmetry Studio 641-472-1566

REQUIRED MATERIALS
for a list of required (and optional) course materials, please click here

EARN ACE CREDITS STOTT is recognized by the American Council on Exercise® as a Continuing Education Specialist. Earn 3.0 ACE CECs for Matwork course. Earn 5.2 CECs for Reformer course

PREREQUISITES The intensive courses above are recommended for certified fitness instructors, personal trainers, and other fitness & health professionals who want to expand their knowledge and enhance their business. Applicants must have, at least three years experience teaching fitness, dance or movement, familiarity with the works of Joseph Pilates, formal anatomy training and a working knowledge of muscle origins, insertions and functions, in order to attend the course.

call for class times
---
Body Symmetry Studio
is located at
108 West Broadway, Suite 208
Fairfield, Iowa 52556


phone: 641-472-1566
email: iowa@stotteducation.com

visit Body Symmetry at www.iowastottpilates.com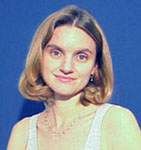 Rise Karns
A native of Iowa and featured demonstrator/performer on the Stott Pilates Barrel series of videos, Risë Karns, completed Stott Pilates phase I certification in 1995 and completed full certification with Moira Stott in 1998. In addition, Risë studied the Pilates Method in New York for seven years with Cary Regan and, in all, has been practicing this method of exercise for over fifteen years.
She has had 6 years experience teaching in private and university settings. In addition, she has danced professionally in NY for many years and holds an MFA in dance from the University of Iowa. She now lives in Fairfield, Iowa and operates her fully equipped studio, Body Symmetry Studio.
She is also founder and director of the Iowa Stott Pilates Instructor Trainer Association.
General Comments
Rise's students comment on the diverse background that Rise brings to instructor training, her flexibility in addressing student needs, as well as her empowering approach to both trainer and client development.
The Studio
Body Symmetry Studio is a charming, brick and white plaster loft just off of the town square in downtown Fairfield. Several Indian, Thai, Chinese and traditional American restaurants are within one block's walking distance. Studio equipment includes three reformers, cadillac, ladders, barrels, and an abundance of mats and related equipment.
Getting There
Broadway is the street on the north side of the town square. To get to the Studio, you climb the stairs, turn right and it's at the end of the hall on the right. If you get lost, you can always call Risë at 641-472-1566 for help.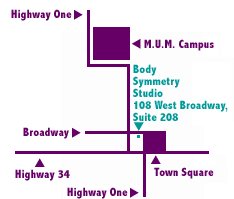 Directions from Iowa City: Take Highway 1 South to Fairfield (travel time: 1 hour)

Directions from Kansas City: Take Interstate 35 North to Osceola, IA and turn right on Highway 34 to Fairfield (travel time: 4 hours)

Directions from Des Moines: Take Highway 163 until the end of the freeway (just north of Ottumwa), turn right on Highwy 63, proceed over the Des Moines River Bridge, then turn left on Highway 34 to Fairfield. (travel time: 2 hours,15 minutes)