currently offering:

course IMP Intensive Mat-Plus level one
summer 2002 10 days 40 hours instruction
August 16 to 24
this course can be taken in conjuction with the stott reformer intensive starting august 23. class times: Fridays 5:30pm to 8:30pm; Saturdays 11am to 4:30 except August 17 11am to 6pm; Sundays 8:30am to 2pm. breaks are included. please arrive a half hour early on August 16 for registration & orientation

---
course IR Intensive Reformer level one
summer 2002 10 days 50 hours instruction
August 23 to September 1
this course can be taken in conjuction with the stott matwork intensive starting august 16. class times: Aug. 23, 30, 1pm-8pm; Aug 24, 31, 12pm-7pm; Aug 25, 9am-4pm; Aug. 26, 27, 28, 29, 12pm-4pm; Sept 1, 9am-12pm. please arrive a half hour early on August 23 for registration & orientation

---
course ICCB Intensive Cadillac, Chair and Barrels level one
fall 2002 4 weekends 50 hours instruction
September 13 to September 22
please contact us for precise class times. please arrive a half hour early on September 13 for registration & orientation

---
course AM Advanced Mat level two
fall 2002 2 days 6 hours instruction
September 3, 4
class times: 11am to 6pm; please arrive a half hour early for registration & orientation
---
course AR Advanced Reformer level two
fall 2002 2 days 18 hours instruction
September 6, 7
class times: 11am to 6pm; please arrive a half hour early for registration & orientation
---
course ISP Injury and Special Populations
fall 2002 4 days 24 hours instruction
October 4, 5, 6 7
class times: 6 hours daily, please call for precise times.

---
course CMR Comprehensive Mat and Reformer
for students without a background in exercise/rehab.
7 months 120 hours instruction includes 30 hours anatomy
next dates tba

---
continuing education workshops
earn CECs with STOTT PILATES workshops
sept 1 challenging your clients safely
sept 2 the stott circuit
sept 3 stability chair 11 to 6pm

---
A written & practical exam is required for certification
exam may be taken within six months of completing course(s)
Space is limited! To register or for costs and additional information regarding these courses, please email instructortraining@bodyscapesstudio.com or call Angela Sundberg at Bodyscapes Studio 480-991-8811
---
---


Bodyscapes Studio
is located at
7835 East Gelding Drive,
Scottsdale, AZ 85260

call: 480-991-8811
email: info@bodyscapesstudio.com

visit Bodyscapes at www.bodyscapesstudio.com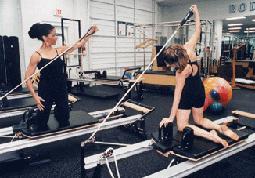 Angela Sundberg
Bodyscapes owner and founder, Angela Sundberg began her career in rehab, working with athletes.

Angela is a STOTT PILATES-certified Instructor-Trainer, a certified Gyrotonic/Gyrokinesis® instructor, CSCS, and a member of the National Athletic Trainers' Association.


Mission Statement
As optimal movement teachers, our goal is to help our clients reeducate the proper muscles to work at the proper time, with the proper effort. We work to repattern how muscles fire.

It would be much easier to give clients a Swiss Ball program or have them do a bunch of 'abs'. It's more challenging to help clients learn how to recruit their muscles in the most efficient order. We show clients how reactivate their stability muscles, those that protect joint neutrality. For the lumbar spine, we use the transversus abdominus, multifidus and the posterior fasciculi of psoas.

Muscles that control joint neutrality can only be trained prior to adding a load. Strengthening is not appropriate until you have reactivated those stabilizing muscles.


Getting There
see map


Accomodations
Hotel arrangements can be made through the Farifield Inn in North Scottsdale. call 480-483-0042 or Extended Stay America on Tierra Bueno / North Scottsdale call toll-free 1-800-398-7829


REQUIRED MATERIALS
for a list of required (and optional) course materials, please click here
EARN ACE CREDITS STOTT is recognized by the American Council on Exercise® as a Continuing Education Specialist. Earn 3.0 ACE CECs for Matwork course. Earn 5.2 CECs for Reformer course
PREREQUISITES The intensive courses above are recommended for certified fitness instructors, personal trainers, and other fitness & health professionals who want to expand their knowledge and enhance their business. Applicants must have, at least three years experience teaching fitness, dance or movement, familiarity with the works of Joseph Pilates, formal anatomy training and a working knowledge of muscle origins, insertions and functions, in order to attend the course.