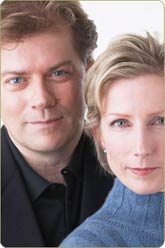 Dear Friends,

Welcome to the August 2009 STOTT PILATES® Newsletter - re‑vamped! Based on some great feedback from members of our network, we've made some adjustments this month. Our goal is to open up the lines of communication, to create an equally valuable and supportive Pilates conversation. Questions and concerns from distributors, Licensed Training Centers, fitness professionals and Pilates enthusiasts will be addressed - covering everything you need to know about running a successful Pilates studio, enhancing your fitness career and advancing to the next level of fitness.

So sit back, relax and enjoy the brand-new content including exclusive news items and articles, special promotions, questions submitted from our readers accompanied by answers from our panel of experts, equipment care, and safety information along with your favorite columns from past newsletters. No matter how you are affiliated with STOTT PILATES, we consider you our friend and our partner, and we value your opinion. We hope you enjoy this month's edition and find it supports you every step of the way!
Yours in good health,



Lindsay & Moira Merrithew
Co-founders, STOTT PILATES®


In the News
FEATURED STORY
The Next Big Thing
As if the draw of Pilates wasn't compelling enough already! Now, with the evolution of Pilates blends, cutting-edge equipment and specialty training (including post-rehab and athletic conditioning), more and more clubs are incorporating contemporary mind-body fitness in their programming. Response from members and fitness enthusiasts seeking an exercise method that equally suits their bodies' and goals' best has been overwhelming. Without a doubt, the Pilates industry is growing astronomically! Read what STOTT PILATES Co‑founders, the Merrithews, are doing to stay on top of the trends.
What's in the Cards for Pilates?
At the September 2009 Inner IDEA® Conference, a panel of Pilates experts including STOTT PILATES® Master Instructor Trainer, John Garey sat down to discuss the future of Pilates. Read this exclusive panel discussion, and understand the issues at hand.
The Jumpboard – A Classroom Favorite
To keep group classes challenging for your clients, it's important to share new programming with your students and allow them to experience the latest props and accessories. Find out why the STOTT PILATES® Jumpboard made PilatesStyle's list of great buys for group instruction.

Be a Part of Our Community of Excellence!
The STOTT PILATES® Network is stronger than ever and growing on a global scale. On Oct 21-23 we will be celebrating our growth with all Distributors, Licensed Training Centers and Instructors Trainers at our Community of Excellence Event in Toronto, ON.

On Oct. 24, the fourth day of the event, we will be hosting a Professionals' Workshop Day where our most popular workshops and brand‑new programming will be presented. This exciting day is open to all Distributors, LTCs and their associates as well as fitness professionals. Stay tuned for registration details!
Ask the Experts!

Q. How do I teach the STOTT PILATES® Five Basic Principles to a new client in the most interesting way possible? - Ben from Raleigh, NC
Sally Belanger
Project Specialist, Education & Instructor Trainer
Try integrating them in the warm-up so that your client can experience unique movements and seek stability in a handful of new positions. Slowly integrate and layer more information as the client progresses throughout his/her workout - you do not want to lecture the principles, rather demonstrate how they are important for even the most advanced exerciser. I like to give real life examples, where clients can apply and practice the Five Basic Principles.
Laureen Dubeau
Communications Director, Education & Instructor Trainer
The Five Basic Principles need to be presented in a way that is neither overwhelming nor boring. Keep the explanations simple, rather than being overly technical and theoretical. Make sure your client is engaged and not turned off. A brief introduction can be done during the first few warm-up exercises, but they will be the basis of cueing and correcting throughout the workout. There will be plenty of opportunities to reinforce them in every exercise and in every session.
Got a Question? Get Answers! Our rotating panel of Pilates experts will share their perspectives, give advice, provide support and coach you along the way to success. So if you need insight on STOTT PILATES® training, a marketing strategy for upcoming courses and workshops or challenging yourself with an at home workout – submit your question below. Your question may be featured in next month's newsletter!
Equip Tips

How to Care for and Clean Upholstered Pilates Equipment & Exercise Mats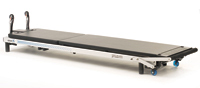 Whether you prefer training on the Reformer, the Stability Chair™, Matwork or a combination of them all – it's important to show your equipment some love! Wiping off the equipment is a standard sanitizing activity for all thriving studios. We recommend using a water-diluted tea tree oil solution. Keep a spray bottle handy at your facility in order to make this common practice.
On a weekly basis or when a difficult smudge appears, (for example, a make-up smear), wipe down the vinyl surface with a mild solution of soap and water. Always pre-test on a small area of vinyl, on the underside of a piece of equipment.
New Products

Twice the Programming, Double the Fun!
With six exciting box sets to choose from, our all-new vibrant 2-packs are the ideal addition to any Pilates DVD library. Enjoy two popular DVD titles together, at a magnificent value! Available this August.
Pilates‑Infused™ Yoga
These Yoga-inspired Pilates routines combine strengthening exercises with invigorating stretches to help you stay energized. Includes: Pure Vitality and Body & Soul.

Walking for Your Heart
Maintain a healthy weight and strong body while improving overall health with these cardio workouts. Includes: Walk On to Total Fitness and Walk On to Total Weight Loss.

Prenatal Pilates
Support your changing body while keeping fit! Enjoy a more comfortable pregnancy with these gentle Pilates workouts. Includes: Prenatal Pilates on the Mat and Prenatal Pilates on the Ball.

Pilates for Golf
These tailored Pilates workouts will strengthen core muscles and condition your entire body to help you on and off the green. Includes: Pilates on the Green, Levels 1 & 2.

Pilates on the Stability Ball™
Tighten and tone your entire body! Engage and strengthen all of your muscles by challenging your balance and stability. Includes: Dynamic Balance and 3‑D Balance.

Strong & Healthy Back
Gentle workouts improve mobility and flexibility while helping you to develop a strong, healthy and stress-free back. Includes: Standing Tall and The Secret to a Strong Back.
To Place Your Order: Call 1-800-910-0001 ext. 250, or email sales@stottpilates.com.