Event Details
STOTT PILATES is a Visionary Sponsor of the Inner IDEA® Conference

Show Dates

September 10-13, 2009

Marketplace Hours

Thursday, September 10 | 2-5:30pm
Friday, September 11 | 7-8:30am, 12:30-2:30pm, 4-6pm
Saturday, September 12 | 7-8:30am, 12:30-2:30pm, 4-6pm
Sunday, September 13 | 7-8am, 10am-12pm

Show Location

La Quinta Resort and Club
49-499 Eisenhower Drive, La Quinta, CA 92253
Tel: 760.564.4111

Register Online

Note

The Inner IDEA® Conference will not have a trade show, however there will be an IDEA Marketplace with a designated STOTT PILATES area. Stop by to find our latest DVDs and great savings on equipment featured in sessions. See a complete list of equipment below.
Pre-Cons
Workshop Sessions**
Meet Our Presenters
John Garey
John Garey has studied Pilates for more than 15 years and owns Los Angeles-based John Garey Pilates, a STOTT PILATES® Licensed Training Center. A renowned figure in the fitness industry, John, who holds a Masters degree in Adult fitness from NYU, is a regular contributor of Pilates and fitness articles to many national publications. John is a STOTT PILATES Master Instructor trainer and was named one of the top six most notable instructors in the United States by American Fitness Magazine. He has been a presenter at some of the most prestigious conferences around the globe.

PJ O'Clair
STOTT PILATES® Master Instructor Trainer PJ O'Clair has been a leader and consultant in the fitness industry for more than 25 years. She is featured in numerous fitness videos including over 25 titles with STOTT PILATES. PJ won the prestigious IDEA Program Director of the Year Award in 2008 and was a finalist in 2007. She is a sought-after speaker and consultant at fitness conferences and spas worldwide – and has written numerous articles for industry publications. No matter where she goes, PJ takes her trademark enthusiasm and dynamic personality with her.
---
World's Largest Pilates DVD Library
Upgrade your collection with over 120 award-winning titles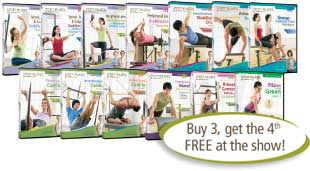 Maximize your earning potential and increase client retention by adding fresh new programming options by STOTT PILATES. Become one of the most sought‑after instructors in the industry with STOTT PILATES' diverse collection encompassing everything from the fundamentals to post-rehab, sport-conditioning, prenatal, and lifestage‑specific programming. View new DVDs and exclusive clips.
Now Available - The New ISP Support Material Manual
The Injuries & Special Populations Support Material Manual is a great complement to the ISP Resource Guide that follows the course presentation. This book will help trainers gain the knowledge, skill and confidence to develop effective programs for a range of clients.
The Book Details
structural anatomy
muscle classifications
integrated model of motor control
optimal function and dysfunction for specific areas of the body including:
• lumbo-pelvic region • hip • knee • ankle & foot • cervical spine
• shoulder • upper quadrant • elbow • forearm & wrist
---
Save 25% on Reformer Bundles & Demo Equipment
Reformer Bundles
Do you have everything you need to effectively train your clients on the Reformer?
Save hundreds of dollars on our popular Reformers, now bundled with all the accessories!
Applies to most Reformer models.
Get all the details of what each Reformer Bundle includes!
Demo Equipment
RECEIVE OUTSTANDING SAVINGS
Purchase floor models and demo equipment at the show at remarkable savings. Quantities are limited.
To reserve yours, call 416-482-4050 ext. 264 or email sales@stottpilates.com.


EQUIPMENT

REGULAR PRICE $US

TRADE SHOW PRICE

$4995

$3746

†includes the Mat Converter, Maple Pole, Reformer Box, Platform Extender

$4,795

$3,595

$1,295

$970

$280

$210

$395

$295

Individual Reformer accessories may be purchased separately. Please contact sales@stottpilates.com or
call 800-910-0001 (within North America), or 416-482-4050 (Worldwide) ext. 264 for more information.

$8.95

$6.70

$11.95

$9

$4.95

$3.50

$5.95

$4.50

ISP Support Material Manual
$85
n/a