Conference Details

IDEA World Fitness Convention

Booth
500
Date
August 4-8, 2010

Trade Show Hours

Wednesday, August 4 | 4:30-8pm
Thursday, August 5 | 10:30am-3:30pm
Friday, August 6 | 12:15-7pm
Saturday, August 7 | 11:30am-2:45pm

Conference Location

JW Marriott Los Angeles at L.A. Live, 900 West Olympic, Boulevard, Los Angeles, CA, 90015

Register By Phone
888-999-4332 ext. 7
Register Online
click here
Get Your FREE Trade Show Pass!
Building a Successful Pilates Program Seminar
Friday, August 6, 1:15-2:15pm
With Carol Tricoche, Executive Director, Full Solutions™

Get valuable tips and in-depth information on transforming your Pilates program, existing business or fitness career into a major profit center. Learn from the experts how STOTT PILATES can define your assets as well as your needs and put you on a clear path to success. From space requirements, equipment needs and programming options to staffing and career growth, we'll show you how to create a thriving and fulfilling business.
Space is limited! To reserve your spot please email successfulpilates@stottpilates.com or call toll-free 1-800-910-0001 ext. 287.
---
Premier Seminars
NEW this year at IDEA World: an extended schedule including a full day of Premier Seminars from leading fitness companies - and we're one of them! Don't miss these exciting offerings from STOTT PILATES!

---
Workshop Sessions

---
Special Workout Session: The Fabulous Flex-Band®
Thursday, August 5, 12:30-1:30pm & Friday, August 6, 6-7am
Presented by Sally Belanger and John Garey
Receive a FREE Flex-Band just for participating!
Join us for an energizing hour that will feature exercises from four levels of STOTT PILATES Flex-Band workshops. Discover how this small, simple prop can add upper body strengthening, work both the quads and hamstrings, help stabilize the entire upper quadrant, strengthen the hip joints and create even more challenge for the abdominals.
Plus, you'll get an exclusive coupon for a specially priced DVD package.
Bring it to our booth and for just $40 you will get four DVDs from our Flex-Band series valued at over $50.
To register and reserve your space, please email ideaworkout@stottpilates.com. Visit our booth before the workout to pick up your ticket. You must have your ticket in order to participate.
---
Meet Our Presenters
---
Enter to Win!
A new decade, a new draw - this year you could win a mini studio. Simply fill out a ballot with STOTT PILATES at any of the upcoming 2010 events for your chance to win!
Prize Package Includes:
V2 Max Plus™ Reformer*

Mat Converter

Reformer Box

Padded Platform Extender

Maple Pole

2 DVDs

Stability Chair™ with Handles

Arc Barrel
---
World's Largest Pilates DVD Library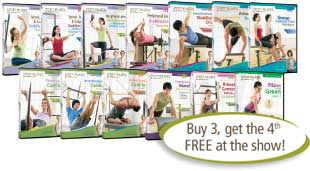 Upgrade your collection with over 120 award‑winning titles
Maximize your earning potential and increase client retention by adding fresh new programming options by STOTT PILATES. Become one of the most sought‑after instructors in the industry with STOTT PILATES' diverse collection encompassing everything from the fundamentals to post-rehab, sport-conditioning, prenatal, and lifestage‑specific programming. View new DVDs and exclusive clips.
---
Save 25% on Demo Equipment at IDEA World

RECEIVE OUTSTANDING SAVINGS
Equipment and props used in sessions will be available for sale on a pre-show basis only.
To reserve yours, call 800-910-0001 ext. 264 or email sales@stottpilates.com


Reformer Bundles
$US Regular Price
$US Trade Show Price

$6,395

$4,796
V2 Max Plus Rehab Reformer Bundle†
$6,695
$5,021
$5,195
$3,896

†includes Mat Converter, Maple Pole, Reformer Box, Padded Platform Extender

Equipment
$US Regular Price
$US Trade Show Price
Arc Barrel
$190
$143
Cardio-Tramp™ – Pro
$210
$158
Cardio-Tramp – SPX
$210
$158
Fitness Circle® Lite
$29.95
$22
Foam Cushion 'B'
$34.95
$26
Foam Cushion 'C'
$49.95
$37
Stability Cushion
$24.95
$19
Mini Stability Ball™
$8.95
$7
Foam Roller Deluxe, Half
$34.95
$26
Foam Roller Deluxe, Full
$39.95
$30
Toning Ball™ - 1lb
$10.95
$8
Toning Ball – 2lb
$11.95
$9
Toning Ball – 3lb
$12.95
$10

Individual Reformer accessories may be purchased separately. Please contact sales@stottpilates.com or call 800-910-0001 (within North America), or 416-482-4050 (Worldwide) ext. 264 for more information.
---
Now Available - The ISP Support Material Manual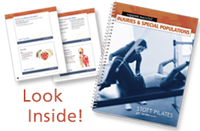 The Injuries & Special Populations Support Material Manual is a great complement to the ISP Resource Guide and follows the course presentation. This book helps trainers gain the knowledge, skill and confidence to develop effective programs for a range of clients.
The Book Details
structural anatomy
muscle classifications
integrated model of motor control
optimal function and dysfunction for specific areas of the body including:
• lumbo-pelvic region • hip • knee • ankle & foot • cervical spine
• shoulder • upper quadrant • elbow • forearm & wrist