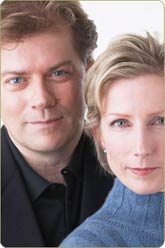 Dear Friends,

It's that time of year again – the busy back-to-school season. Keep your mind calm and your body energized to stay motivated. Maintain healthy eating habits and always make time for relaxation and your favorite exercise routine. These simple steps will help you stay on track with your goals and make achieving them a breeze.
Yours in good health,

Lindsay & Moira Merrithew
Co-founders, The Merrithew Health & Fitness Group
Ask the Experts!
Got a question? Get answers!
Q. : I just bought the Basic Pilates DVD and there is an exercise I cannot do: the Roll Up. I have to use my hands under my upper legs to help me up. I suppose my abs are not strong enough. Should I use my hands to complete the exercise or just go as far as I can?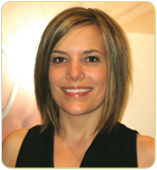 Sarah Jarvis, STOTT PILATES Instructor Trainer responds:The Roll Up can be a very difficult exercise for a lot of people. Although the common perception is that abdominal strength is the limiting factor, there are a number of things that come into play which include posture, hip flexor strength and flexibility of the lumbar spine. Here are a few suggestions that may help you improve technique and work towards the full Roll Up.
Half Roll Up Sequence
Start Position: Lay on your back, knees bent or straight, neutral pelvis (small space under the lower back), arms straight overhead, ensuring the upper back is not lifted off the mat.
Inhale: reach the arms to the ceiling and curl the upper body off the Mat, reaching the arms forward but keeping a neutral pelvis. Hold that position or keep the upper body lifted and reach the arms to the ceiling for more challenge. Exhale: lower back down to the Mat.
Half Roll Back Sequence
Start Position: Seated, knees bent hip-distance apart, hands behind the head or reaching forward.
Inhale: stay. Exhale: curl the lower back down toward the Mat using abdominals and glutes while keeping the shoulders soft and feet on the Mat. Inhale: stay. Exhale: draw ribs closer to the hips by rounding forward toward legs. Inhale: stack the spine up from the lower back to the head.
Full Roll Up with a Flex-Band® around the Balls of the Feet
Keep the legs bent or straight, whichever option will help you curl up through the lower back better. The Flex-Band should be taut enough to provide some support and assistance when rolling up off the Mat.
Need Pilates Advice? Challenge our panel of experts with any question you may have, and we'll settle the debate, give you our perspective and/or provide support. Send us an email and your question may be featured in next month's newsletter!
Equipment Spotlight
Spine Supporter
For individuals who need to exercise in a seated position because of neck or back tension due to injury, muscular weakness or pregnancy, the STOTT PILATES® Spine Corrector is a great way to support and stabilize the spine in flexion during Pilates exercise.
The Spine Supporter is built on a sturdy wood base, topped with a gently curved, C-shaped dense foam padding and covered with a taut high-quality vinyl material that will stand the test of time. For enhanced scapular stabilization the unit comes with integrated supporting hand straps. To guide individuals through an exercise repertoire, the Spine Supporter comes with an instructional Easy Start Poster.
The STOTT PILATES Spine Supporter allows exercisers the ability to perform their favorite Pilates exercises while maintaining the torso in an upright and flexed position. For a complete Spine Corrector workout, check out the Complete Barrel Repertoire DVD.
Our Commercial Sales Team can answer any questions you may have and assist you with studio layout, equipment selection and financing, plus staff training. Contact us by email at equipment@merrithew.com or call 1‑800‑910‑0001 x264 (North America) or 1‑416‑482‑4050 x264 (International).