Increase revenue by retailing STOTT PILATES products
Discover why STOTT PILATES® is the leader in Pilates equipment and accessories. Visit our booth to see the "best-in-class" SPX™ Home Reformer and new range of accessories along with professional equipment demonstrations. Learn how you can increase your market share with the fastest growing exercise method in the world and bring the Professional's Choice™ to your customers.
Equipment Reservation Form
Save 25% on Demo Equipment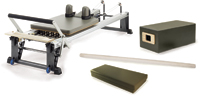 RECEIVE OUTSTANDING SAVINGS
Purchase demo equipment at remarkable savings. Quantities are limited. Price shown are for show pickup orders.
Reserve yours now
or call 416-482-4050 ext. 264 or
email
equipment@merrithew.com
for more information.