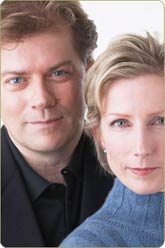 Dear Friends,

To quote Joseph Pilates, "physical fitness is the first requisite of happiness." Regular exercise is crucial to living a balanced, happy life and a daily dose of Pilates will leave you feeling invigorated, refreshed and ready to take on any challenge. It will also keep your body strong allowing you to perform daily activities with more ease. So do your body and mind a favor – make time in your busy schedule to fit in your favorite exercise routine. You'll be glad you did!
Yours in good health,

Lindsay & Moira Merrithew
Co-founders, The Merrithew Health & Fitness Group
Ask the Experts!
Got a question? Get answers!
Q. I'm a STOTT PILATES Certified Instructor working at a Pilates studio. I'm considering starting my own Pilates business. What would be the steps involved, what timeline am I looking at and how can STOTT PILATES help?
Anna Luciano, Manager, Full Solutions™ responds: Starting a new business venture can certainly be somewhat daunting but with a few key strategy points you can easily turn this into an exhilarating and rewarding experience.
The first step is determining your space requirements. A 200 to 300 square foot space is ideal for semi-private / private sessions, 400 square feet are needed for a Reformer-based program and you will require approximately 800-1500 square feet for a fully equipped studio.
Location is an important part of the success of your business. We recommend that you consult with a local Commercial Realtor for advice on demographics and economics of the area you seek to open a studio in.
Determining your space works hand-in-hand with selecting equipment which will challenge your clients while also offering infinite programming options. Try our free online Studio Space Planner. You can save your plan and select the option to send it to our Full Solutions team for review and a personal consultation.
Staff your newly found space with qualified Instructors by using our Instructor Finder and Job Board or consider bringing STOTT PILATES education directly to your site through our sought after Hosting Program. Hosting courses is ideal for studios looking to expand and train their own staff.
Timeline varies depending on the availability of the location, qualification of staff instructors, and finances. Give yourself plenty of time to make the right decisions on location, equipment selection, staffing and marketing.
Explore our website for valuable marketing support and articles on business solutions.
Need Pilates Advice? Challenge our panel of experts with any question you may have, and we'll settle the debate, give you our perspective and/or provide support. Send us an email and your question may be featured in next month's newsletter!
Equipment Spotlight
Rotational Diskboard Deluxe
An across-the-board Improvement in Reformer-based functional training!
Now it's easier than ever to address biomechanical imbalances and improve range of motion across both the upper and lower kinetic chains with the multi-positional Rotational Diskboard Deluxe.
Horizontal and vertical mounting slots on the Diskboard allow you to precisely set the position of the disks providing a wide range of symmetrical or asymmetrical foot placement options. Targeting rotation in hip flexion and extension, adduction and abduction across a multiplicity of combinations is made easy.
Wider placement of the disks also allows for more optimal positioning when the unit is used for arm and shoulder mobility and stabilization exercises. Star knob fasteners make disk positioning a breeze.
A set of two 10" disks is included with the option of installing 12" disks later. Also available for SPX™ Reformer models.
Our Commercial Sales team can answer any questions you may have and assist you with studio layout, equipment selection and financing, plus staff training. Contact us by email at equipment@merrithew.com or call 1‑800‑910‑0001 x264 (North America) or 1‑416‑482-4050 x264 (International).
What's New at our Corporate Training Centers?
Toronto, ON
Intensive Barrels | starts June 18
Advanced Matwork | starts June 23
New York, NY
Advanced Reformer | starts June 24
Intensive Mat-Plus™ | starts Juyl 8
Denver, CO
Intensive Mat-Plus | starts June 11
Advanced Matwork | starts July 30
See a list of upcoming workshops and courses held by our LTCs and Hosting Centers.