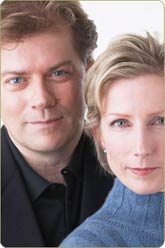 Dear Friends,

For most of you living in a four-season climate, autumn is in full bloom. As you enjoy the rainbow of fall colors, take some time to reflect on the beauty in your life. If you're an instructor, think of the milestones you accomplished with your clients this year. If you're a Pilates enthusiast, remember your personal mind-body fitness achievements.
Whatever health and fitness goals you have yet to conquer, remember to stay focused, confident and balanced with a regular dose of Pilates.
Yours in good health,



Lindsay & Moira Merrithew
Co-founders, Merrithew Health & Fitness

Ask the Experts!
Got a question? Get answers! Our Pilates experts will share their perspectives, give advice, provide support and coach you along the way to success. So if you need insight into STOTT PILATES® training, marketing support for upcoming courses and workshops or want to challenge yourself with an at-home workout – send us an email, and your question may be featured in next month's newsletter!

Q. I was recently diagnosed with osteopenia and I do the STOTT PILATES Be Kind to your Spine DVD workout. Advice for osteopenia cases is to not do exercises that arch the back backwards to avoid spinal fractures. Do you think it's okay to do the Mat work where you are on your stomach and lift your head and move shoulder blades back (slight back arch involved)? – Thanks Chrystie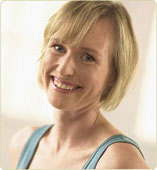 Sally Belanger, Project Specialist, Education & Master Instructor Trainer responds:
Osteopenia can be described as a 10-20% loss of bone density. It can be the precursor to, although is not always predictive of, osteoporosis. There is much conflicting research and many differing philosophies on how best to work with osteopenia and osteoporosis.

What the experts do agree upon is that regular weight bearing exercises can help to build and maintain strong bones. For optimal bone building, it is better to exercise several times per week for a shorter period of time, rather than doing longer sessions less frequently. Bones will acclimatize to a regular routine, so variety and challenge must be added to the exercise program. Bone density gains are quickly lost when exercise is discontinued.

Debate surrounds the choice of movements that are performed during an exercise session; varying movements of the spine will create different compressive forces on it. Most experts agree that exercising in a neutral spine (normal functional position), or with the back extended (spine bending backwards), is beneficial for clients with osteopenia or osteoporosis. In a study performed by Sinaki, it was found that strengthening the spinal extensors, which are the muscles that extend your back, results in stronger bones. The movements that are controversial for the client with osteopenia and osteoporosis, are flexion (forward bending of the spine) and rotation of the spine. These movements may prove to be detrimental. Therefore, according to currently accepted research, the exercises that promote either a neutral spinal position or extension in the Be Kind to your Spine DVD are good choices for a client with osteopenia.

However, anyone with a special condition or injury should follow the guidelines received from their medical practitioner regarding movements that will be beneficial or may be harmful.
Our website contains a lot of other information to help you along the way, such as Frequently Asked Questions, Catalogs and Brochures and Newsletter Archive.
Need Pilates Advice? Challenge our rotating panel of experts with any question you may have, and we'll settle the debate, give you our perspective and/or provide support.
Equip Tips

Tune Up Your Equipment
Make sure your equipment is running smoothly; keep it in top shape by replacing certain parts when necessary. It's quick and easy, simply follow these steps:
Replace any equipment springs with deformities and coil gaps. If the springs are over two years old, it is time for a scheduled replacement.
Immediately replace any spring clip locking gates that are defective or not opening and closing smoothly and fully. Otherwise, replace all spring clips (including the swiveling spring clips connected to the traditional Reformer Ropes) annually.
Check Reformer Ropes for fraying, bulges or bumps and replace if required.
Test-roll your Reformer Carriages without springs attached. If the carriage roll feels rough or irregular, replace your fixed and floating rollers.
Replace stripped or worn star knobs and carriage stoppers.
Inspect all vinyl components for wear and tear and re-upholster if necessary.
Questions about equipment maintenance? Need a quote on replacement parts? Contact our Commercial Sales Department by email at equipment@stottpilates.com or call 1‑800‑910‑0001 ext. 264 (North America) or 1‑416‑482 4050 ext. 264 (International).