Conference Details

Pilates Method Alliance

Booth
F
Date
November 4-7

Trade Show Hours

Thursday, November 4 – 4-7pm
Friday, November 5 – 7:30 -9am | 12:30-3pm | 5:15-7pm
Saturday, November 6 – 7-9:30am | 12-2:30pm | 5:15-7:45pm
Sunday, November 7 – 7:30-9:15am


Conference Location

Long Beach Convention Center, 300 East Ocean Boulevard, Long Beach, CA 90802

Register By Phone
1-866-573-4945 x306
Register Online
click here
---
Enter to Win!
A new decade, a new draw - this year you could win a mini studio. Simply fill out a ballot with STOTT PILATES at any upcoming 2010 event for your chance to win!
Prize Package Includes:
V2 Max Plus™ Reformer*

Mat Converter

Reformer Box

Padded Platform Extender

Maple Pole

2 DVDs

Stability Chair™ with Handles

Arc Barrel
---
World's Largest Pilates DVD Library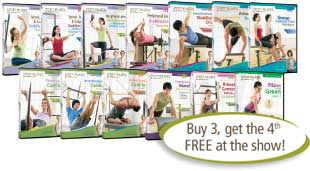 Upgrade your collection with over 120 award‑winning titles
Maximize your earning potential and increase client retention by adding fresh new programming options by STOTT PILATES. Become one of the most sought‑after instructors in the industry with STOTT PILATES' diverse collection encompassing everything from the fundamentals to post-rehab, sport-conditioning, prenatal, and lifestage‑specific programming. View new DVDs and exclusive clips.
---
Save 25% on Demo Equipment at PMA

RECEIVE OUTSTANDING SAVINGS
Equipment and props used in sessions will be available for sale on a pre-show basis only.
To reserve yours, call 800-910-0001 ext. 264 or email sales@stottpilates.com


Reformer Bundles
$US Regular Price
$US Trade Show Price
$5,195
$3,896

$6,395

$4,796
V2 Max Plus Rehab Reformer Bundle
$6,695
$5,021

Each bundle includes Mat Converter, Maple Pole, Reformer Box, Padded Platform Extender

Individual Reformer accessories may be purchased separately. Please contact sales@stottpilates.com or call 800-910-0001 (within North America), or 416-482-4050 (Worldwide) ext. 264 for more information.