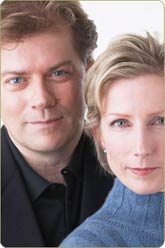 Dear Friends,

This month, inspire change in someone's life! Physical activity is crucial in achieving a healthy, balanced lifestyle. Regular exercise keeps our bodies strong and lowers our risk of developing many health conditions as we age. Encourage the people in your life to get moving – start running together, go swimming at a local pool or introduce them to your favorite Pilates workout. Keep it fun and simple and it will be a rewarding experience for everyone involved.
No matter what your age and ability, it's never too late to choose the path towards an active life, and healthy body and mind. STOTT PILATES is always here to help you meet your mind-body fitness goals.

Yours in good health,



Lindsay & Moira Merrithew
Co-founders, The Merrithew Health & Fitness Group

Ask the Experts!
Got a question? Get answers! Our Pilates experts will share their perspectives, give advice, provide support and coach you along the way to success. So if you need insight into STOTT PILATES training, marketing support for upcoming courses and workshops, or want to challenge yourself with an at home workout – send us an email, and your question may be featured in next month's newsletter!

Q. Do you work your obliques more in imprint than in neutral? Why work in imprint more than neutral? Thanks – Carron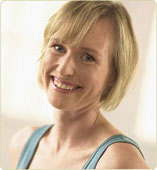 Sally Belanger, Master Instructor Trainer & Education Project Specialist responds:
Neutral pelvic position (when the ASIS and the pubic bone lie in the same vertical plane while standing) is hypothesized to be the most stable and shock absorbing position for the spine. The deep muscles that are recruited to help stabilize this position include the multifidius, transversus adbominis and pelvic floor. However, in gait and in everyday movements that involve greater forces, these muscles are not strong enough to hold the spine in this neutral alignment. When we walk or move the upper body, the obliques must be recruited to maintain an appropriate relationship between the ribs and pelvis and contribute to stability and strength.
If a client cannot maintain a neutral position while exercising, an imprint (or slight posterior tilt of the pelvis) is used to recruit the obliques to better stabilize the region. Since a muscle is strongest in its midrange, shortening the obliques will assist in their activation and will help prevent the spinal extensors from over-working and pulling the spine into extension. As the client gets stronger, the pelvic position can be challenged more toward a neutral position. A neutral placement will still recruit the obliques, but since the muscle is in an elongated position, it will be more challenging to maintain engagement and therefore stability.

Need Pilates Advice? Challenge our rotating panel of experts with any question you may have, and we'll settle the debate, give you our perspective and/or provide support.
Equip Tips

Double Up the Extension Straps for Enhanced Comfort
When using Extension Straps with leg spring exercises on a Reformer vertical frame, traditionally you would position a Padded Long Spine Strap around your client's thigh just above the knee.
Try replacing the Padded Long Spine Strap with a second Extension Strap for clients who find this uncomfortable. This alternative also provides support across the back of the knee, but may be more comfortable for certain clients when working through the full range of exercises.
Be sure to double-check that all strap clips are fully and securely closed before beginning any exercises with a client.
Questions about equipment maintenance? Need a quote on replacement parts? Contact our Commercial Sales Department by email at equipment@stottpilates.com or call 1‑800‑910‑0001 x264 (North America) or 1‑416‑482 4050 x264 (International).