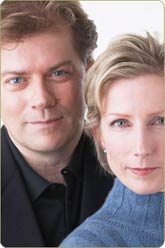 Dear Friends,

A new season is upon us and there is no better time to rejuvenate your fitness career. As always, there are new exercise and equipment trends on the horizon making it important to stay up-to-date on your knowledge and skills. Expanding your expertise is a great way to keep your existing clients coming back for more and gain new ones. STOTT PILATES® is dedicated to providing you with new, cutting-edge programming options to help keep your repertoire fresh and your services in demand!

For the chance to broaden your skills and meet with fellow fitness professionals, we invite you to join us for the 2010 STOTT PILATES European Symposium in Essen, Germany on April 23-25. Take part in two exciting days, filled with innovative movement and theory-based workshops, featuring new STOTT PILATES equipment. We look forward to seeing you there!

Yours in good health,



Lindsay & Moira Merrithew
Co-founders, STOTT PILATES®

Ask the Experts!
Got a question? Get answers! Our rotating panel of Pilates experts will share their perspectives, give advice, provide support and coach you along the way to success. So if you need insight on STOTT PILATES training, a marketing strategy for upcoming courses and workshops, or challenging yourself with an at home workout – send us an email, and your question may be featured in next month's newsletter!

Q. Which Matwork and Reformer exercises should be avoided when working with obese clients?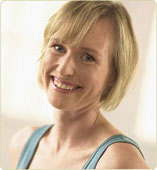 Sally Belanger, Master Instructor Trainer and Education Project Specialist responds:
The main purpose of the workout session is to increase activity level. Pilates will not only provide a muscular strength and endurance workout – which will create stronger muscles – but for the inactive, sedentary client it will provide an increase in cardiovascular activity. The program should emphasize enjoyment and ease of movement. Start with focusing on the total time of activity as opposed to performance of exercises. As the client continues to increase activity and increase caloric output, the focus becomes more upon the skill and performance of specific exercises.
Generally any exercise in which the client can get in and out of the starting position, maintains ease of movement and can achieve success is a good exercise. Doing thoracic flexion from a supine position may not be possible as the mass/weight in the abdominal region may prevent this mobility. Feet in straps may need extra spring tension as the weight of the lower limbs will be increased and it may overwork the hip flexors. The range of hip flexion may also be limited, however, any modification that allows the client to move safely and achieve the essence of the exercise is positive. Starting positions may need to be adjusted to provide range of motion of both limbs and straps or springs. Due to the extra weight, sometimes limbs will need to be propped in position to assist or not overwork the supporting musculature. Again the main goal with the obese client is to promote weight loss through activity. A secondary goal is to provide stabilization to the supporting structures as the body moves throughout the day.
Reformer tip: The carriage should be long and wide enough, so the client feels safe and comfortable in different positions. Settings may need to be varied, or the starting position of the pulleys may need to be altered so that the client doesn't feel cramped or have the ropes in the way of movement.
Need Pilates Advice? Challenge our rotating panel of experts with any question you may have, and we'll settle the debate, give you our perspective and/or provide support.
Equip Tips

Keep a Hex Key Handy!
Individual hex keys – also known as Allen keys – are very handy tools to have in a Pilates studio and you can never seem to find one when you need it.
These small, L-shaped tools are essential for performing scheduled maintenance on Reformers and Ladder Barrels. Use the 3/16" hex key for tightening the set screws of your Ladder Barrel dowels, and 1/4" and 5/16" hex keys to tighten up the swing arm set screws on your STOTT PILATES Reformers.
You can buy an interlocking set of hex keys at your local hardware store. Look for the compact, folding pocket knife-style hex key sets – the keys fold away for easy storage.
Questions about equipment maintenance? Need a quote on replacement parts? Contact our Commercial Sales Department by email at equipment@stottpilates.com or call 1‑800‑910‑0001 ext. 264 (North America) or 1‑416‑482 4050 ext. 264 (International).
Featured Products
Improve Your Swing, Play Your Best
Dust off those clubs and get ready for a new season of golfing! Advance your golf game and swing like the pros with STOTT PILATES programming for golf conditioning. Learn warm-ups and drills designed to improve your balance and flexibility while conditioning your body to engage the very muscles needed to drive the ball further.
Job Board
STOTT PILATES Job Board
Visit our online Job Board for a list of Pilates instructor positions worldwide.
Facilities looking for STOTT PILATES instructors may fill out a Job Board submission form.

Toronto Head Office Careers
If you're passionate about Pilates and you're looking for a rewarding, fun and fast-paced career, check out our available positions