Dear Friends,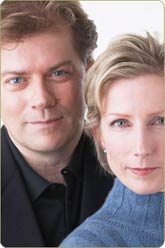 Wherever you are, there are indicators that the seasons are changing. While some climates are much more extreme than others, it becomes clear that another season is approaching when snow falls, water freezes up or a chill takes presence in the air. And as soon as the temperature falls, die-hard winter sport enthusiasts strap on their skis, snowboard or skates and embrace the season ahead. Even those with warm weather year-round often travel for the winter sport thrills, and these types are all too familiar with that itch to get the season underway. If this sounds like you, a friend or a client – we hope you're in for an exhilarating season of rinks, moguls and slopes. But have you trained for the season ahead?

Pilates is an ideal year-round practice for athletic conditioning, whether you are a professional or recreational skier, snowboarder, hockey player or figure skater. It's a great way to perfect your balance, stay strong and keep focused. So start the season with confidence, and dedicate some time to your winter hobby with Pilates – today, tomorrow and throughout the year too.

Yours in good health,



Lindsay & Moira Merrithew
Co-founders, STOTT PILATES®


In the News
Planes of Movement
Featured in IDEA Fitness Journal, STOTT PILATES® Presenter and Lead Instructor Trainer, Matthew Comer, guides you through a unique cool down incorporating various planes of movement including frontal, sagittal and transverse. Adding these movements into your routine helps to develop more balanced bodies and prevent injury – it also feels great! Try all three exercises today and break out of your standard routine.

Instructor Insurance 101
Are you a STOTT PILATES® Certified Instructor, Instructor Trainer? If yes, do you have insurance? Be proactive and prepare yourself for whatever comes your way! Be secure and protected with an insurance program. As STOTT PILATES Instructors, you are intensely trained in the STOTT PILATES Method and highly educated with anatomy and biomechanics, but you can never be too prepared for the unexpected. Learn more and find out how to set yourself up with insurance.
The Community of Excellence Event – A Huge Success!
It was a STOTT PILATES celebration, network social and workshop affair – the Community of Excellence Event was a hit and enjoyed by all! A special thank you to everyone who came and for your amazing support. STOTT PILATES Distributors, Licensed Training Centers and fitness professionals from all over the world came together and the memories will never be forgotten! Stay tuned for updates, pictures from the event and more.
Pilates Equipment Sales: A Supplier's Point of View
While the growth of Pilates steadily climbs in gyms, wellness centers, physical therapy clinics and studios of all kinds – the leading equipment suppliers are adapting to the economical downturn by means of sheer innovation and an understanding of the current market. Find out what STOTT PILATES President and CEO, Lindsay G. Merrithew says about equipment sales and education in this stagnant economy.
Ask the Experts!
Got a question? Get answers! Our rotating panel of Pilates experts will share their perspectives, give advice, provide support and coach you along the way to success. So if you need insight on STOTT PILATES training, a marketing strategy for upcoming courses and workshops or challenging yourself with an at home workout – send us an email, and your question may be featured in next month's newsletter!

Q. When training a dancer is it important to place an emphasis on balance? Since their discipline involves a lot of balance already, would this skill be overworked?
A.
Moira Merrithew
Executive Director, Education
Balance has to do with more than just how well or how long you can stand on one leg. Dancers must maintain balance whether they are standing still or moving swiftly about the stage since their eyes are constantly re-focusing in different directions. Good control of balance and stability of the entire spine, hips, knees and ankles are essential in any dancer. Balance is achieved through the coordination of three body systems: the vestibular system (inner ear, proprioceptors), motor system (muscles, tendons and joints) and visual system (signals from the eyes to the brain).

Dancers need to concentrate on their overall balance, but more importantly, dancers need the extra conditioning of their body's systems in order to avoid injury and enhance their performance. One of the key elements of Pilates is to train the neuro muscular systems enabling the body systems to work in unison. When it comes to increasing the awareness of an individual's body in motion, dancers must train their mind and body which is their instrument to work in unison.

Need Pilates advice? Challenge our rotating panel of experts with any question you may have, and we'll settle the debate, give you our perspective and/or provide support. Send us an email, and your question may be featured in next month's newsletter.
Equip Tips

The How's and Why's of Cadillac Tune-Ups
Cadillacs, just like the car they are fondly named after, require scheduled tune-ups. Fortunately, the cost of tuning up your Cadillac Trapeze Table is a small fraction of the price – and you can do it easily yourself without the help of a mechanic.
With just a little bit of elbow grease and five minutes to spare, you'll be ready to tune‑up your Cadillac and have it running smoothly and safely for many years to come.
Using the ½" x 9/16" wrench that was included with your Cadillac:
Confirm that all 3/8" bolts of the Cadillac are tightened. Check the three bolts in each per upper corner, the two bolts per bed frame corner and the one bolt per pole above floor mounts.
With measuring tape confirm that the top edge of the metal bed frame is set at 23¾" from the ground.
Check that all star knobs are turning smoothly and providing solid lock-down. Lubricate star knob threads for smoother function and a longer life.
Ensure all eye-hook nuts on the push-thru bar and poles are secure.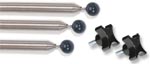 Check for deformation of springs (gaps in spring coils) and wear of spring clips. Replace worn parts as required.
Please note: All springs and springs clips should be replaced every two years.
Questions about equipment maintenance? Need a quote on replacement parts? Contact our Commercial Sales Department by e-mail at equipment@stottpilates.com or call 1-800-910-0001 ext. 264 (North America) or 1-416-482-4050 ext. 264 (International).
New Products
Liven Up Your Routine with Vibrant, Colorful Props & Accessories!
Introducing brand-new non-latex Flex-Band Exerciser, available in three strengths; light (orange), regular (lemon) and extra-strength (lime). Made with TPE (Thermo Plastic Elastomer) these colorful bands are the perfect alternative to traditional Flex-Bands, providing the same levels of resistance as the original. Ideal for travel, these bands are 6.5" long but can squeeze into any suitcase for an intense workout-on-the-go. Sold individually in convenient easy store tubes and as a Three-Pack including the Ultimate Body Sculpting DVD. Release date: Mid-November 2009.
Perfect for Pilates, Yoga and other Matwork exercises, these durable PVC mats are 4mm thick and come with a carry strap. Matching, 750mL aluminum water bottles are lined to prevent taste transfer and feature a flip-top for easy access. Each unique and inspiring design features a helpful alignment line, to ensure your spine is perfectly positioned on the Mat. Available in six original designs – Breathe, Inspiration, Recharge, Refresh, Regenerate and Balance. Coming soon in December 2009.