Conference Details

ECA Thrive 2009

Date

November 12-15

Welcome Party
Thursday, November 12 from 7:30pm
Conference Location

Deauville Beach Resort
6701 Collins Avenue
Miami Beach, FL 33141
Pre-Cons
Workshop Sessions
Meet Our Presenters
Sally Belanger
Based out of STOTT PILATES' head office in Toronto, Sally is the Project Specialist for Education. She is a Certified Instructor Trainer, who has travelled extensively as a presenter around the globe, applying her expertise to demonstrating the STOTT PILATES methodology and programs. She graduated from Queen's University in Kingston, Ontario with a degree in Physical and Health Education, and is certified as an Ace Personal Trainer as well as a Certified Fitness Consultant in association with the Canadian Society of Exercise Physiologists. With over 15 years experience in the fitness industry, Sally has coached elite athletes from a variety of disciplines perfecting their game while reducing their likelihood of injury.

Matthew Comer
Matthew Comer, MS, has worked in the mind-body and wellness field for more than 20 years. He is a STOTT PILATES Certified Instructor Trainer, founder and co-owner of Pilates South Beach, the Licensed Training Center in Miami, and has a Master's Degree in Dance and Movement Therapy. With special expertise in the post-rehabilitation applications of Pilates, Matthew blends his love and knowledge for performance enhancement, movement analysis, dance, physical therapy and Pilates into one practice.
---
Two Great Solutions to Start Up Your Studio
1. Reformer Starter Packages for under $15,000
We can help you launch a profitable Reformer Pilates Program for under $15,000. STOTT PILATES provides you with all the training and equipment you need to start down the road to success. To book an appointment or for further inquiries please email fullsolutions@stottpilates.com Download the Reformer Starter Package Flyer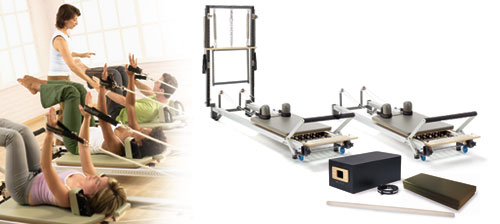 2. Introducing… our new Stability Chair™ Studio Starter Packages!
Start or expand your Pilates program with the economical Split-Pedal Stability Chair package - starting at under $6500. Our Starter Packages come with all the equipment, accessories and instructor training options required to create a profitable program. Renowned for its superior design, durability and unparalleled support, our Split‑Pedal Stability Chair is ideal for any level of participant from beginner to elite athlete. Compact and easy to move, the Stability Chair is perfect for studios or gyms with limited space. Download the Stability Chair Studio Starter Flyer

---
Save 25% on Demo Equipment at ECA Thrive
RECEIVE OUTSTANDING SAVINGS
Purchase floor models and demo equipment at the show at remarkable savings. Quantities are limited.
To reserve yours, call 416-482-4050 ext. 264 or email sales@stottpilates.com.


EQUIPMENT
REGULAR PRICE $US
TRADE SHOW PRICE
V2 Max Plus™ Reformer Bundle†

$5995

$4495

SPX Max Plus™ Reformer Bundle†

$4995

$3745

†includes the Mat Converter, Maple Pole, Reformer Box, Platform Extender

$5,795

$4,345

$4,795
$3,595
Split-Pedal Stability Chair
$1,295
$970
Jumpboard, Large
$280
$210

Individual Reformer accessories may be purchased separately. Please contact sales@stottpilates.com or
call 1-800-910-0001 (within North America), or 416-482-4050 (worldwide) ext. 264 for more information.

LIGHT EQUIPMENT

$33.95

$25

$10.95

$8

$11.95

$9

$12.95

$10

$64.95

$49

$32.95

$25

$4.95

$3.50

$5.95

$4.50

$12.99

$9.75

$29.95

$24

$32.95

$24

Mini Stability Ball™ (formerly Mini Flex-Ball™)

$8.95

$6.70

$39.95

$30