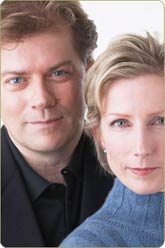 Dear Friends,

Where do you find your inspiration? With a little help from STOTT PILATES®, you can jumpstart this season with plentiful aspirations, pride and ambition. Wherever your mind-body fitness journey takes you – let us lead the way! Our mission is to provide high-caliber Pilates education, at-home workout opportunities, business services and equipment to help you achieve your goals. Enhance your fitness career with our "ivy league" courses and workshops. Or add vigor and variety to your home workout regimen with STOTT PILATES DVDs and light equipment. If you're a studio entrepreneur or club owner you can also rely on us for customized business plans and Pilates programs. No matter which direction Pilates takes you, please know that STOTT PILATES is with you every step of the way!
Yours in good health,



Lindsay & Moira Merrithew
Co-founders, STOTT PILATES®


In the News
Photo Contest Winner Announced!
Big congratulations to Gina Santangelo owner of Callanetics & Pilates Studio, a breathtaking facility located in Tenafly, NJ! We'd like to sincerely thank everyone who submitted photos and shared their story with us – the contest was a huge success! See more contest entries
Join Our Community of Excellence
Are you a STOTT PILATES Distributor, Licensed Training Center or Instructor Trainer? Mark your calendars for the 2009 STOTT PILATES Community of Excellence Event in Toronto, Ontario on October 21-24 at the beautiful Le Meridien King Edward Hotel. Join us for four robust days offering:

brand-new programming
educational workshops
business discussions
demos
ground-breaking Pilates equipment and more!

Weighing-In On Obesity
The gym can be an intimidating place, especially for new exercisers and overweight clients. It's not surprising that more and more people are taking control of their health, using Pilates for weight management. Find out how Pilates can enhance quality of life and self‑confidence and read positive experiences from two STOTT PILATES® Certified Instructors.

A Proud Can-Fit-Pro Sponsor
STOTT PILATES® is proudly supporting Can-Fit-Pro and all Canadian fitness professionals as an Elite Level Sponsor for the Can‑Fit‑Pro Toronto International Fitness and Club Business Conference on Aug. 20-23 as well as regional Can-Fit-Pro conferences following this year. We hope you can join us this year in Canada!
Success Stories

Rising Above the Economy
The Pilates industry is no different than any other – when the markets are fluctuating, business and client retention can decline. It's all about thinking creatively, staying positive and standing apart from the competition in order to stay afloat.
During these compelling economic times, what have you done to drive your studio revenue?
If you're an instructor, how do you keep your clients inspired to continue their mind-body fitness journey despite financial hesitations?
Please share your survival stories and tips with us by emailing stories@stottpilates.com. We look forward to hearing from you!
NEW COLUMN! Equip Tips

Spring into Action!

Did you know? To keep your Reformer operating at its optimal performance, you should replace the springs regularly. Reformer springs should be replaced every two years if the unit is in use an average of 30 hours per week. We recommend this scheduled maintenance to ensure maximum performance and safety of your equipment at all times, as indicated in your owner's manual.

Featured Products

Ease the Strain of Joint Pain with Wrist Assured™* Gloves
| | |
| --- | --- |
| | Also known as "WAGs", Wrist Assured Gloves were designed with joint protection and comfort in mind! Ideal for Pilates, Yoga and other weight bearing activates, these form fitting, non-slip gloves relieve wrist strain, joint pain, nerve compression and stress on the soft tissues of the wrist with ergonomically designed silicone gel padding. Whether pain stems from age, sensitivity or an injury, now you can enjoy your workout without wrist discomfort! |
To Order: Call 1-800-910-0001 ext. 250, email sales@stottpilates.com or order a pair online.