Feel the Love this February!


STOTT PILATES is a Senior Partner of IDEA
Health & Fitness Association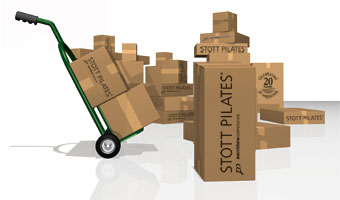 Our Gift to You...
This February enjoy FREE SHIPPING† on us!
Make your studio dreams come true. Reap the savings today

STOTT PILATES® Celebrates Valentine's Day all month!
Save 25% on a selection of our most popular high-impact,
cardio-Pilates DVDs.**
Give the gift of health and wellness to yourself and those you love. Get details
For more great STOTT PILATES equipment and accessories, please visit our e-store.
---

Dear Friends,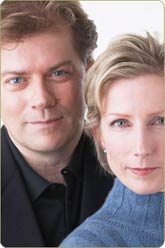 There's no better time to check in on your New Year's goals than in February. With a clean slate and a fresh start in 2009, we are always ambitious to get the ball rolling with so many new and exciting endeavors for the coming year. Keep in mind that significant aspirations require an abundance of work, dedication and patience. To spice things up, try to think of new ways to change up your mind-body fitness routine and renew your passion for success.

This month, we're providing even more avenues to succeed! Our new e-store is available to learn about STOTT PILATES as a company as well as our line of commercial equipment and DVDs. We also have an exciting line-up of courses and workshops in the months ahead. Whether you'd like to shed your holiday weight or challenge yourself with a more advanced DVD, train for STOTT PILATES Certification or start up your very own Pilates Studio – know that we're with you to see your goals through.
Yours in good health,


Lindsay & Moira Merrithew
Co-founders, STOTT PILATES®
Our New E-Store Is Here!
This month we've launched our brand-new e-store with a lofty new look. Just a few of the features include: exclusive clips of nearly every DVD title in our collection, the ability to magnify your favorite Reformer, browse DVDs by level and so much more. Win a FREE DVD by playing our 20th Anniversary Scavenger Hunt.
Click to play

Welcome to Our Space
Are you an avid MySpace user that is equally enthusiastic about STOTT PILATES? Do you want to want to be the first to know about exclusive promotions, events, certification, training and more? If you've answered "yes" to any of the above, then The Official STOTT PILATES MySpace Group is for you! www.myspace.com/officialstottpilates Also check out our Facebook page.

Prepare for Golf Season
Pilates and golf may at first seem like an unlikely pair, but more and more golfers are realizing the benefits of mind-body fitness to improve their game. By strengthening the core, stabilizing the joints and developing kinesthetic awareness, golf enthusiasts everywhere are training like never before and seeing results! Read article

Calling All Eco-Friendly Studios!
What active steps are you taking in a "green" direction? STOTT PILATES wants to know how you monitor your facility's footprint – no matter how big or small your initiatives are! From a keen recycling and compost regimen to bamboo flooring– we can't wait to hear what you've done for the planet. Email your tips to stories@stottpilates.com.
Share Your Success Stories
Our Studio Photo Contest Continues – Show Us What You've Got!
How does your studio stand apart from the rest? Grab your camera, get snap-happy and you could WIN a SPX Max™ Reformer†*! Simply flaunt the exceptionality of your facility in a photo and send to stories@stottpilates.com. We'd like to see it all – anything from a magnificent view to vibrant décor to innovative space-saving methods. If you are a proud facility owner and want to be a part of this amazing contest, all you need to do is:
Grab your camera and ensure that it is set to a high resolution (300dpi is ideal).
Play "photographer for a day" and take as many photos as you like. Have fun with it and be creative!
Choose your favorites and submit them to stories@stottpilates.com
Contest ends April 30, 2009
†*Shipping not included
Read a selection of testimonials!
Featured DVDs of the Month
Check Out Our Top Six Heart-Healthy DVDs
Cardio and Pilates – together at last! Your high-impact aerobic routine and mind-body Pilates regimen can be enjoyed at the same time with these heart-pumping, cardio-Pilates titles. Select the level that's right for you and take on a world of fitness with double the benefits! Plus, for this month only, you can save 25% on each one of these DVDs.** Watch exclusive clips today. Click for offer details
| | | | |
| --- | --- | --- | --- |
| | | | |
| | | | |
| | | | |
Job Opportunities

STOTT PILATES Job Board
Visit our online Job Board for a list of Pilates instructor positions worldwide.

Facilities looking for STOTT PILATES instructors may fill out a Job Board submission form.

Toronto Head Office Careers
If you're passionate about Pilates and you're looking for a rewarding, fun and fast-paced career, check out available positions.
Education — Where to Train
For more information on STOTT PILATES courses and workshops, please contact our Education Department or call 800–910–0001 ext. 261. STOTT PILATES training and certification courses and workshops are available at Licensed Training Centers and various Hosting Sites throughout the world. Click for details and a center near you.
What's New at Our Corporate Training Centers?

TORONTO, ONTARIO

Do you enjoy challenging yourself as much as your clients? Take your training to a higher level in March!

Sign up for the Full Advanced Repertoire and SAVE $150.

TRIBECA, NEW YORK

Don't wait until December to earn your 2009 CECs! Join us on March 6 or March 31 and get all 0.6 credits in just one day

DENVER, COLORADO

Did you miss the application deadline for the last Intensive Mat-Plus™ and Intensive Reformer Program? Apply early for our April courses to reserve your space!

Licensed Training Centers & Hosting Sites


Click here for locations closest to you and links to more info, including times and dates.

Spotlight FAQ
Q. What if I fail to
earn my CECs?
Trade Shows
Join Us at Four Exciting Events in 2009!
We're Travelling the World to Share the Best of Pilates with You!

IHRSA is an event you don't want to miss! On March 16-19 the 28th Annual International Convention & Trade Show will be held in San Francisco, CA. Our team of experts will be available for FREE business consulting for ventures big and small. Plus, our brand-new bundles will be available at 25% off – save up to $1600! Visit our official IHRSA webpage

Want to know what STOTT PILATES can do for you? On March 5-8 join us at the Natural Products Expo West Show in Anaheim, CA. Realize the endless benefits of aligning with the world's most respected Pilates brand. Not only can you meet with our expert staff, but you'll also receive a free gift! Don't miss out – call 800-910-0001 ext. 333 or email retail@stottpilates.com to book a free consultation today. Get event details

FIBO 2009 takes place on April 23-26 in Essen, Germany. Be sure to visit us in Hall 1, Booth C24 to take advantage of our exclusive offers on demo equipment including the V2 Max Plus™ Reformer* Bundle, SPX Max Plus™ Reformer Bundle and so much more. Our Full Solutions™ team will also be available for FREE one-on-one business consultations – reserve your space today by emailing fullsolutions@stottpilates.com. Find out what's in store

Finally, STOTT PILATES is coming to Europe! Please join us at the first-ever STOTT PILATES European Business Symposium on April 25 & 26 at the Sheraton Essen in Germany. These two days are jam-packed with cutting-edge workshops lead by world-renowned STOTT PILATES Master Instructor Trainers, plus a business symposium for LTCs and Distributors and so much more.
Get 'in' on the action. STOTT PILATES may be in your neighborhood next.

Click here for a complete list of events for 2009.
STEP 1
STEP 2
STEP 3
STEP 4
STEP 5
STEP 6
STEP 7
STEP 8

STEP 9-13


Combo: Open Leg Rocker / Oblique Roll Back / Obliques

Targets rectus abdominis and obliques to create spinal flexion, contralateral internal and external obliques to rotate spine



STARTING POSITION

Begin seated on the back of your sit-bones, with spine flexed, knees flexed, legs hip-distance apart and toes off the Mat held behind your knees.

EXERCISE

INHALE Increase flexion and roll back to your upper thoracic spine, lengthening the legs simultaneously.


EXHALE Maintain flexion and return to sitting on the back of your sit-bones while lengthening your spine slightly. (Repeat 5 times)


INHALE Lower your feet back down to the Mat and reach arms forward.


EXHALE Flex lumbar spine and rotate your upper torso to one side while sweeping your arm down and back.


INHALE Return to a vertical position.


EXHALE Flex lumbar spine and rotate your upper torso to the opposite side while sweeping your arm down and back.


INHALE Return to a vertical position. (Repeat 2 times)


EXHALE Roll down to the Mat with hands behind your head.

INHALE stay


EXHALE Flex and rotate upper torso to one side.


INHALE Lower your upper torso to the Mat.


EXHALE Flex and rotate upper torso the other side.


INHALE Lower your upper torso back down to the Mat.
(Repeat 4 times)

Repeat entire sequence 3 times.


This fast-paced, cardio-Pilates combination is excerpted from the Comprehensive Matwork Manual and from the Pilates Weight Loss Boost DVD .


Find more exercises in the STOTT PILATES teaching manual library comprised of 10 titles that document the entire STOTT PILATES exercise repertoire. Three titles are also available in Japanese, French and Spanish.

Remember to start your workout with a warm-up routine.
Go to stottpilates.com/warmup for a detailed description.



CAUTION: Please note the following important cautions before attempting STOTT PILATES exercises.

Consult with your doctor before beginning this or any other exercise program, as not all exercises are suitable for everyone. This or any other exercise program may result in injury.

If you experience pain or discomfort during exercise, stop immediately and consult your doctor. To reduce risk of injury, never force or strain during exercise.

STOTT PILATES videos and manuals are sold without warranties or guarantees of any kind so the creators, producers, performers, participants and distributors cannot guarantee their suitability and safety for each individual.

Any liability, loss or damage in conjunction with any use of this program, including but not limited to any liability, loss or damage resulting from the performance of the exercises demonstrated, or the advice and information given here is expressly disclaimed.
Past Newsletters

Click Here to view previous issues of the STOTT PILATES Newsletter.


Unsubscribe:
If you wish to be removed from our mailing list, please click here.

Privacy Statement:
At STOTT PILATES, we are committed to protecting your privacy. We use information we collect to process orders and inform you of STOTT PILATES products and services. We will occasionally make our customer lists available to official STOTT PILATES Education Partners. If you would prefer that we not pass your name on, please click here