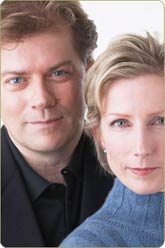 Dear Friends,

Many of you are enjoying the last of the winter days and participating in your favorite winter sports – skiing, snowboarding, skating. And with Spring just around the corner, it's time to prepare your body for the demands of warm-weather sports such as golfing and tennis. Whatever your activity of choice, maintaining overall physical fitness is the key to maximizing performance and endurance. Add Pilates to your regular sport-conditioning routine to improve strength, balance, coordination and control. Your body will look, feel and perform at its best!
Yours in good health,



Lindsay & Moira Merrithew
Co-founders, The Merrithew Health & Fitness Group
Ask the Experts!
Got a question? Get answers!
Q. I am the owner of a fitness facility with a Pilates program. I've been hearing a lot of buzz about social media marketing lately but am skeptical. How can social media improve my marketing efforts?
Paulina Zelazny, Communications Specialist responds:
Just to give you an idea of how huge social media has become around the world, there are over 500 million users each on Facebook and YouTube, and over 75 million on Twitter. That number continues to grow rapidly every day!
If you're new to the world of social media it may seem overwhelming. However, as a business owner it's important you familiarize yourself with these networking tools. They are great and inexpensive marketing vehicles with more and more large and small businesses embracing their virtues.
As an instructor or facility owner, social networking sites are a great way to create awareness, generate new leads and build a community of loyal clients. Sites such as Facebook and Twitter facilitate real-time, two-way communication with your target audience allowing you to identify and react to client needs quicker than ever. They also create a fun and casual environment for sharing information between you and your fans. Best of all, most of these are free and relatively quick and easy to set up!
So if you haven't done so already, set up your social media account, start sharing and watch your client-base grow. If you have any questions or wish to share your social media success stories, please email us at communications@merrithew.com.
Need Pilates Advice? Challenge our panel of experts with any question you may have, and we'll settle the debate, give you our perspective and/or provide support. Send us an email and your question may be featured in next month's newsletter!
Equipment Spotlight
The Ladder Barrel
The popular STOTT PILATES Ladder Barrel uses gravity to maximize your body's potential for core strength, flexibility and mobility, all done on a wonderfully elegant apparatus.

The six secure ladder rungs, for hand or foot anchoring, facilitate varying degrees of strength and flexibility. The movable raised barrel varies the distance between the ladder and padded curved surface adjusting the body-supporting fulcrum or pivot point to accommodate different torso and leg lengths. The superior quality and design of the Ladder Barrel will provide decades-worth of challenging, full-body exercises across all planes of movement for users of all fitness levels and backgrounds.

The Ladder Barrel is a staple piece of equipment in any full-service Pilates studio and with a minimal footprint, it's also ideal for home workout spaces. This simple piece facilitates a multitude of effective exercises and satisfying stretches to keep your body looking and feeling youthful and strong.
Our Commercial Sales team can answer any questions you may have and assist you with studio layout, equipment selection and financing, plus staff training. Contact us by email at equipment@merrithew.com or call 1‑800‑910‑0001 x264 (North America) or 1‑416‑482-4050 x264 (International).
Job Board
STOTT PILATES Job Board
Visit our online Job Board for a list of Pilates instructor positions worldwide.
Facilities looking for STOTT PILATES instructors may fill out a Job Board submission form
Toronto Head Office Careers
If you're passionate about Pilates and you're looking for a rewarding, fun and fast-paced career, check out our available positions