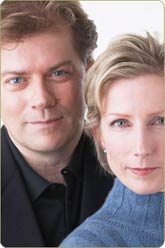 Dear Friends,

With the New Year in full swing there's no better time to check in on your health and fitness goals. Stay on track by recording your progress, rewarding your successes and not getting discouraged by the occasional slip. Having a support system is crucial to long-term change so get your friends and family on board for motivation. Meaningful lifestyle changes take time so stay strong and positive—your body and mind will thank you!
Yours in good health,



Lindsay & Moira Merrithew
Co-founders, The Merrithew Health & Fitness Group
Ask the Experts!
Got a question? Get answers!

Q. How do I select the STOTT PILATES Mat that is best for me? How do I care for my Mat?
Kaylie Gordon, Retail Sales Representative responds:
If you are looking for a studio-quality mat our Deluxe Pilates Mat is the one for you. At 5/8" this is our thickest mat and should be stored flat. The Deluxe Pilates Mat is sure to provide optimal comfort and protection for your spine. If space is an issue or if you are interested in a portable Mat that you can take with you to class, try our Pilates Express™ Mat. This 3/8" thick mat increases comfort and support for your spine, even on hard floor surfaces. The integrated Velcro straps allow you to roll and go!
If you're committed to keeping our planet healthy, our Eco-Friendly Mat™ will be a welcome addition to your routine. This mat is 100% recyclable and decomposable. At a versatile ¼" thick it can be used for both Pilates and Yoga.
For those in need of a mat primarily for Yoga, our 4mm Pilates & Yoga Mat is the best choice. The textured surface will help you to hold the toughest of poses. Available in six stunning designs and matching water bottles, they're sure to please all types of Yogis.
To clean and refresh your mat use a combination of tea tree oil and water. Tee tree oil is a wonderful natural deodorizer and anti-bacterial agent. Mix approximately seven to ten drops in 500ml of water. Spray it on the surface of your mat and wipe dry with a clean cloth.
Our Eco-Friendly Mat™ can also be cleaned by wiping the mat with a cloth dipped in water and soap. Rinse thoroughly to ensure all soap is removed. Or you can lay your Eco-Friendly Mat™ in a tub of warm water mixed with 200 mL of white vinegar for a 30‑minute soak. To dry, roll your mat in a towel to absorb excess water.
Our website contains a lot of other information to help you along the way, such as Frequently Asked Questions, Catalogs and Brochures and Newsletter Archive.
Need Pilates Advice? Challenge our panel of experts with any question you may have, and we'll settle the debate, give you our perspective and/or provide support. Send us an email and your question may be featured in next month's newsletter!
Equipment Spotlight

The Cardio-Tramp™ Reformer Rebounder
Like the Jumpboard, the new Cardio-Tramp easily and quickly attaches to your Reformer. The Cardio-Tramp fits standard 24" carriage-width Reformers and the Cardio-Tramp SPX™ fits all SPX Reformers with 22" carriage widths.
Where the traditional Jumpboard provides a firm, flat jumping platform with excellent proprioceptive feedback, useful for precision footwork routines, the Cardio-Tramp offers a softer, more resilient surface for a lower-impact jumping experience.
Cardio-Tramp sessions can be sustained longer because of the elastic rebound nature of the trampoline's webbing. Conversely because the trampoline's landing area is pliable and unstable, the intrinsic muscles and other stabilizing structures of the feet get a better workout.
Pilates is very much about "precision in choice of movement" and STOTT PILATES now gives you two functionally focused options for plyometric training on your Reformer. You can use the traditional Jumpboard for precise, flat surface Footwork routines or the new Cardio-Tramp for softer, longer rebounding sessions.
Our Commercial Sales team can answer any questions you may have and assist you with studio layout, equipment selection and financing, plus staff training. Contact us by email at equipment@merrithew.com or call 1‑800‑910‑0001 x264 (North America) or 1‑416‑482-4050 x264 (International).