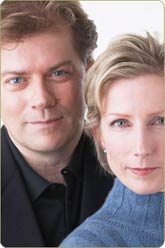 Dear Friends,

Whatever holiday you're celebrating this month, December is a time of festivities and cheer. The streets are lit up with colorful lights, stores are busy with shoppers and everyone seems in high spirits. December is also a time for reflection and looking forward to New Year's resolutions. Remember to set some new health and wellness goals. In 2011, challenge your mind-body fitness routine by taking your Pilates workout to the next difficulty level or trying a new prop. Your body will love the boost and you will feel great.
On behalf of the entire Merrithew Health & Fitness™ team, we wish you a joyous Holiday Season!
Yours in good health,



Lindsay & Moira Merrithew
Co-founders, Merrithew Health & Fitness Group
Ask the Experts!
Got a question? Get answers! Our Pilates experts will share their perspectives, give advice, provide support and coach you along the way to success. So if you need insight into STOTT PILATES® training, marketing support for upcoming courses and workshops or want to challenge yourself with an at-home workout – send us an email, and your question may be featured in next month's newsletter!

Q. I am currently a personal trainer and am interested in furthering my education in a fitness-related field. If I were to begin Pilates training, with little experience in Pilates, would I be able to keep up with the class? – Stephanie
Lesley Fullerton, Corporate Training Centers Supervisor responds:
While personal training bridges well with Pilates in many ways, we always recommend that students have a minimum of 30 hours of Pilates experience before taking a certification course. You want to have a solid understanding of what Pilates is all about so you can be sure it is the right path for you. Also, you'll feel more confident and less overwhelmed during your class hours if you have a general knowledge of the principles and basic exercises.
Group classes or STOTT PILATES workout DVDs are a great way to get more exposure to the STOTT PILATES method. We also offer workshops at all of our Corporate and Licensed Training Centers around the world. There are no prerequisites and they will give you some exposure to the language and manner in which our courses are taught. Ultimately, the more Pilates experience you have before applying to your first STOTT PILATES course, the better!
Our website contains a lot of other information to help you along the way, such as Frequently Asked Questions, Catalogs and Brochures and Newsletter Archive.
Need Pilates Advice? Challenge our rotating panel of experts with any question you may have, and we'll settle the debate, give you our perspective and/or provide support.
Equip Tips

When Ordering Equipment, Planning Makes Perfect.
Save your hard-earned money by planning ahead and ordering early.
Overseas equipment orders can ship by air or ocean freight. Ocean freight is much less expensive, but can take over a month to arrive. Consider freight costs when determining when to place your order.
Artistic vision can take a little extra time.
If your interior design concept calls for custom vinyl color, it can take a week or more for your specialty color to be sourced. Add a little time for custom orders.
Some things are beyond your control.
Freight deliveries by truck are subject to unforeseen delays due to bad weather, strikes and other delivery complications. Build in a few buffer days just in case.
Reformer classes work much better with Reformers.
If your facility has an advertised opening date, make sure that your equipment is in place ahead of time. Ordering early reduces deadline stress, allows for an equipment break-in time and most importantly, ensures that your clients are not disappointed.
Our Commercial Sales team can answer any questions you may have and assist you with studio layout, equipment selection and financing, plus staff training. Contact us at by email equipment@merrithew.com or call 1‑800‑910‑0001 x264 (North America) or 1‑416‑482-4050 x264 (International).