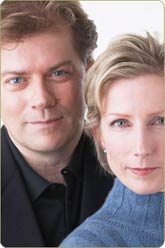 Dear Friends,

Do you remember why you first began practicing Pilates? It may have been to help tone up, reduce back pain, improve athletic performance or rehabilitate an injury. The reasons for doing Pilates are many, and illustrate the versatility and adaptability of this method of mind-body exercise. Pilates truly is for anyone and everyone can stand to benefit from its principles. We strive to make Pilates accessible to people of all fitness levels and backgrounds, and are grateful to all Pilates enthusiasts who help us spread the good word.
Thank you for your continued support and dedication! More people than ever are practicing Pilates worldwide – a true testament to its endless benefits.


Yours in good health,



Lindsay & Moira Merrithew
Co-founders, STOTT PILATES®

Ask the Experts!
Got a question? Get answers! Our rotating panel of Pilates experts will share their perspectives, give advice, provide support and coach you along the way to success. So if you need insight on STOTT PILATES training, a marketing strategy for upcoming courses and workshops, or challenging yourself with an at home workout – send us an email, and your question may be featured in next month's newsletter!

Q. What is the best type of insurance for a new Pilates studio owner without any employees? Does the insurance also cover pre- and post-natal classes? Do I have to get a different type of insurance for when I teach outside of the studio? I am a new studio owner based in the U.S. Thank you so much for your time in this matter.
– Natascha Preiss, owner of Natural Movement Pilates LLC in Las Cruces, NM.
Scott West, Education Services Supervisor, responds:
Liability Insurance protects you if a client experiences an injury to their body or physical property while being instructed by you. If the injured client feels their lifestyle has been affected by the injury, they have the option to submit an insurance claim.
Check out the STOTT PILATES® emPower™ Program for details on discounted liability insurance rates for STOTT PILATES Certified Instructors in Canada and the U.S.
In the U.S. InsureYourClub.com provides a selection of insurance options specifically geared to STOTT PILATES Certified professionals as individuals or as studio owners. Once you become insured with InsureYourClub.com you are covered for all of your STOTT PILATES certification including Pre & Post-Natal. If you are an individual owner of a studio that has equipment, the best policy to buy is one that combines property and casualty insurance which covers losses to your facility and professional liability protecting you from a variety of claims. Individual liability insurance coverage applies to you and the instruction you provide, so you are covered wherever you train in the U.S.
The best way to reduce claims is by being professional. Understand your clients varied needs and abilities, and be consistent in the approach to your business. Most loss experts agree that the "Three Ps" of loss prevention are policies, practices and procedures. Aim for each client to reach their highest potential but don't push them beyond their limits.
Need Pilates Advice? Challenge our rotating panel of experts with any question you may have, and we'll settle the debate, give you our perspective and/or provide support.