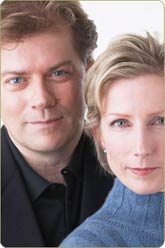 Dear Friends,

September marks the 'back to school' season: it's the end of Summer for many of us and an overall change in pace. When things start to pick up, there is no better time to appreciate the restorative benefits of contemporary mind-body fitness for balance, relaxation and mental focus. If you are a Pilates student, instructor or studio owner, always remember the therapeutic properties of Pilates that appealed to you in the first place. If your routine is rushed and lacks intensity, you're engaging the body without the mind – losing touch with your original commitment to Pilates. Remember to keep school, work and Pilates independent from one another so that you can enjoy the benefits through and through!
Even if your career isn't rooted in the fitness industry you, too, can discover a sense of balance and equilibrium through regular Pilates practice. From at home workouts to group classes in your neighborhood, there are countless opportunities to practice – you just need willingness and commitment.
Yours in good health,



Lindsay & Moira Merrithew
Co-founders, STOTT PILATES®


In the News
FEATURED STORY
Seven Ab Prep Variations with Props
The Ab Prep is an essential exercise that any Pilates first-timer is sure to experience. With the use of props, such as the Stability Ball™, Fitness Circle® resistance ring and Foam Roller, you can add variation or increase challenge to the original Matwork‑based movement. Try all seven modifications.
Group Reformer Sessions Boost Revenue During a Challenging Economy
Pilates Studios continue to thrive through all economic conditions. Personalized training with instructors is vital to a successful Pilates training regimen, allowing facilities to maintain revenues through tough times. If you've been considering creating or expanding your Pilates program, now may be the ideal time. Find out how Pilates Reformer Group Training can generate incremental revenue ranging from $75,000 to $215,000 per year!

The Professionals' Workshop Day – Have You Heard?
As part of our Community of Excellence Event, we are hosting a Professionals' Workshop Day on October 24, 2009 in Toronto, ON. This exciting one-day event is the perfect opportunity to earn your CECs, take part in a selection of our most popular workshops and be one of the first to learn our all-new programming for teens. Open to all Distributors, Licensed Training Centers and their associates as well as fitness professionals!
Balance, Resistance, Matwork and More!
Pilates equipment is equally vibrant and colorful, as it is versatile and functional. With props specific for mind-body routines, you can bulk-up on comfort while you lengthen and strengthen your way to a lean "Pilates-body". Enhance your workouts with the leading Pilates and Yoga products.

A Comfortable Pregnancy
Looking for Pilates adaptations for the prenatal exerciser? Moira Merrithew, co‑founder and Executive Director of Education for STOTT PILATES, shares six helpful prenatal modifications using a unique selection of equipment and props. Increase comfort starting in the second trimester with these great exercises!
Ask the Experts!

Q. With an unstable spine in the lower thoracic and lumbar region, I began practicing the STOTT PILATES® Method to strengthen and prevent further injury over nine years ago. I have been faithfully "pulling in" my transversus abdominis, but after reading articles by Dr. Stuart McGill, I learned otherwise. He puts an emphasis on "bracing" the entire core. What is your perspective on this subject, and how should I proceed?
– Holly
Moira Merrithew
Executive Director, Education responds:
Dr. Stuart McGill's viewpoints have been a hot-topic in the fitness industry of late, and it is understandable why you would feel conflicted since reading his work. With over nine years of Pilates experience, I assume you are familiar with the STOTT PILATES Method which involves connection of the pelvic floor, transversus abdominus and lumbar multifidus at a sub-maximal contraction, in a neutral pelvic alignment, to ensure the proper muscular firing pattern which will provide support of the structures before enlisting the larger superficial muscles. Although you are gently enlisting your injury in the movement, you are also protecting it and avoiding further damage by strengthening the surrounding muscles. This helps to prepare you for everyday life and dynamic movement, in all directions – including flexion, extension and rotation. Like many others with back issues, I'm sure you have realized a great source of relief through Pilates and I encourage you to continue your fitness regimen and mind-body goals.
Recently, STOTT PILATES® distributed a communication to all Instructor Trainers on this issue in order to state our position and explain how and why our scientific research holds true. We welcome you and other Pilates practitioners to read the message here.
Sally Belanger
Project Specialist, Education & Instructor Trainer responds:


There is always confusion or contradictions in scientific literature on the best way to strengthen the body, and in recent years, how to strengthen the core. Dr. Stuart McGill does emphasize the isometric work of the large superficial muscles of the torso as a way to stabilize the spine. All the muscles around the spine must be balanced in both strength and length in order to provide a dynamic neutral and stable position. This is true from the deepest stabilizers to the large superficial power generating muscles. They must be strong both in mobility and stability, and therefore must be trained in both movement and in static positions where the limbs move on a stable base. The programming must concentrate on flexion, extension and rotation with mobility and stability, ensuring that the muscles that hold the spine is in its most stable position are firing properly first. If the spine is not in a neutral position when exercising and the lower back is pressed against the floor, the multifidus is inhibited and the spine is vulnerable to injury. In the STOTT PILATES repertoire of exercises, once the deep stabilizers are firing properly, the body is challenged by movement and isometric exercises to ensure the proper functioning.
Need Pilates advice? Challenge our rotating panel of experts with any question you may have, and we'll settle the debate, give you our perspective and/or provide support! So send us an email, and your question may be featured in next month's newsletter.
Equip Tips

How to Extend the Life of a Star Knob
Four and five prong star knobs are important components for the smooth and safe operation of your STOTT PILATES Cadillacs, Reformers, Ladder Barrels and Stability Chairs. On the Cadillac, they are used to lock the vertical and horizontal sliding bars in place, and likewise, they secure accessory boards and pulley bars on the Reformer, they stabilize the Ladder Barrel position on the metal frame and facilitate the split pedal feature on the Split-Pedal Stability Chairs.
Helpful Hints
1. To extend the working life of the star knobs, spray the threaded bolt sections every couple of weeks with a non-oily, silicon‑based lubricant. The lubricant also makes them easier to twist lock and unlock.
2. When threading a star knob on to its receptor nut, always present the threaded bolt straight on to the threads of its receptor nut. This straight-on alignment, with a careful initial threading, will help the star knob thread correctly and ensure the star knob and receptor nut do not "cross thread" and bind up!
3. Be careful not to over-tighten the star knobs as this can cause stripping of the threads.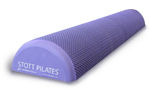 New Products

Half the Challenge: Same Workout Opportunities
Made from durable and resilient EVA foam, the deep purple Foam Roller Deluxe – Half, improves strength, flexibility, balance and coordination just like the original Foam Roller Deluxe – Full. Exercises incorporate movements while sitting, standing and lying down. Rounded corners on the Foam Roller add to the comfort level and the one-sided stable surface is ideal for essential-level exercisers and rehab scenarios. Features a unique, texturized non-slip surface to reinforce stability and movement effectiveness.
Available mid-September 2009.