Dear Friends,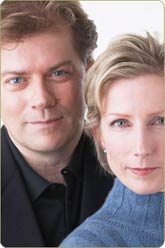 Where do you want to go with Pilates? From mending a sport or dance-related injury to working towards the next level of fitness, attaining STOTT PILATES® certification through one or many of our in-depth courses or even setting up a new Pilates studio in your area - it's always best to determine your end goal before embarking on any mind-body journey. There is a plethora of possibilities, and a multitude of ways to get there. Be sure to congratulate yourself along the way! Every triumph you have made is a significant stride towards overall health and wellness, and a bit of a career boost never hurt either! So whatever your plans are for this Summer, know that you can lean on STOTT PILATES for support, expert advice, great instruction and coaching along the way.
Yours in good health,



Lindsay & Moira Merrithew
Co-founders, STOTT PILATES®


In the News
Highlights of the European Symposium


On April 25 and 26 in Essen, Germany STOTT PILATES held its first-ever European Symposium for the European fitness industry. From a fantastic line-up of workshops to round-table discussions and exclusive sales – this event had it all!

Read European Symposium highlights here

.

Add Punch with Props!
Resistance equipment comes in all shapes and sizes – from soft‑weighted Toning Balls to proprioceptive tools like the Fitness Circle® resistance ring and even the economical Flex‑Band® exerciser. Follow Master Instructor Trainer, John Garey as he guides you through six of his favorite Pilates with props exercises.

Want to Enhance Your Career with Pilates?


Consider This: More than 10 million people are participating in Pilates worldwide, and there is a shortage of instructors to meet this demand. Before you make the career transition,

visit IDEA's official STOTT PILATES® page

for some wise words from the experts.

Photo Contest Update
Everyone's asking…"Who's the winner of the Group SPX Max™ Reformer"? We'd like to sincerely thank everyone who submitted photos and shared their story with us. The contest is now closed and the winner and runner‑ups will be announced and featured in the July newsletter. The contest was a huge success!
Success Stories

Open Forum
What's your favorite DVD?
The most challenging workshop in which you ever took part?
What do you think about our new e-store?
Are you blown away by the V2 Max Plus™ Reformer*?
Something on your mind? Tell us what you think…about ANYTHING! Good, bad – we want to hear it all. To share your thoughts, please email stories@stottpilates.com.
We look forward to hearing from you!
Featured Products

This Month Only: Buy the Split-Pedal Stability Chair with Handles for Only $999 USD
Build a powerful full-body workout with the STOTT PILATES Stability Chair. If you are looking to sculpt and tone your muscles, improve athletic performance or rehabilitate an injury, this versatile piece of equipment is ideal to help meet your goals. It's a compact piece with the ability to address almost all muscle groups providing upper and lower-body and core strength conditioning. With STOTT PILATES' signature professional quality and durability, you are sure to derive a lifetime of benefits from the Stability Chair, and these three DVDs will provide you with hours of programming options. A savings of $425.85!

Includes:

Stability Chair with Handles
Essential & Intermediate Stability Chair, 2nd Ed. DVD
Split-Pedal Stability Chair DVD
Athletic Conditioning on the Stability Chair DVD

Available only in black.
To Order: Call 1-800-910-0001 ext. 264 or email sales@stottpilates.com.