Make Over Your Month!


STOTT PILATES is a Senior Partner of IDEA,
The Health and Fitness Source



October is Breast Cancer Awareness Month –
Think Pink and Help Fight Breast Cancer!


Also to honor STOTT PILATES' 20th anniversary, save 20% on all Breast Cancer Rehab DVD titles and Pink Toning Balls this month (while quantities last).**

STOTT PILATES will donate $2 from the sale of each Breast Cancer product to the Pink Tulip Foundation during October. Click to support the cause.

For more great STOTT PILATES equipment and accessories, please visit our e-store.

Last Chance to SAVE with LOW 1.9% Financing Over a 24-month Term.†

Whether you're planning to implement a Pilates program or upgrade with STOTT PILATES equipment – get that competitive edge with the lowest interest rate to date: 1.9%
Get details

Is it Time to Re-Tune Your Reformer?

STOTT PILATES now offers a choice of two comprehensive Reformer Spring Packages to suit you, your client or your club's needs. Learn more


---

Dear Friends,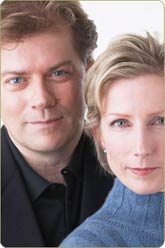 According to the American College of Sports Medicine, Pilates is one of the top fitness trends in 2008. With dynamic growth since the 1920s, Pilates is continuously progressing and is here to stay! Whether you're an instructor, facility owner or Pilates enthusiast – you're sure to make a difference in other people's lives by sharing the good news of mind-body fitness.
If your studio begs for an upgrade, client retention is depleting or your Pilates routine could use some excitement – you can count on STOTT PILATES to help you succeed in the booming mind-body fitness industry! Our Full Solutions™ service is a valuable resource that will help you put a lucrative Pilates program into operation. Our team of experts provide business consulting for facilities big and small. We take the puzzle out of Pilates for you. Our courses and workshops are also available worldwide providing new avenues for your instructor career. Alternatively, you can always mix-up your at-home training with our vast collection of DVD releases. No matter which path you choose, when you align yourself with STOTT PILATES the opportunities are endless!
Yours in good health,


Lindsay & Moira Merrithew
Co-founders, STOTT PILATES®
---
The Hottest Fitness Trends!

Do you work out at home? Well, before you grab a DVD and press play, learn some helpful hints on how to train in your own space from STOTT PILATES Co-founder and Executive Director of Education, Moira Merrithew. Plus, in the same issue, find out why professional athletes practice Pilates to improve their game and prevent injury. Read article.

Baby On the Way?

Pilates is the perfect way to keep fit during pregnancy and shed that unwanted "baby weight" once you've delivered. If you're pregnant and looking for a gentle at-home workout routine, or would like to learn safe programming for the pre-natal client – click here to read about the benefits, and how to get started.

The Secret to a Profitable Pilates Program

The Pilates business is booming. In fact, mind-body fitness is gaining in popularity around the world and STOTT PILATES is there every step of the way! Check out a report on several recent UK installations of Pilates equipment and programming – each with a different success story to tell.

Bits n' Bites:

Do you love Pilates and Kellogg's cereal? In stores throughout New Zealand, you can get a free STOTT PILATES DVD in specially marked boxes of Special K. Check out the mention of all three titles - Pure Vitality Pilates, High-Performance Pilates and Revive Workout Pilates - in Woman's Day magazine.


---

Share Your Success Stories



Pilates and Weight Loss

Sustained weight-loss is best achieved by combining proper nutrition with regular exercise. One of the challenges for people looking to attain and maintain a healthy weight is finding an activity that's effective, motivating and fun. For many people, Pilates is the perfect activity to win their commitment and enthusiasm, complementing their weight-loss program.

Has Pilates been a part of your weight-loss efforts? Do you have a client who has achieved weight-loss success by incorporating Pilates? Let us know by emailing stories@stottpilates.com.

---


New Products



Bundle Up This Fall With Our All-In-One Solution!

Do you have everything you need to effectively train your clients on the Reformer? Now our popular Reformers are bundled with all the accessories at one low price! Introducing STOTT PILATES' brand-new Reformer Bundles delivering accessory savings as high as $741. Simply select a Reformer that suits you or your client's needs and await the endless possibilities these comprehensive packages have to offer!

Shop Now, email equipment sales or call 1-800-910-0001 ext. 264 for more details.


---

Job Opportunities



STOTT PILATES Job Board
Visit our online Job Board for a list of Pilates instructor positions worldwide.

Facilities looking for STOTT PILATES instructors may fill out a Job Board submission form.



Toronto Head Office Careers
If you're passionate about Pilates and you're looking for a rewarding, fun and fast-paced career, check out available positions.


---
What's New at Our Corporate Training Centers?
TORONTO, ONTARIO


The secret to client retention is enhancing your repertoire with unique programming content to keep your skills up-to-date. The STOTT PILATES® Continuing Education Program has designed motivating programs that are as unique as each one of your clients!

Reserve your space in these exciting workshops at the Toronto location!

Oct 26
• Prenatal Pilates on the Edge
• Intermediate Pilates on the Edge
• Mini Flex-Ball™ Workout

Nov 4
• Jumpboard Interval Training, Level 1

Nov 9
• Athletic Conditioning on the Split-Pedal Stability Chair
• Intermediate BOSU®*
• Pilates with Props, Level 2


For pricing information and registration details, please contact courses@stottpilates.com or call 1-800-910-0001 x261

Check out our website for a complete listing of upcoming courses, workshops, and exam dates.

TRIBECA, NEW YORK

Due to popular demand, we've added a weekday series of the Intensive Cadillac, Stability Chair, and Barrels modules to our Fall course line-up!

Intensive Cadillac
Oct 27-31 | 11am-4:30pm

Intensive Stability Chair
Nov 3-5 | 11am-4:30pm

Intensive Barrels
Nov 6-7 | 11am-4:30pm


Call now to save your space!

For pricing information and registration details, please contact tribeca@stottpilates.com or call 1-800-910-0001 x261

Check out our website for a complete listing of upcoming courses, workshops, and exam dates.

DENVER, COLORADO




With over 10 million people participating in Pilates today – there is no better time to take advantage of the endless career opportunities for Pilates instructors. Enrich your skills with elite Pilates training at the Colorado Athletic Club – Inverness.

Register today for these upcoming Level 1 courses:

Intensive Mat-Plus™
Nov 21-23 | Dec 6-7 | Dec 19-21
Fri 1:30pm-7pm | Sat 12pm-5:30pm | Sun 10am-3:30pm

Intensive Reformer
Jan 23-25 | Feb 7-8 | Feb 20-21 | Mar 6-8
Fri 1:30pm-7pm | Sat 12pm-5:30pm | Sun 10am-3:30pm



For pricing information and registration details, please contact denver@stottpilates.com

Check out our website for a complete listing of upcoming courses, workshops, and exam dates.

SPOTLIGHT FAQ:




How many credits are awarded for a STOTT PILATES workshop?
Click here for answer




Click here for locations closest to you and links to more info, including times and dates.
---

Trade Shows


Enhance Your Expertise with STOTT PILATES® at Pilates Method Alliance
The 8th Annual International Conference of the Pilates Method Alliance

When: November 6-9
Where: Hyatt Regency Phoenix and the Phoenix Convention Center, 122 North 2nd Street, Phoenix, Arizona 85004
Phone: 602-252-1234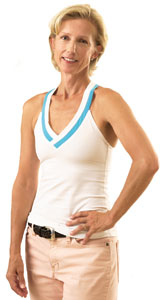 Get the Angle Advantage on a V2 Max Plus Reformer from
STOTT PILATES co-founder Moira Merrithew
At the 8th International Educational Conference of the Pilates Method Alliance in Phoenix, AZ on:
November 7 at 3:15pm
November 8 at 3:45pm
November 9 at 9:30am
Visit our booth at PMA and fill out a ballot for your chance to win a V2 Max Plus™ Reformer*. For complete contest rules and regulations, click here. View a demo clip of this unique Reformer.

Save 25% on demo STOTT PILATES equipment just by visiting our booth at the show, or pre-order to avoid disappointment!

Click for details
For more STOTT PILATES events, Click here.
---
| | |
| --- | --- |
| Bend & Stretch Elbows | targets arms & shoulders |

STARTING POSITION



1

Begin seated on a Mat with your legs crossed. Tip: Sit on a pillow, large book or chair to sit up as straight as possible. With Flex-Band exerciser around your back, ensure your hands are holding each end of the band, with elbows bent by your sides.


EXERCISE



Inhale
To prepare



2

Exhale
Tighten stomach muscles and reach your arms out to sides.
Keep your torso stable and palms facing up.



3

Inhale
Keeping torso stable, bend your elbows returning to
starting position.



Complete 8-10 repetitions.





This exercise is excerpted from the Easy Start exercise poster included free in the Flex-Band Two Pack and the Flex-Band Handles Power Pack.

Find more exercises in the STOTT PILATES teaching manual library comprised of 10 titles that document the entire STOTT PILATES exercise repertoire. Three titles are also available in Japanese, French, Spanish.
CAUTION: Please note the following important cautions before attempting STOTT PILATES exercises.

Consult with your doctor before beginning this or any other exercise program, as not all exercises are suitable for everyone. This or any other exercise program may result in injury.

If you experience pain or discomfort during exercise, stop immediately and consult your doctor. To reduce risk of injury, never force or strain during exercise.

STOTT PILATES videos and manuals are sold without warranties or guarantees of any kind so the creators, producers, performers, participants and distributors cannot guarantee their suitability and safety for each individual.

Any liability, loss or damage in conjunction with any use of this program, including but not limited to any liability, loss or damage resulting from the performance of the exercises demonstrated, or the advice and information given here is expressly disclaimed.
---
Past Newsletters
Click Here to View Previous Issues of the STOTT PILATES Newsletter.


---
Unsubscribe:
If you wish to be removed from our mailing list, please click here.

Privacy Statement:
At STOTT PILATES, we are committed to protecting your privacy. We use information we collect to process orders and inform you of STOTT PILATES products and services. We will occasionally make our customer lists available to official STOTT PILATES Education Partners. If you would prefer that we not pass your name on, please click here

---