The versatile rehab reformer helps rehabilitation professionals and athletic trainers develop optimal therapeutic and conditioning programs. Prescribe and perform core stability, peripheral mobility and plyometric exercises with exceptional results on this sturdy, multi-feature piece of equipment. The carriage is higher off the ground than our Professional Reformer to accommodate those with mobility limitations.
The Rehab Reformer has been designed specifically to meet the needs of the rehab community. Click here to review an article by Toronto physiotherapist Joanna Speller about the benefits of the STOTT PILATES method of exercise and the Rehab Reformer.
The vertical frame (optional) offers the ability to perform numerous Cadillac/Trap Table exercises on the Rehab Reformer by adding the Vertical Frame, an all-in-one unit that saves floor space and money.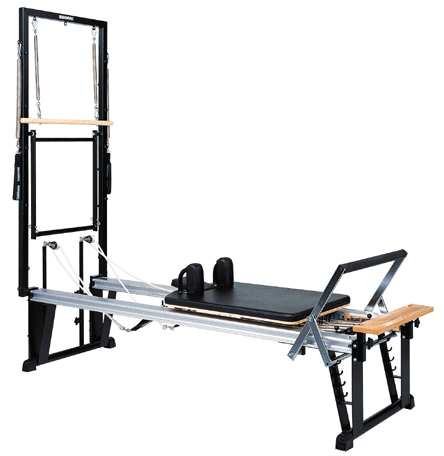 specs rehab reformer: carriage width 24" | height 22-1/2" | overall length 97" | weight 185 lbs | note: feet protrude 3.5" on either side | some assembly required optional vertical frame: height 83" | weight 42 lbs
standard features
rehab reformer: patented rolling mechanism | wooden standing platform | 4 100%-tension reformer springs | 1 50%-tension reformer spring | soft reformer loops & ropes | 3 gearbar positions | 6 carriage stopping positions | 3 headrest positions | 4 footbar positions | adjustable shoulder rests | dense EVA foam | durable vinyl upholstery | multiple pulleybar heights | easy-roll wheels
optional vertical frame: multiple spring attachments | 2 arm springs with handles | 2 leg springs with padded straps | maple roll-down bar with 2 springs | push-thru bar with 2 springs | safety chain
optional accessories
rehab reformer: vertical frame, reformer box with footstrap, long spine straps, foam grip handles, ankle straps, jumpboard, rotational diskboard, soft footbar, padded platform extender, mat converter, rubber pads, gripper mats
optional vertical frame: hamstring extension straps





Essential Reformer Video
included free with every Reformer.

Retail price for the Rehab Reformer is $3,295US. Vertical Frame retails for $1050.
We provide a professional discount -- if you think you might qualify, please email or call us for more information. Our toll free telephone number is 1-800-910-0001
to purchase: click here to enter STOTT store
©All material copyright STOTT EQUIPMENT SALES INC. 1998. All rights reserved.
This material, including photographs, may not be copied or used in any form without express permission from STOTT.