The client reformer is ideal for personalized group classes, one-on-one training and home exercise and is the highest value commercial quality unit in its class. Made to the same exacting standards as our Professional Reformer, its compact design and easy-roll wheeling system make storage a breeze.
Like all STOTT Reformer products, the Client Reformer has a patented aluminum rolling mechanism for superior safety and smoothness. Its extra wide carriage, six stopping positions and uniquely interchangeable Footbar accommodates users of all sizes and fitness levels.

standard features patented rolling mechanism | wooden standing platform | 4 100%-tension reformer springs | soft reformer loops and ropes | 3 gearbar positions | 6 carriage stopping positions | 3 headrest positions | adjustable shoulder rests | dense (EVA) foam | durable vinyl upholstery | easy-roll wheels
optional accessories reformer box with footstrap, long spine straps, foam grip handles, jumpboard, rotational diskboard, soft footbar, 50%-tension reformer spring, padded platform extender and mat converter.
specs carriage width 24" | height 8-1/2" | overall length 97" | weight 120 lbs | some assembly required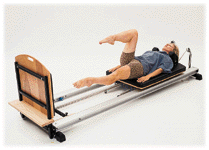 ........
The retail price for the Client Reformer is US $1,895. The Mat Converter is $235. We provide a professional discount -- if you think you might qualify, please email or call us for more information. Our toll-free telephone number is 1-800-910-0001
to purchase: click here to enter STOTT store
©All material copyright STOTT EQUIPMENT SALES INC. 1998. All rights reserved.
This material, including photographs, may not be copied or used in any form without express permission from STOTT.