Avenue Road & St. Clair (midtown west) 20 minute walk to studio or 5 minute by streetcar & subway. Private room, shared bath, kitchen, laundry facilities, TV, VCR & phone. Quiet and safe neighbourhood, close to transit & shopping. Non-smoking female preferred. Long-term or short-term rental available/price will reflect length of stay. Call Mary 416-967-4687 or Email accelwood@hotmail.com

Mt. Pleasant / Bayview & Merton (midtown east) 25 minute walk or 15 minutes by transit to the STOTT PIILATES Studio. Large, bright rooms in lovingly- restored century home. Quiet and safe neighbourhood. Each room equipped with a Queen-size bed, plenty of closet and work space, satellite TV/DVD/VCR and High Speed Wi-Fi Internet connection. Large luxurious bathroom with spacious shower; shared kitchen and laundry facilities. Close to grocery stores and excellent selection of restaurants. Non-smokers only. Resident cat. Shorter stays preferred. Contact Joan or Olaf at 416-488-0629 or email: joan@knowledgetree.ca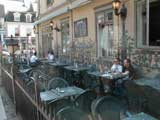 St.Clair and Spadina Road (midtown central) 20 minutes by transit or 25 minute brisk walk to STOTT PILATES studio. Furnished room with a panoramic view of city and lake, in large apartment; good closet space, study space. Very central fun location in tree-lined neighborhood, close to all amenities including subway, streetcar and up-scale Forest Hill Village with cafés, restaurants, banks, grocery stores etc. Includes central air conditioning, laundry facilities, TV/VCR, indoor swimming pool, exercise room & convenience store. Utilities/local telephone included. Resident cat. Share with easy-going female. Meals provided OR use of kitchen. Longer stays preferred. Call Kilby at 416-929-4791, fax: 416-929-7745 or Email Kilby@istar.ca

Carlton & Parliament (Cabbagetown) 25 minutes by transit to studio. Furnished room, shared kitchen, w/dishwasher, 2 bathrooms, laundry facilities, resident cat. Close to shopping and restaurants. $$175/week or $600/month. Call Linda 416-822-5438 or Email lross822lift@yahoo.com.

South Riverdale (Broadview and Queen/Dundas) 30 minutes to studio on streetcar/subway. Furnished room in gay+ renovated house on quiet street across from park. Includes: large kitchen with walk-out to garden, living and dining room, laundry, large bathroom and use of TV, stereo. 15 minute walk to local pool. Resident, quiet shih-tzu dog on premises. Non-smokers only. $600.00 a month. Call Colin 416.469.9634 (evenings) or colin_45@hotmail.com.

East End 30-40 minutes from studio. Room in quiet, clean, comfortable setting. Close to all amenities. No pets, no smoking. Call Jason at 416-261-6811

Danforth & Woodbine (east end) 25 minutes to studio by subway. 1-bedroom basement appartment in vegetarian home. Furnished. Private entrance, kitchen, bath, shared laundry. $30 per night, longer stay rates negotiable. Close to stores, parks & transit. Call Sharon 416-690-6993

Danforth & Woodbine (east end) 25 minutes to the studio by subway. Cozy, clean, quiet lovely home in safe neighbourhood. Rooms fully furnished with desk, cable tv, CD stereo. Close to all amenities, it's a 3 minute walk to Woodbine station subway and a 20 minute walk or transit ride to the Beaches, Greek Town, Chinatown or Little India. Also available, on-site laundry and free high speed Internet access. $420- $470 monthly all inclusive. Non-smoking females preferred. Call Mike 416-559-2676 or Email toronto_rooms@yahoo.ca

Danforth & Main (east end) 30 minutes to studio by subway: upper floor room in 3 bedroom house. Only steps to subway. Parking, laundry available. $150 per week / no board. No pets, non smoker preferred. Call Robert 416-464-3478

Danforth & Victoria Park (east end) 2 minute walk to subway. Share condo with professional female. Private room, shared bath, kitchen, laundry facilities, TV, VCR, & phone, swimming pool, sauna, jacuzzi & gym. Close to shopping mall and 24-hours grocery. Quick, easy access to all transportation including TTC and GO trains Non-smoking, professional female preferred. Long- or short-term rental available, price will reflect length of stay. Email Mary at bless17you@yahoo.ca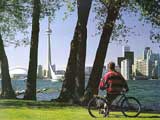 Little Italy (mid-town west side) 25-30 minutes by transit to studio. Reside with STOTT PILATES certified instructor. Furnished room; share bathroom & kitchen w/university student. Separate entrance in bright newly-renovated basement. Includes, cable TV, VCR & videos, laundry, backyard, BBQ and phone. Close to both streetcar and subway. Vibrant neighborhood features awesome restaurants, bars and cafes plus all the shopping you might require (groceries, drugstore, clothes & Lululemon!!!) Close to Lake Ontario for rollerblading, strolling or cycling plus parks, tennis courts and community centre. $25/day, $165/week, $625/month. sorry, No pets/no smoking. Email: ieduh@yahoo.com


Dundas West & Bloor 30-minutes to studio via subway. Luxury! 3 Bedroom house with a Reformer and Chair. Close to subway, park, lake, review cinema, shopping & restaurants. $500 for 2 weeks or $800 per month. Call Tish at 416-536-0079

High Park 40-minutes to studio via subway: Room in large, quiet, comfortable family home. All amenities included. Separate bathroom. Walking distance to lake, review cinema, trendy restaurants, Toronto's largest park & subway. No children. No smoking. Call Sandy or Tom 416-767-3261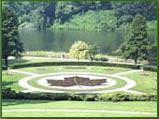 High Park 40-minutes to studio via subway: Room in quiet, comfortable home. All amenities included. Private bathroom. Walking distance to trendy Bloor-West Village, excellent shopping, restaurants and outdoor cafés, Toronto's largest park & subway. No children. No smoking. Dog on premises. Call Katherine 416-763-4305

High Park 40-minutes to studio via subway: Room in quiet, comfortable home. All amenities included. Separate bathroom. Walking distance to Bloor-West Village shops & restaurants, High Park & subway. Large Family home. Available beginning Sept. 8, 1999. Call Leslie 416-766-1756

High Park (Queen & Lansdowne) 40-minutes to studio via subway: Private room in large 3-floor, 3-bedroom, 2-bathroom home, shared with one female business professional. Easy access to waterfront, parks and downtown core. Large living space with access to washer, drier and computer/internet. Street parking available. No smoking. Call Jody 416-533-1900 (home) or 416-575-1700 (cell ) or email jody@themalones.net.

High Park/Junction Area 40 minutes to studio via subway. Private room in quiet, comfortable home. Use of kitchen and all amenities TV, VCR, PC etc included. Shared bathroom. Walking distance to shops and restaurants, High Park & subway. No children. No smoking. Call Dawn at 416-769-4804

Bloor West Village (west end) 40-minutes to studio via subway: 5 minutes walk to station. Large, clean, quiet furnished room in beautiful 3-storey Edwardian home. Close to park, excellent shopping, restaurants and outdoor cafés. Strictly non-smoking adult household. Shared bath and kitchen. Includes laundry, telephone and cleaning lady. Prefer longer stay $550.00 monthly. Please contact moorev@eyesurf.net