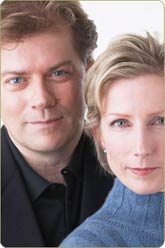 Dear Friends,

May is in bloom and vacation planning is in full swing. As you prepare and get excited for your travels near or far, remember to stay on track with your health and fitness goals. Wherever you are all you need is a Mat, a few small props and you're ready for a Pilates workout!
May is also a time of celebration – Happy Mother's Day from the entire Merrithew Health & Fitness™ team. On this and every other day, be sure to show the moms in your life how truly appreciated they are. Help them relax and recharge with the gift of Pilates!
Yours in good health,

Lindsay & Moira Merrithew
Co-founders, The Merrithew Health & Fitness Group
In the News

FEATURED STORY
Keeping It Fresh With Matwork
Thinking of adding a Pilates program to your facility's fitness offerings? Don't be intimated by the large equipment, start out small with a Mat-based program. Find out how it can benefit your business and your clients.
Running With Pilates
Whether you are running a half marathon, marathon or triathlon, STOTT PILATES® is an ideal way to condition the body to perform at its best and avoid common running injuries. Read these success stories.

Ace Your Game with Pilates
Despite its appearance, Golf is challenging on the body and can lead to injury. Keeping physically fit throughout the off-season will help improve performance and reduce the risk of injury. See how Pilates can help.

Did you enjoy these articles? See all STOTT PILATES media coverage.
Ask the Experts!
Got a question? Get answers!
Q. I've heard that Pilates is one of the best exercises to do during and after pregnancy. Why is that and are there any precautions to keep in mind?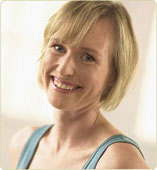 Sally Belanger, Project Specialist, Education & Master Instructor Trainer responds: Exercise, and in particular Pilates, can be a great way to deal with the physiological and psychological changes that occur during pregnancy.
During pregnancy the body releases a hormone called relaxin which increases joint laxity particularly in the pelvic girdle. Although advantageous during birth, it can also cause stability issues particularly in the spine and pelvis during pregnancy. STOTT PILATES® helps to strengthen the muscles that hold the joints in place to increase joint stability and to prevent musculoskeletal injuries that may occur during pregnancy. Awareness of the pelvic floor helps to stabilize the lower back and pelvis and Pilates focuses on pelvic floor utilization and connection. A stronger pelvic floor may also reduce the risk of incontinence symptoms post birth.
As the baby grows and the mother gains weight the lumbar spine becomes more lordotic and the center of gravity changes. This affects both posture and balance in the pregnant client. Pilates exercises will focus on ankle stability and the lateral hip muscles which are important muscles used in stance and gait. It will also focus on strengthening the upper back while not overworking the back extensors in the upright posture. Working the upper back muscles is important as they may become elongated during pregnancy and need to be strengthened as they are used constantly by the new mom when holding and carrying the baby.

Pilates may also improve psychological well-being for the mother—an increased level of fitness may help the mother cope with the demands of labor. It is important to receive approval from your physician prior to beginning a Pilates regimen. It is also important to work with an instructor who has taken training specific to the physiological changes that occur during pregnancy and the modifications that are necessary throughout.
Need Pilates Advice? Challenge our panel of experts with any question you may have, and we'll settle the debate, give you our perspective and/or provide support. Send us an email and your question may be featured in next month's newsletter!
Equipment Spotlight
Stability Chair™
How can you improve balance and posture, increase total body strength and flexibility, enhance stamina and mood in just five and a half square feet?

On a STOTT PILATES® Split-Pedal Stability Chair!

Sturdy with a stabilizing steel base, spring frame and body-weight supporting handles, the beautiful, wood-paneled, four spring, split-pedal Stability Chair will provide a lifetime of comprehensive fitness.

Ideal for exercisers who need to stay in a seated or upright position, the Stability Chair can also be used by athletes and fitness enthusiasts to facilitate everything from low-load rebalancing movements to high-performance strength exercises. Workouts will encompass movements from virtually any posture: prone, supine, side-lying sitting, kneeling or standing and will target the whole body, one muscle group at a time.

So if you have a little extra space in your home or professional studio, nothing will utilize it better than a Stability Chair.
Our Commercial Sales team can answer any questions you may have and assist you with studio layout, equipment selection and financing, plus staff training. Contact us by email at equipment@merrithew.com or call 1‑800‑910‑0001 x264 (North America) or 1‑416‑482-4050 x264 (International).
What's New at our Corporate Training Centers?
Toronto, ON
Intensive Cadillac | starts May 9
Intensive Barrels | starts May 19
New York, NY
Advanced Matwork | start May 6
Intensive Reformer | starts May 13
Denver, CO
Intensive Barrels | starts May 21
Intensive Reformer | starts June
See a list of upcoming workshops and courses held by our LTCs and Hosting Centers.

Job Board
STOTT PILATES Job Board
Visit our online Job Board for a list of Pilates instructor positions worldwide.
Facilities looking for STOTT PILATES instructors may fill out a Job Board submission form
Toronto Head Office Careers
If you're passionate about Pilates and you're looking for a rewarding, fun and fast-paced career, check out our available positions