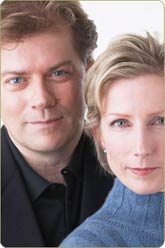 Dear Friends,

Happy New Year and welcome to the first STOTT PILATES® Newsletter of 2010! Prepare for another fun-filled year of Pilates exercises, monthly offers, education updates, equipment tune-up tips and tricks, news exclusives, expert advice and more. Whether you're an instructor, studio owner, fitness professional or Pilates enthusiast - each issue has you, your career and your interests in mind! So whatever your goals may be for the upcoming year, know that you can depend on STOTT PILATES for support, encouragement and overall success.

This year we're continuing to stay dedicated to make your Pilates dreams come true. Certified and soon-to-be instructors, studio entrepreneurs and at-home exercisers alike will all find a touch of innovation, a splash of inspiration and a whole lot of motivation in each upcoming issue. Here's to a magical year ahead - wishing all of our readers and their families a healthy, happy and prosperous New Year!

Yours in good health,



Lindsay & Moira Merrithew
Co-founders, STOTT PILATES®

In the News
FEATURED STORY
Your Network Connection
However you're affiliated with the fitness industry, you can surely find your place online and take your business high-speed! With social communities like Facebook, MySpace and Twitter booming and websites becoming more and more interactive each day – STOTT PILATES continues to stay on top of the trends to keep the global Pilates community interconnected! Read about some of the exciting new e-projects on the horizon.
Meeting Market Demands
The fact that Pilates has gone mainstream means that it's attracting exercisers of all ages and stages including the active aging market, pre- and post-natal women and those with rehab needs, to name a few. President and CEO of STOTT PILATES, Lindsay G. Merrithew offers insight as to what the company has accomplished in order to make contemporary mind-body fitness possible for nearly everyone.

Got Barrels?
Essential for aligning and mobilizing the spine, Barrels help improve posture and develop balance and control. Just starting out? The Arc Barrel or Arc Barrel Deluxe will modify or challenge any Pilates program in countless new ways! Find out why Power Player Magazine has become instant Arc Barrel admirers.
How to Find Instructors
Introducing our newly improved Instructor Finder – launching early 2010! We're thrilled to announce new search capabilities including search by name, location, certification and more. Plus, it now delivers results to your screen – no more waiting for en email to arrive and it's international! Use the new Instructor Finder today!
The New Age Group Class
Through years of innovation, STOTT PILATES has crafted a line of studio-grade equipment that is ideal for the group class environment. Each piece is lightweight, compact, easy-to-use and complete with hours and hours of programming options! Learn about the Group SPX Max Plus™ Reformer* and Stability Chair™ and find out why they are two of our top picks for 2010.
Ask the Experts!
Got a question? Get answers! Our rotating panel of Pilates experts will share their perspectives, give advice, provide support and coach you along the way to success. So if you need insight on STOTT PILATES training, a marketing strategy for upcoming courses and workshops or challenging yourself with an at home workout – send us an email, and your question may be featured in next month's newsletter!

Q. I own a Pilates studio and would like to send a Holiday/New Year's incentive to clients that have not visited in awhile. Experts, could you please share advice to set me in the right direction? Is there a STOTT PILATES archive of marketing materials that I could look at for inspiration?
– Athena Liolios, B.S./Owner of The Pilates Studio Clearwater in Largo, FL
Colin Martin, Studio Manager
of the STOTT PILATES Toronto Corporate Training Center responds:
While some clients are dedicated for life, others may fall in and out of their routine due to a number of reasons; busy schedule, finances, lack of motivation etc. To re-attract your former clientele, your best bet is to keep your marketing simple and serve-up an offer they can't pass up! Here are three offers that we've used at the Toronto Studio and Corporate Training Center – which have all been very successful.
New Year, New You! Buy three privates for only $99. A promotion like this will encourage your clients to take time for themselves and get back into shape. Offer could be applied to private and/or semi-private sessions.
Buddy-Up and Bring a Friend for Free! Double the motivation, increase the commitment and expose more people to the wonderful world of mind-body fitness.
Enjoy a Free Group Class. Clean and simple – a great incentive to make mind-body fitness a priority again.
Besides special promotions, consider offering specialized workshops (ie. golf, pre/post-natal, athletic conditioning), investing in new equipment and/or upgrades (ie. V2 Max Plus™ Reformer* Vertical Frame, Jumpboard, Rotational Diskboard™ Deluxe) and perhaps even hosting an open house to showcase what's new and exciting at your studio.
I hope you find these suggestions helpful and that they work to your advantage – all the best in the New Year!
Need Pilates Advice? Challenge our rotating panel of experts with any question you may have, and we'll settle the debate, give you our perspective and/or provide support.
Equip Tips

Keeping Footbars On the Straight & Level
The Footbars on STOTT PILATES Reformers are sturdy, secure and provide body weight support at multiple levels across the front of your Reformer. After frequent use, the fasteners for the Footbar mechanism may loosen a touch and as a result, the Footbar may slightly angle upwards at one end.
To straighten and level your Footbar, simply follow our suggested procedure:
Loosen all socket head cap screws and/or bolts couple of turns on the long and swing arm supports arms of the Footbar. Have an assistant apply downward pressure to the Footbar while the socket-headed cap screws and nuts are being tightened. It is important to apply an equal amount of torque force on all fasteners to assure that the Footbar is restored back to its original horizontal alignment.
Questions about equipment maintenance? Need a quote on replacement parts? Contact our Commercial Sales Department by email at equipment@stottpilates.com or call 1‑800‑910‑0001 ext. 264 (North America) or 1‑416‑482 4050 ext. 264 (International).
Featured Products
What's Your Matwork Personality?
Express yourself with our all-new Pilates & Yoga Graphic Mats and Aluminum Water Bottles! Perfect for Pilates, Yoga and other Matwork exercises, these durable PVC mats are 4mm thick and come with a carry strap. Each unique and inspiring design features a helpful alignment line, to ensure your spine is perfectly positioned on the Mat. Plus, our matching 750mL aluminum water bottles are lined to prevent taste transfer and feature a flip-top for easy access. NOW AVAILABLE!