Dear Friends,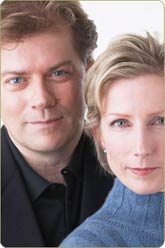 With the holiday season fast approaching and 2010 right around the corner - it's easy to get caught up in the hustle and bustle. Don't let December pass you by without enjoying every moment!

This month, re-evaluate your current exercise program and treasure what's left of 2009. Don't wait to make positive changes with New Year resolutions - it's time to try new Pilates classes, eat healthy and drink more water today! In the spirit of the holidays, take time to think about your mind-body ritual and how our lives often disregard balance and tranquility. Take this opportunity to breathe and experience the luxuries of life starting with your exciting Pilates repertoire. Whether instruction is the basis of your career, or classes are part of your workout regimen - it's important to instill the benefits of Pilates into your everyday life. Don't stop when you leave the studio. Enjoy the hectic holiday season in a whole new way.

On behalf of the entire STOTT PILATES® team, we wish you all a wonderful holiday season!

Yours in good health,



Lindsay & Moira Merrithew
Co-founders, STOTT PILATES

In the News
Pilates for the PT Community
Did you know? Contemporary mind-body fitness methods, like STOTT PILATES, include modern principles of exercise science and spinal rehabilitation to accommodate all stages of recovery and rehabilitation. Find out why the physical therapy community has embraced Pilates for rehabilitation and incorporated it into their practice.

The Belle of the Ball
As seen in a selection of STOTT PILATES DVDs, including Mini Stability Ball™ Workout, Natalia Haigler is a STOTT PILATES Certified Instructor and a Mini Stability Ball aficionado. Learn eight great workouts from Natalia using this small yet versatile, lightweight ball.

Plus! Find out how to extend the life of Toning Balls™ that may have hardened. Moira Merrithew, Master Instructor Trainer and Executive Director of Education at STOTT PILATES, shares the tips and tricks.
Give Shape to Your Workout with Props
The beauty of Pilates exercise is not limited to its variety, but it's definitely a key attribute that keeps enthusiasts coming back for more! One simple move, like the Ab Prep, can be performed a multitude of ways – simply by incorporating a new tool or accessory for added resistance, or to challenge stability. Read about six great Pilates props that have taken the industry by storm.
At Home Studio Essentials – that Save You Money!
STOTT PILATES and Costco have made it easier and more economical than ever to set up your very own studio, in the comfort of your own home! American and Canadian Pilates enthusiasts alike can buy their very own At Home SPX™ Reformer Package among many other exclusive equipment packages with fabulous savings. Learn the benefits of making Pilates part of your fitness routine – whether you prefer at home workouts, the studio or a combination of the two.
Ask the Experts!
Got a question? Get answers! Our rotating panel of Pilates experts will share their perspectives, give advice, provide support and coach you along the way to success. So if you need insight on STOTT PILATES training, a marketing strategy for upcoming courses and workshops or challenging yourself with an at home workout – send us an email, and your question may be featured in next month's newsletter!

Q. Many of my clients sit at desks all day, so I've been incorporating a lot more spinal extension as well as Matwork and equipment-based exercise than I was originally taught in the traditional series. It seems to make clients more aware of their posture and stronger in their mid and upper-back areas - do you think this particular emphasis can be harmful in the long run? – Sabrina from Philadelphia, PA
A.

Laureen DuBeau, Master Instructor Trainer and Communications Director of Education
The goal of any Pilates program is to rebalance the muscles around each joint and restore the body to an optimal level of postural stability and functional mobility. Many of us create less than ideal postures or movement patterns based on our habits or daily activities. STOTT PILATES® students are taught to look at both dynamic and static postures to determine the best programming options for each individual to help these imbalances or dysfunctions. If a client spends a large part of the day hunched over a computer with the thoracic spine flexed, the head protracted forward and the shoulders rounded, this could become a habitual posture that follows them around through life. A carefully designed Pilates program can help bring greater awareness to their posture, strengthen muscles that may have become lengthened and weak and lengthen those that may have become tight. As long as the program focuses energy on all sides of the joints - including the spine - the body will begin to move more efficiently. Remember that BALANCE is the key.

Need Pilates advice? Challenge our rotating panel of experts with any question you may have, and we'll settle the debate, give you our perspective and/or provide support. Send us an email, and your question may be featured in next month's newsletter.
Equip Tips

When Vinyl Looks Worn or Gets Torn
Anyone who owns STOTT PILATES equipment knows that our machines are built to last! But after frequent, day-to-day use, maintenance or small repairs may be required. The durable vinyl upholstery that covers many of our machines can age or crack over time, but there are quick and easy solutions to mend the wear and tear!
Small vinyl punctures or tears in non-weight bearing areas of a piece of equipment can often be sealed with adhesives that are specifically labeled for vinyl use. Be sure to read the application directions carefully, and remember when applying adhesives to vinyl edges – less is more.
For worn or torn vinyl that cannot be bonded, replacement vinyl skins or vinyl-covered sub‑assemblies can be purchased from STOTT PILATES. Call for details.
To learn more about upholstery care and maintenance solutions
, contact the Commercial Sales Department at
equipment@stottpilates.com
, call 1‑800‑910‑0001 ext. 264 (North America) or 1‑416‑482‑4050 ext. 264 (International).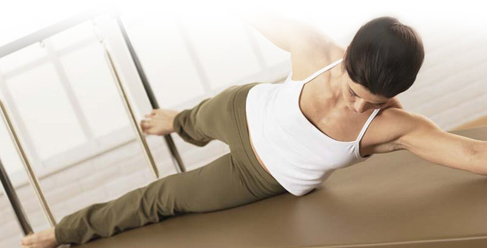 New Products Available Mid-December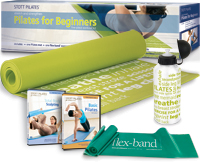 Pilates for Beginners Workout Kit
Includes all the essential Pilates components to start down the road of healthier living. This is a great way for beginners of all ages to learn and enjoy the basics of STOTT PILATES. Includes two full-length, easy-to-follow workouts that are gentle on the joints and calming to the mind and a Flex-Band®, Mat and water bottle with inspiring words.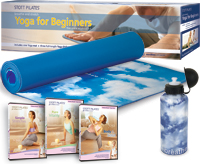 Yoga for Beginners Workout Kit
Stretch and strengthen your way to a healthier lifestyle with this unique hybrid of STOTT PILATES principles and Vinyasa Yoga traditions. This is a great way for people of all fitness levels and backgrounds to stay fit with challenging moves that will keep you centered and focused. Includes the complete Pilates-Infused® Yoga Series (3 DVDs) as well as a Mat and water bottle with a vivid cloud design.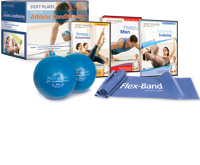 Pilates for Athletic Conditioning Workout Kit
An all-in-one kit that kicks performance into high gear by challenging strength and boosting stamina. Serious athletes and fitness enthusiasts alike can improve mobility and coordination while re-training and toning their muscles by following the exercises in these specially selected DVDs. Enhance athletic and daily performance while reducing the likelihood of injury - whatever your game or sport, your body will thank you for it!