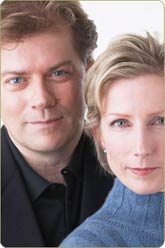 Dear Friends,

October is Physical Therapy Month and Breast Cancer Awareness Month - two areas of interest that are incredibly important to STOTT PILATES®. We welcome you to the October issue as we shine a light on back pain, Osteoporosis, healing practices for Breast Cancer survivors and more. Bringing awareness to these issues is one thing, but by promoting the benefits of Pilates, we know that many readers out there will begin to heal and feel great because of it!

We all know by now that Pilates will help you to feel strong and healthy, calm and confident, but these benefits are not limited to those who are fit and in good physical shape. Anyone who is suffering from pain, whether it be from surgery, disease or an injury, can restore their bodies and their lives through regular Pilates practice. For all of these reasons and more, there is no better time than October to highlight the significance of Pilates for rehabilitation.

Yours in good health,



Lindsay & Moira Merrithew
Co-founders, STOTT PILATES®


In the News
All About the Reformer
It may be all the rage, but there is no denying that the Reformer is more than just a trend – it's an indispensable piece of Pilates equipment suitable for everyone, of all ages and stages! So how do you choose which model is right for you or your studio? Some models, like the Rehab Reformer™, are built for less mobile patients while the V2 Max Plus™ Reformer* is a do-it-all machine perfect for boutique Pilates studio (big or small). Read important Reformer-buying tips to better inform your purchase.

It's Right Around the Corner!
With the Community of Excellence Event taking place this month on Oct. 21-24, there is so much to be excited about! Distributors, Licensed Training Centers, Instructor Trainers and fitness professionals alike will all have the opportunity to train, network, share tips and advice, save on equipment and explore Toronto together! Plus, Master of Ceremonies for our Community of Excellence Awards Gala & Dinner is rising comedy star, Roman Danylo! Registration is over 85% full and workshops are filling up steadily – register today, if you haven't yet and join us there!
Now 56 LTCs on Board!
On behalf of the entire STOTT PILATES Network, we'd like to welcome our newest Licensed Training Center – Basic Principles Pilates in Buffalo, New York! If you're in the area, be sure to stop by for a Reformer or Matwork class or better yet – sign-up for an upcoming course or workhshop. Owned by Alaine Owen, a STOTT PILATES Instructor Trainer, the facility is equipped with everything you need to meet your mind-body goals.
Ask the Experts!

Q. I have Osteoporosis of the spine. Prior to my diagnosis, I practiced Pilates in every plane of motion – flexion, extension, lateral flexion and rotation. Since I've learned that I have Osteoporosis, I stopped working in flexion and now my thoracic spine is hurting more than ever. Do you recommend that I work out in flexion too? Cynthia Kraft – Emporia, KS
Sally Belanger
Project Specialist, Education & Instructor Trainer responds:


Osteoporosis and exercise is a controversial issue because industry experts tend to disagree with current literature. I can understand why you may be frustrated with both your pain and your need for a solution. While some programs advocate for only extension exercises, others encourage exercisers to work the spine in a dynamic neutral position. STOTT PILATES programming follows the National Osteoporosis Foundation which states, "It is important to maintain flexibility and range of motion in both flexion and rotation. For safety, these exercises should be performed with the spine unloaded and with attention to slow easy quality of movements".
In order to stimulate bone growth, the bone must be dynamically loaded, several times per week in various planes of motion in a safe and controlled manner. The range of motion and movements are going to be different for every individual depending on the results of the specific diagnostic test and the area of the spine that is affected. Talk to your Physical Therapist and/or Pilates Instructor about what you are experiencing, and be sure to share the results from your doctor to understand your spine's condition.
Laureen DuBeau
Communications Direction, Education & Instructor Trainer


In most situations, our bodies can tell us what is right and what is wrong as long as we take the time to listen. Although some experts advocate only exercising in a neutral alignment when dealing with Osteoporosis, others will assert that maintaining mobility of the spine is also an important factor. Most will agree that strengthening the musculature around the spine is integral to maintaining, if not increasing, bone density. When creating a Pilates routine, keep these things in mind:
Bones accommodate to a regular routine;
Bone creation requires varied challenge to the bones;
Bone density gains are quickly lost when exercise is discontinued.
Remembering that flexion and lifting generate the largest forces on the spine, we need to perform these movements with as much care as possible, avoiding any loading on the structures and maintaining dynamic stability. You should always work under the guidance of your medical team and a qualified Pilates instructor to ensure you follow your individual prescribed guidelines.
Need Pilates advice? Challenge our rotating panel of experts with any question you may have, and we'll settle the debate, give you our perspective and/or provide support. Send us an email, and your question may be featured in next month's newsletter.
Equip Tips

Don't Forget About Spring Clips!
Small, unobtrusive and virtually forgotten, the connector spring clips on your Pilates equipment play a vital role in the operation of your machine.
Three Varieties, Three Functions:
Single spring clip with swiveling D-ring connects the Reformer ropes to soft Reformer loops and foam-grip handles.
Double ended spring clips are used on the Max Plus™ family of Reformers to connect to ropes, handles and straps.
The carabiner-style spring clip (with and without locking collar) is used to connect Cadillac style springs to eyehooks, and safety chains to push-thru bar eyehooks.
All spring clips should be inspected on a regular basis to confirm that their spring locking gates are opening and closing, smoothly and fully. If a spring gate doesn't open and close smoothly and with proper alignment, or gets stuck open (even partially), they can compromise the important interlocking of rope to loop, spring to eyehook and safety chain to push-thru bar eyehook.
Safety Tip: Defective spring clips should be replaced immediately. STOTT PILATES recommends that you replace carabiner-style spring clips every two years.
New Products
A New Level of Intensity
Learn to control instability by activating the stabilizing muscles of the torso, shoulders and hips with a pair of Stability Cushions. To stay balanced, you'll be recruiting the deep support systems of your whole body while developing greater coordination and control. Add a new facet to your Pilates workout with a pair of brand-new
Stability Cushions
– you'll love the results!
Available end of October.
Product Specs
Diameter: 14", PVC Free
Pilates Programming for New Moms and Moms-to-Be!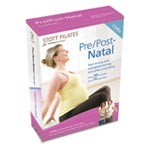 Feel strong and energized during and after your pregnancy with the Pre/Post-Natal DVD Three-Pack. This great boxed set includes prenatal programming on the Mat and on the Stablity Ball™ with Flex-Band® exerciser, as well as a post-natal DVD, using Toning Balls™, to help regain your pre-pregnancy shape. Keep fit and support your changing body with this lifestage-specific boxed set.
Includes 3 DVDs: Prenatal Pilates on the Mat, Prenatal Pilates on the Ball and Post‑Natal Pilates.