Live for the Moment in May!


STOTT PILATES is a Senior Partner of IDEA,
The Health and Fitness Source
May Promotions


Want to Build a Successful Pilates Business?


STOTT PILATES'

Leasing & Hosting Programs are the Solution!
Back by Popular Demand…
Equip Your Facility with STOTT PILATES Equipment
for ONLY $20 Down, and
up to 6 Months Deferred Payments! †

Invest in the growth and development of your Pilates studio, without tying up capital! Find out more...

Host a STOTT PILATES Course
and Receive a Two-Hour Workshop for FREE. §

Deliver world-renowned instructor training, certification courses and workshops on-site at your facility. Learn how...
Perfect for Mother's Day!

Here are two great gifts, she's bound to love.
Get a FREE Regular-Strength Flex-Band® Exerciser **

When you buy the Prenatal Pilates on the Ball DVD and any Stability Ball. Get details...

Plus, receive the
Amazing Tone DVD FREE **

With the purchase of the Post-Natal Pilates DVD and a pair of Toning Balls. More info...

For more great STOTT PILATES equipment and accessories, please visit our e-store.
---
Dear Friends,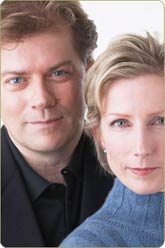 Teamwork perpetuates success. Whether you're working towards STOTT PILATES certification, obtaining the next series of at home DVDs or want to increase membership retention at your studio — we're with you every step of the way.
When you associate with STOTT PILATES, you're aligning with a leader in the industry. Our network of certified instructors exceeds 17,000; we're producers of the world's largest Pilates DVD library with over 120 titles in our lineup; and we're manufacturers of the industry's top Pilates equipment line. With our team of experts, we've been able to make Pilates widely accessible - and your path to Pilates success can be realized too. We look forward to growing the Pilates fitness phenomenon along with you.
Yours in good health,
Lindsay & Moira Merrithew
Co-founders, STOTT PILATES®
---
Looking for Sport-Specific Training?

With the warmer weather upon us, the demand for unique and challenging strength and sport-conditioning regimes are in high demand. Find out why so many athletes are turning to Pilates to build stamina, strength and flexibility in the article Pilates for the Sports Guy available in the current issue of Beyond Fitness. Read story

Pilates for Rehabilitation

Whether you or your client are deconditioned, injured or mobility challenged – the STOTT PILATES method is ideal for realizing movement potential through gentle yet effective rehabilitation. STOTT PILATES Assistant Program Director Laureen Dubeau shares her views in OnSite's Pilates for Rehab and the Physically Challenged. Get article

Burn Calories with Our Weight Loss DVD Series

Learn all about how Pilates can aid with your weight loss goals in the May issue of Oxygen Magazine. The STOTT PILATES Weight Loss DVD Series delivers high-impact workouts that help build lean muscle while strengthening the core. Keep the weight off by adding this effective training program to your regular workout. Find out how

Bits 'n' Bites

Watch out for an exclusive workout article featuring the V2 Max Plus™ Reformer* in an upcoming issue of Pilates Style Magazine.
Singing sensation Sting was recently at our Toronto Studio for a workout during his tour.
Get your shopping bags ready! We're re-vamping our e-store to make your online experience even better. Watch for this in the coming months.
---

New Products



Purple Packs a Punch

If you're taller than 6'2" then our newest 75cm Stability Ball was made for you! Made of latex-free, anti-burst polyvinyl with a non-slip, ribbed surface in a punchy shade of purple, our Stability Ball challenges torso stability while improving balance. Some people even use it as an office chair. Safety tested under 250kg/550 lb pressure. On shelves this month! Also available in blue (if you're under 5'7" tall) and green (if you're 5'7"-6'2" tall).

All Stability Balls are also available in convenient Power Packs with Easy Start Poster, Core Balance DVD and pump.
---

Job Opportunities

STOTT PILATES Job Board
Visit our online Job Board for a list of Pilates instructor positions worldwide.

Facilities looking for STOTT PILATES instructors may fill out a Job Board submission form.



Toronto Head Office Careers
If you're passionate about Pilates and you're looking for a rewarding, fun and fast-paced career, check out available positions.

---
Trade Shows
IDEA World Is Coming Up!

July 8-12,
Las Vegas Convention Center
Las Vegas, Nevada


IDEA World Fitness Convention™ is a highly anticipated event. Fitness professionals gather annually to share their health and wellness tips, fresh programming ideas and newfound innovations.

Whether you're looking to save 25% on demo STOTT PILATES equipment or want to expand your repertoire at our exciting new Pre-Cons and Workshops – you don't want to miss this event!

Pre-Order Your V2 Max Plus™ Reformer*
and Save 25%

Hurry while quantities last! Don't miss your chance to pre-order your V2 Max Plus Reformer at the demo price, for pick up on Saturday, July 12.

Find out more about the next generation of Pilates... This solid, all-in-one system is much more than a Reformer — providing unlimited Pilates programming options with state-of-the-art technology. The V2 Max Plus is changing the way people do Pilates. View a demo clip of this revolutionary Reformer.

Enter to Win a V2 Max Plus Reformer!

Visit our booth and fill out a ballot for your chance to win. For complete contest rules and regulations, click here.
Now when you visit the STOTT PILATES booth at the numerous tradeshows and events we attend, you can SAVE UP TO 25% on the regular list price on demo equipment used at the shows†. To avoid disappointment — you can also pre-order equipment by contacting sales@stottpilates.com
Be sure to check out the schedule below for dates and locations — they are sure to spark an interest in you.
If you haven't quite been tempted enough… Perhaps the opportunity to WIN a STOTT PILATES V2 Max Plus™ Reformer* will do the trick†. Click for details. Simply fill out a ballot at one of the shows listed below for your chance to win. Also during your visit, be sure to enroll in a FREE DEMO and get a FREE GIFT as a token of our appreciation! Find more information on upcoming trade shows.
† At selected shows only

Pre-cons, sessions, dates, times and locations are subject to change. Please confirm with the respective organizing associations.

| | | | |
| --- | --- | --- | --- |
| Event | When | Where | |
| Polestar Conference | May 1-4 | Cologne, Germany | |
| Can-Fit-Pro Halifax | June 21-22 | Halifax, Nova Scotia | |
| IDEA World Fitness | July 8-12 | Las Vegas, Nevada | |
---
What's New at Our Corporate Training Centers?
TORONTO, ONTARIO

Advance your fitness career with our extensive line-up of courses this summer!

All Intensive and Advanced courses will be offered, beginning with Intensive Mat-Plus™ on Monday, July 7.

Check out our website for the schedule. Contact us or call 1-800-910-0001 x261 to register. Make sure to ask about our course bundling discounts!

DENVER, COLORADO

Keep your skills up-to-date and earn Continuing Education Credits at Colorado Athletic Club – Inverness. Choose from Golf Conditioning on the Reformer, Essential Pilates on the Edge and Intensifying Matwork all starting May 17.

Sign up for these exciting new series, or get more information by calling Deepa Matharu at 1-800-910-0001 x287 or email hostedcourses@stottpilates.com

TRIBECA, NEW YORK

Get ready for your exam this summer with our Exam Preparation & Postural Analysis workshops on Friday, June 27.

Enroll now to reserve your space! For registration details, please contact us by email or call 1-800-910-0001 x261.

SPOTLIGHT FAQ:

How do I complete my Continuing Education Credits (CEC)?
---
| | |
| --- | --- |
| Side Bend Prep with Toning Ball | targets obliques and shoulders |

| | |
| --- | --- |
| | |
| 1 start sitting on hip | |
| | |
| 2 exhale lift off mat and reach | |
| | |
| 3 inhale lower down | |




WARM UP FIRST



Remember to start your workout with a warm up
Go to www.stottpilates.com and click on "warm up" for a detailed description of each exercise.


STARTING POSITION



Sitting on your right hip with right hand on the Mat. Keep your knees together and top arm long against top thigh, while holding the Toning Ball. Keep the lower side of your torso engaged and shoulder blades stabilized on the back.




EXERCISE



1

INHALE
to prepare



2

EXHALE
Stabilize underneath your shoulder blade and lift underneath hip up off the Mat placing weight evenly onto both hand and bottom knee. Contract your inner thighs, abs and glutes. Simultaneously, keep top arm straight and reach overhead.



3

INHALE
Lower with control down to starting position.


Complete 3-5 repetitions. Repeat on other side.



This exercise is excerpted from the Toning Ball Easy Start Poster, included FREE with the Toning Ball Power Pack.

Find more exercises in the STOTT PILATES teaching manual library comprised of 10 titles that document the entire STOTT PILATES exercise repertoire. Three titles are also available in Japanese, French, Spanish, and soon in Portuguese.
CAUTION: Please note the following important cautions before attempting STOTT PILATES exercises.
Consult with your doctor before beginning this or any other exercise program as not all exercises are suitable for everyone. This or any other exercise program may result in injury. If you experience pain or discomfort during exercise, stop immediately and consult your doctor. To reduce risk of injury, never force or strain during exercise.
STOTT PILATES videos and manuals are sold without warranties or guarantees of any kind so the creators, producers, performers, participants and distributors cannot guarantee their suitability and safety for each individual.
Any liability, loss or damage in conjunction with any use of this program, including but not limited to any liability, loss or damage resulting from the performance of the exercises demonstrated, or the advice and information given here is expressly disclaimed.
---
Past Newsletters
Click Here to View Previous Issues of the STOTT PILATES Newsletter.


---
Unsubscribe:
If you wish to be removed from our mailing list, please click here.

Privacy Statement:
At STOTT PILATES, we are committed to protecting your privacy. We use information we collect to process orders and inform you of STOTT PILATES products and services. We will occasionally make our customer lists available to official STOTT PILATES Education Partners. If you would prefer that we not pass your name on, please click here

---