.STOTT News

STOTT PILATES is proud to support the Arts by sponsoring The HurlyBurly Theatre Company, Toronto's newest Shakespeare troupe. Their premiere production, Macbeth, will run from Sept. 4-29 at The Canadian Stage, 26 Berkeley Street. For more information, visit www.hurlyburly.ca.



The Critics Agree
STOTT listed on Top Videos Lists!

Fit Magazine listed STOTT on their All-Time Favorite Videos list in June. Fitness editor Rita Trieger writes, "Moira Merrithew, the ultra-fit instructor, has a soothing voice and explains proper form and breathing techniques perfectly." Thanks Rita!

Five Star Reviews lists STOTT Videos among the Best of the Best, saying "Moira is a conscientious instructor whose articulate yet gentle teaching style gives participants a sense of focus and ease while learning each new move, from The Hundred to Roll Like A Ball series." For complete text of the review, visit www.fivestarreviews.com.

.Tip of the Month: Top 10 Questions to Ask An Instructor

As word about pilates spreads, more and more people want to try it out. To make this process easier, here are the Top 10 Questions for you to ask your pilates instructor, as well as the answers that we provide our clients.

1. What kind of training do you have?
Because mind-body conditioning is a knowledge-based method of exercise, the most qualified teachers are those who have completed a program like STOTT's nine-month Certification Program, which has a significant functional anatomy component.

2. Why should I do pilates?
This method of exercise offers a no-stress approach to better posture and stronger, leaner muscles. It's the perfect complement to aerobic exercise or can be used to help you get back on your feet after an injury.

3. What kind of benefits can I expect?
Many! Essentially, the no-impact, neuromuscular technique is designed to improve posture, strengthen and lengthen muscles without adding bulk. An emphasis on breathing leaves you feeling refreshed not exhausted.

4. Is the STOTT method different than the original pilates exercises?
STOTT teaches a progressive approach to the original method of exercise Joseph Pilates developed in the 1920s – one that preserves the essence of the original technique but incorporates modern biomechanical knowledge.

5. How often should I do pilates?
For the best results, STOTT recommends three one-hour sessions per week.

6. Do you emphasize pelvic and shoulder girdle stabilization and "neutral" posture?
Not all instructors do. The STOTT approach incorporates these contemporary concepts because they are integral to developing core strength and restoring the natural curves of the spine. This is an important departure from the original pilates system and many other popular forms of fitness.

7. What kind of equipment do you use?
Many of the exercises can be done on a mat; but, for the full effect, exercises should incorporate specially designed resistance equipment, like the STOTT Fitness Circle exerciser, Reformer and Cadillac/Trapeze Table (also known affectionately as "the Rack").

8. Should I take private or group classes?
It depends on what you like and can afford. Because of the technique's extensive repertoire and complexity, STOTT recommends six introductory one-on-one sessions before getting into small group equipment sessions. A teacher:student ratio of 1:6 is ideal for matwork classes. Either way, you should be encouraged to work at your own pace.

9. How much do you charge?
Classes at the STOTT PILATES STUDIO range in price from $18US per group session to $55US for one hour of private instruction.

10. Can I do the exercises at home?
Proper instruction and quality equipment are essential, so ideally you should work with a certified instructor. But if you can't find a studio near you or want to supplement your workout at home, try one of STOTT's introductory pilates videos: "STOTT PILATES: Essential Matwork" or "STOTT PILATES: Flex-Band Workout". Check out www.stottpilates.com/store.



.September Promotion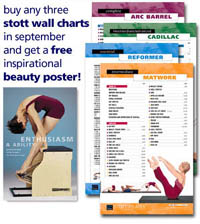 To place an order, please visit our store.


.Upcoming Events

STOTT is coming soon to a tradeshow near you! Our representatives will be in the following cities at these tradeshows:

September 7-9
ProEdge 2001 Impact Summit & The Mind/Body Conference
Loughborough University, UK

Sessions:
@Mind/Body Conference
STOTT PILATES Mat-Plus
with Beth Evans
Sunday 9 September 1pm to 3pm

@Pro Edge
STOTT PILATES Arc/Small Barrel
with Beth Evans
Saturday 8 September 3:45pm to 5:15pm

Trade Show Hours:
Fri. Sept. 7, 11am to 5:15pm
Sat. Sept. 8, 9am to 5:45pm
Sun. Sept.9 11am to 3:15pm

Promotions:
Contact sales@stottpilates.com to learn about special discounts for those who attend this show!

For more events, visit our events page.






Learn more about becoming a STOTT-Certified instructor.

Visit www.stottpilates.com/centers.html for the STOTT CERTIFICATION CENTER nearest you. Stay tuned for a list of STOTT-Certified Instructors worldwide. We're putting the finishing touches on our web-based searchable instructor data-base and will let you know as soon as it's live!





Have a revitalizing month!