STOTT News


Fitness Business Canada recently ran an article by Lindsay and Moira called "Successfully Integrating Pilates Programming". To read the article online, visit www.fitnet.ca

This article builds upon a seminar series presented by STOTT at tradeshows across North America. The next seminar will be at the Can-Fit-Pro "Fitness Summit" in Toronto in August. For more information on the conference, visit Can-Fit-Pro at www.canfitpro.com to register. You can also call 1-800-667-5622 (or in Toronto 905- 305-8450).



Tip of the Month: Improve your Game

STOTT PILATES can help to improve your athletic performance. Sports like tennis and golf can benefit from the core stabilization and torso rotation provided by exercises on the mat, reformer and cadillac.

Most sports rely on a combination of core strength and peripheral strength (legs and arms). There must be an equal balance to increase performance and prevent injury. STOTT PILATES exercises will help increase the core stabilization as well as range of motion and muscle balance around the joints.

One such sport-specific exercise is the "Backhand". Practiced on the reformer, it incorporates trunk rotation with full range arm movements. The "Backhand" is just one of the Side Arm Preps featured in our upcoming Intermediate Reformer Manual (2nd Ed.)

BACKHAND (Reformer Footbar Position #3; 1 or 2 springs. Note: Adjust position on carriage and strap length to achieve optimal range of motion.)

STARTING POSITION
Kneel on the carriage facing side, knees hip-distance apart. Femurs vertical in space, spine and pelvis neutral. Hand closest to footbar holding strap in fist. Elbow flexed forearm across front of torso, palm facing in. Opposite hand gently pressing against side of thigh.

EXERCISE
To prepare, inhale.

Exhale - Maintain stabilization of torso and pelvis on femurs, initiate by stabilizing scapulae, keep elbow flexed and abduct humerus away from torso to start moving carriage out. Then in a flowing motion extend elbow, without breaking at wrist, so forearm continues on a diagonal up and out and carriage continues moving out.

Inhale - Stabilize humerus and allow elbow to flex again to start controlling return of carriage. Then in a flowing motion return to starting position and continue to control return of carriage.

Complete 5 repetitions on each side.



1. Starting Position


2. Abduct humerus


3. Extend elbow


4. Flex elbow

5. Return to start

STOTT Events

STOTT is coming soon to a tradeshow near you! Our representatives will be in the following cities at these tradeshows:

August 1-5
DCAC Fitness Conference & Tradeshow, Washington DC

August 16-19
Can-Fit-Pro, Toronto

August 23-26
Sara's City Workout, Dallas

September 7-9
ProEdge, Birmingham UK

For more details, visit our events page.



July Promotion

Mastered the essential levels? Push yourself further with the STOTT Power videos - our Power titles are 15% off during the month of August!

Choose from the following: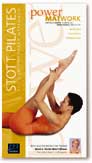 Power Matwork: For those who have mastered the essential level matwork exercises, POWER MATWORK is a dynamic and energizing new way to stretch, strengthen and streamline.

Power Fitness Circle: Using the sprung-steel resistance of the Fitness Circle exerciser, Moira shows you how to safely push your body to the limit. Recommended for those who have mastered the essential level exercises.

Power Reformer: For those who have mastered the essential level reformer, this fast-paced workout - developed and taught by leading fitness authority Moira Merrithew - enhances core control and stamina.

To place an order, please visit our store.