Conference Details
STOTT PILATES is a Visionary Sponsor of the Inner IDEA® Conference

Show Dates

September 23-26, 2010

Table Sales Hours

Thursday, September 23 | 2-5:30pm
Friday, September 24 | 12:30-2:30pm, 4-6pm
Saturday, September 25 | 12:30-2:30pm, 4-6pm
Sunday, September 26 | 10am-12pm

Conference Location

La Quinta Resort & Club, 49-499 Eisenhower Drive, La Quinta, CA 92253

Register by Phone

800-462-1876

Register Online
click here
---
Pre-Con
---
Workshop Sessions
---
Meet Our Presenters
Kim Kraushar

Kim has built a very impressive reputation as an expert and leader in the health and wellness industry. She is the proud owner of one of the first STOTT PILATES® Licensed Training Centers in Canada and has trained hundreds of health and fitness professionals throughout the Atlantic region. Kim studied at York University where she received her B.F.A. Dance/B.Ed. and completed her B.Sc. Kinesiology at Dalhousie University. She is a STOTT PILATES Certified Instructor Trainer, Yamuna Body Rolling Certified Instructor Trainer, and Certified Franklin Method Instructor. Throughout her career, Kim has fostered a love and respect for the physical form and a desire to teach and share her passion with others.

PJ O'Clair

STOTT PILATES® Master Instructor Trainer PJ O'Clair has been a leader and consultant in the fitness industry for more than 25 years. She is featured in numerous fitness videos including over 25 titles with STOTT PILATES. PJ won the prestigious IDEA Program Director of the Year Award in 2008 and was a finalist in 2007. She is a sought-after speaker and consultant at fitness conferences and spas worldwide – and has written numerous articles for industry publications. No matter where she goes, PJ takes her trademark enthusiasm and dynamic personality with her.
---
Enter to Win!
A new decade, a new draw - this year you could win a mini studio. Simply fill out a ballot with STOTT PILATES at any of the upcoming 2010 events for your chance to win!
Prize Package Includes:
V2 Max Plus™ Reformer*

Mat Converter

Reformer Box

Padded Platform Extender

Maple Pole

2 DVDs

Stability Chair™ with Handles

Arc Barrel
---
World's Largest Pilates DVD Library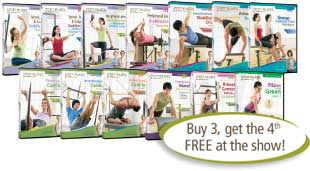 Upgrade your collection with over 120 award‑winning titles
Maximize your earning potential and increase client retention by adding fresh new programming options by STOTT PILATES. Become one of the most sought‑after instructors in the industry with STOTT PILATES' diverse collection encompassing everything from the fundamentals to post-rehab, sport-conditioning, prenatal, and lifestage‑specific programming. View new DVDs and exclusive clips.
---
Save 25% on Demo Equipment at Inner IDEA

RECEIVE OUTSTANDING SAVINGS
Purchase floor models and demo equipment at the show at remarkable savings. Quantities are limited. To reserve yours, call 416-482-4050 ext. 264 or email sales@stottpilates.com.

Reformer Bundles
$US Regular Price
$US Trade Show Price

$6,395

$4,796.25

$6,695

$5,021.25
$5,195
$3,896.25

Bundles include Mat Converter, Maple Pole, Reformer Box, Padded Platform Extender