Conference Details

ECA New York OBOW

Date
March 18-21, 2010

Trade Show Hours

Thursday, March 18 | 6-9pm
Friday, March 19 | 10am-7pm
Saturday, March 20 | 9am-4pm
Booth
100
Conference Location
Marriott Marquis Hotel
1535 Broadway Avenue, New York, NY 1003
Register Online
click here
---
Workshop Sessions

---
Meet Our Presenters
Stefania Della Pia
As Program Director of Education and Master Instructor Trainer for STOTT PILATES®, Stefania Della Pia oversees the growth of the Instructor Trainer program and global implementation of training and certification programs. In addition to teaching Pilates for the past decade, she has represented the company internationally in more than 14 countries as a presenter, trainer and examiner. Stefania is certified as an ACE Personal Trainer and a Can-Fit Pro Personal Trainer Specialist.

John Garey
Owner of Los Angeles-based John Garey Pilates, a STOTT PILATES® Licensed Training Center, John Garey has studied Pilates for more than 15 years. A renowned figure in the fitness industry, John, who holds a Masters degree in Adult fitness from NYU, is a regular contributor of Pilates and fitness articles to many national publications. John is a STOTT PILATES Master Instructor Trainer and was named one of the top six most notable instructors in the United States by American Fitness Magazine. He has been a presenter at some of the most prestigious conferences around the globe.
---
World's Largest Pilates DVD Library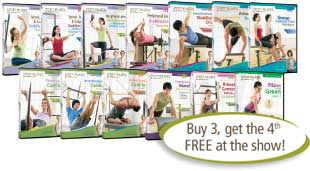 Upgrade your collection with over 120 award‑winning titles
Maximize your earning potential and increase client retention by adding fresh new programming options by STOTT PILATES. Become one of the most sought‑after instructors in the industry with STOTT PILATES' diverse collection encompassing everything from the fundamentals to post-rehab, sport-conditioning, prenatal, and lifestage‑specific programming. View new DVDs and exclusive clips.
---
Now Available - The ISP Support Material Manual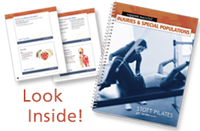 The Injuries & Special Populations Support Material Manual is a great complement to the ISP Resource Guide and follows the course presentation. This book helps trainers gain the knowledge, skill and confidence to develop effective programs for a range of clients.
The Book Details
structural anatomy
muscle classifications
integrated model of motor control
optimal function and dysfunction for specific areas of the body including:
• lumbo-pelvic region • hip • knee • ankle & foot • cervical spine
• shoulder • upper quadrant • elbow • forearm & wrist
Enter to Win!
A new decade, a new draw - this year you could win a mini studio. Simply fill out a ballot with STOTT PILATES at any of the upcoming 2010 events for your chance to win!
Prize Package Includes:
V2 Max Plus™ Reformer*

Mat Converter

Reformer Box

Padded Platform Extender

Maple Pole

2 DVDs

Stability Chair™ with Handles

Arc Barrel
---
Save 25% on Demo Equipment at ECA OBOW 2010
RECEIVE OUTSTANDING SAVINGS
Purchase floor models and demo equipment at the show at remarkable savings. Quantities are limited. To reserve yours, call 416-482-4050 ext. 264 or email sales@stottpilates.com


Reformer Bundles
$US Regular Price
$US Trade Show Price

$6,395

$4,796

†includes Mat Converter, Maple Pole, Reformer Box, Padded Platform Extender

Equipment
$US Regular Price
$US Trade Show Price
V2 Max Plus™ Reformer*
$6,195
$4,646

$1,350

$1,013

$300

$225

$190

$143

Light Equipment
Deluxe Pilates Mat (kelly green)
$69.95
$52
Deluxe Pilates Mat (steel blue)
$69.95
$52
Flex-Band®, Extra Strength
$5.95
$4
Fitness Circle® Lite
$29.95
$22
55cm Stability Ball™ with Pump
$29.95
$22
65cm Stability Ball™ with Pump
$32.95
$25
Toning Ball, 1lb
$10.95
$8
Toning Ball, 2lb
$11.95
$9
Toning Ball, 3lb
$12.95
$10
Flex-Band Handles, pair
$12.95
$10
Mini Stability Ball™
$8.95
$7

Individual Reformer accessories may be purchased separately. Please contact sales@stottpilates.com
or call 800-910-0001 (within North America), or 416-482-4050 (Worldwide) ext. 264 for more information.