Not All Tower Reformers are Created Equal!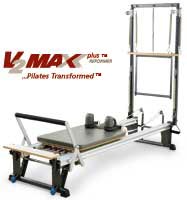 The revolutionary V2 Max Plus™ Reformer* is the first Pilates machine of its kind created to support the most innovative Pilates programming ever! Find out more about the V2 Max Plus Reformer.
Plus, Save 25% off a V2 Max Plus Reformer
Don't miss your chance to take home the V2 Max Plus Reformer from the show (demo model), and save on the shipping fees.

Inventory is limited - pre-order yours today to avoid disappointment!
To pre-order a demo V2 Max Plus Reformer, or for more information please email us
---
New! We have two offers that have become in very high demand this year:
| | | |
| --- | --- | --- |
| Reformer Bundles | | Reformer Starter Packages for Under $15,000 |
| Do you have everything you need to effectively train your clients on the Reformer? Now our popular Reformers are bundles with all the accessories at one low price with accessory savings as high as $741. Find out how to maximize your space and increase profits with Pilates! | | Plus, we can help you launch a profitable Reformer Pilates Program for under $15,000. STOTT PILATES provides you with all the training and equipment you need to start down the road to success. To book an appointment or for further inquires please email fullsolutions@stottpilates.com |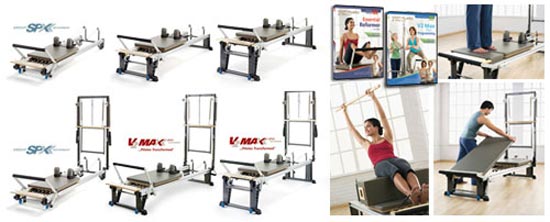 | | |
| --- | --- |
| Bundle | Bundled Price ($CDN) |
| SPX Max™ Reformer | $2,795 |
| Professional Reformer | $3,795 |
| Rehab Reformer | $4,195 |
| SPX Max Plus™ Reformer | $4,995 |
| V2 Max Plus™ Reformer* | $5,995 |
| V2 Max Plus Rehab Reformer | $6,395 |
Get all the details of what each Reformer Bundle includes!

We Take the Puzzle out of Pilates!

We're experts at putting all the pieces together to deliver the right Pilates solutions for you. Find out how you can make up to $310,000 per year gross and an ROI of 270% in one year at your Full Solutions™ appointment.
Contact fullsolutions@stottpilates.com or call 800.910.0001 ext. 203 to talk to a Full Solutions consultant today to find out how we can help you build a successful Pilates business!


---
Enter to Win This Phenomenal Prize!

Expand Your Programming Knowledge – Win a Selection of STOTT PILATES DVDs We've selected four ever-popular STOTT PILATES titles for this amazing DVD giveaway. Fill out a ballot at the show for your chance to win! This diverse selection incorporates a range of equipment and is sure to enhance your repertoire and help to increase client retention!

Draw will take place on the trade show floor!

---
World's Largest Pilates DVD Library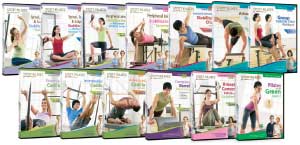 Many Great Titles Guaranteed to Add Punch to Your Repertoire
STOTT PILATES is the producer of the world's largest Pilates video library, with over 120 award-winning titles complementing our diverse selection of Pilates programming. Check out our newest titles featuring fresh sport-tailored & lifestage-specific programming. Find out more at the show.
View new DVDs and exclusive clips.
---
STOTT PILATES Pre-Con Session


Friday, February 6

4-8pm

Essential Reformer on the V2 Max Plus™ Reformer with Renee Peruzzo
Explore how altering the angle of resistance can facilitate and expand the existing Reformer repertoire. In this workshop, participants will learn a series of essential level exercises using the V2 Max Plus Reformer*'s adjustable pulley system and extensor straps. Using the height-adjustable pulleys on the unit's vertical frame, learn how the angle of resistance can be changed to help fire the appropriate muscles and achieve increased range of motion in tri-planar movements. Ideal for instructors from beginner to expert and for clients at any fitness level.

---
Enrich Your Professional Repertoire with
STOTT PILATES Workshop Sessions
Saturday, February 7

12-1:30pm

Cueing & Modifications on the Reformer
for an Essential-Level Client with Postural Issues with Renee Peruzzo
This lecture/demo teaches exercises from the essential-level Reformer repertoire selected and modified for specific postural habits with focus on muscular imbalances associated with one of the following postures: kyphosis-lordosis, sway back, flat back. How to recognize and target weak muscles weak due to postural habits, what exercises to select and appropriate cues and modifications will be reviewed.

4:15-5:45pm

Reformer for the Older Adult with Renee Peruzzo
This lecture/demo will explore the benefits of working on the STOTT PILATES® Reformer for the older adult. Despite decrements associated with aging, the ability to adapt to endurance and strength training is well documented. The Reformer provides widely variable spring tensions to address both upper and lower body as well as core training. Modifications of exercises and considerations for limited mobility and strength issues will be discussed with a view to enhance core stability, increase lean muscle mass, increase range of motion and improve body awareness. Tips for cueing and correcting to help ensure safety and effectiveness are covered.

Sunday, February 8

8:30-10:00am

Introduction to Athletic Conditioning on the V2 Max Plus with Renee Peruzzo
Serious athletes – whether professional or amateur – benefit greatly from performance enhancement training. This high-caliber introductory workout is designed for instructors and trainers working with very fit and accomplished athletes. Using the STOTT PILATES® V2 Max Plus™ – an all-in one machine that combines the functionality of the Professional Reformer with the key features and benefits of the Cadillac, experience the virtually endless programming options this piece allows. Always initiating from the core, you'll learn how this complete body workout retrains muscles that may have become unbalanced and you'll be able to take your clients to a new level of strength and agility.
---
Meet Our Presenter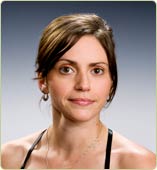 Renee Peruzzo
Renee has been a STOTT PILATES® Instructor Trainer since 2003. Travelling extensively around the world, she teaches certification programs, and conducting exams and workshops covering Matwork, club equipment as well as special populations. Before becoming a member of the STOTT PILATES team in Toronto, Renee brought Pilates to Windsor ON, where she was the first fully-certified STOTT PILATES instructor in the area. Additionally she has studied, performed, choreographed and taught numerous styles of dance for over fifteen years. Renee has studied three different styles of Yoga, has white belt in Nia, is certified in both Gyrotonic & the Ladder and is a Reiki Master.

---
Save 25% on Demo Equipment at CFP Montreal



RECEIVE OUTSTANDING SAVINGS

Purchase floor models and demo equipment at the show at remarkable savings. Quantities are limited. To reserve yours, call 416-482-4050 ext. 264 or email sales@stottpilates.com.

REFORMER BUNDLES

REGULAR PRICE

TRADESHOW PRICE

V2 Max Plus™ Reformer Bundle†
$5,995
$4,495

†includes the mat converter, maple pole, reformer box, platform extender

EQUIPMENT

V2 Max Plus™ Reformer
$5,795
$4,345
Jumpboard, Large
$280
$210

Individual Reformer accessories may be purchased separately. Please contact sales@stottpilates.com or call 800-910-0001 (within North America), or 416-482-4050 (Worldwide) ext. 264 for more information.

LIGHT EQUIPMENT

$43.95

$33

$15.95

$12

$64.95

$49

$39.95

$30

$6

$4.50

$8

$6

$38.95

$30

$41.95

$30

$39.95

$30

$10.95

$8.20

$15.99

$12
---
Conference Details

Can-Fit-Pro Montreal – Fitness & Personal Training Conference & Trade Show
February 6-8, 2009

Trade Show Hours

Saturday, February 7 | 9am-4:30pm
Sunday, February 8 | 10am-3:30pm

Conference Location
& Accommodation

Fairmont The Queen Elizabeth
900 Rene Levesque Blvd W
Montreal, QC H3B 4A5
Tel: 514-861-3511

Register Online