Conference Details
Book Expo America

Education & Events

May 28-31

Trade Show

Friday, May 29 | 9am-5pm
Saturday, May 30 | 9am-5pm
Sunday, May 31 | 9am-3pm

Conference Location

Jacob K. Javits Center
655 West 34th Street, New York, NY 10001

To all Book
Wholesalers / Retailers
Please contact the STOTT PILATES Retail Department at 1-800-910-0001, ext. 248 to find out more information about our Book Expo America show specials or visit us at the show at booth #3367.
---
World's Largest Pilates DVD Library
An excellent reference library for home and professional use.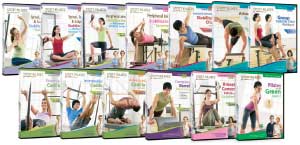 STOTT PILATES is the producer of the world's largest Pilates video library, with over 120 titles in our award-winning library, complementing our diverse selection of Pilates programming. Check out our newest titles featuring fresh sport‑tailored & lifestage‑specific programming. Find out more at the show. View new DVDs and exclusive clips
---
Training Manuals
Our complete set of detailed, illustrated guides, document every movement in the STOTT PILATES repertoire. Step‑by‑step instructions are provided for each exercise, including information on the focus of each exercise, specific muscles used and possible variations and modifications.

---
Convenient Power Packs & Light Equipment
Our attractive line of Power Packs provide everything you need to get started – in one compact box! These value-packed items make great gifts and starter-packs, but are equally favored by Pilates enthusiasts looking to try something new. Combining DVDs and light equipment, STOTT PILATES Power Packs offers much more than an invigorating mind-body workout – great savings too! Our great selection of light equipment and accessories are also sold separately. Learn more
The At Home SPX™ Reformer Package
Finally! A Commercial-Quality Pilates Reformer for the At Home exerciser.
Enjoy Pilates Reformer workouts in your own space and on your own schedule! The STOTT PILATES At Home SPX Reformer Package is perfect for avid exercisers of any age or fitness level wanting a balanced Pilates workout at home and includes all of the accessories you need to get started. This versatile, studio-quality Reformer is lighter in weight than most Reformers and features easy-roll wheels making repositioning a breeze. Find out more
Available for pick up on Sunday, May 31.