Aspire for Ultimate Wellness, this August!


STOTT PILATES is a Senior Partner of IDEA,
The Health and Fitness Source
August Promotions



Add a new dimension to your Reformer repertoire!


Buy any Club Reformer and get the Reformer Box for FREE!†

STOTT PILATES Club Reformers are favored among Pilates professionals for their superior adaptability, versatility and craftsmanship. Five distinct models are available to ensure there's a unit that will meet your particular needs.
Find out how

Discover your inner-balance this month!

Receive a coupon for a one-year subscription to Pilates Style magazine at the STOTT PILATES special rate of $14.99.**

When you buy one At Home Matwork DVD from a selection of six, plus a Mat. Get details



Don't delay! If you are one of the first 25 people to order – your subscription will be FREE!**

For more great STOTT PILATES equipment and accessories, please visit our e-store.
---

Dear Friends,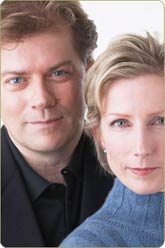 With summer phasing out, and autumn phasing in – we embark on a new chapter in our lives. The 'back to school' mentality at this time of year motivates us towards education and higher-learning. This empowering sentiment affects us all – whether we are students, professionals or avid fitness enthusiasts.
If you are considering a new career path or want to advance your skills as an instructor, the STOTT PILATES education and certification programs will provide you with the tools to motivate, challenge and retain clients long term. Our global network of Corporate Training Centers, Licensed Training Centers and host facilities offer world-renowned Pilates training that is guaranteed to make you one of the most sought-after instructors in the industry.
From a slight exercise challenge to a larger certification endeavor or continuing education courses – let us help you achieve your mind-body fitness goals.

Yours in good health,


Lindsay & Moira Merrithew
Co-founders, STOTT PILATES®
---
A Revolutionary Photoshoot

Our friends at Pilates Style visited our Corporate Training Center in Toronto, Ontario for an exclusive photoshoot featuring the revolutionary V2 Max Plus™ Reformer*. Executive Director of Education, Moira Merrithew, shares seven top-rated exercises on this one-of-a-kind machine created by Lindsay G. Merrithew. Read the article for a glimpse into the next generation of Pilates.

Congratulations PJ O'Clair!

Last month STOTT PILATES Master Instructor Trainer PJ O'Clair won the prestigious IDEA Program Director of the Year Award for 2008. We'd like to applaud her for the victory in addition to the numerous contributions she's made within the fitness industry over the years. Click here to read more about PJ.

Travel Must-Haves!

Just because you can't pack a Reformer in your suitcase, doesn't mean you can't lengthen and strengthen your muscles while you're on the road. The STOTT PILATES Flex-Band® exerciser was highlighted in the June issue of Dance Magazine as an ideal fitness tool to pack in your dance bag, gym bag or carry-on. Find out more

Is Your Matwork Routine Green?

Our brightest Mats ever, aren't just another pretty face in the crowd. The new Eco-Friendly Mat™ is 6mm thick and made from 100% recyclable and biodegradable TPE (Thermal Plastic Elastomer). Take a look at both vibrant colors in the July issue of Elle Canada.

Bits 'n' Bites

Flexibility at its finest. Now you can take the Intensive Cadillac, Chair & Barrels courses in three separate modules allowing you to choose what specialty to take and when! Get the details.
AVING Global News Network USA scoped out the innovative V2 Max Plus™ Reformer* at the recent IDEA World Fitness Convention™ in Las Vegas and interviewed STOTT PILATES Instructor Trainer Matthew Comer on all the bells and whistles. Watch the video.

Refine your golf technique! What better way to drive that ball further down the fairway than with a stimulating Pilates workout. Watch for our brand-new Pilates for Golf Power Pack – coming soon!
---

New Products



Add Some Spice to Your Routine Whether You're a Beginner or More Advanced!

On August 19, we're releasing three At Home titles featuring all-new Pilates programming. So pull up a chair, or your Stability Ball, for an empowering mind-body workout that will strengthen the core, improve posture and add variety to your previous fitness regimen.



Dynamic Armchair Pilates,
Difficulty Level 1





The Secret to a Strong Back,
Difficulty Level 1


Stability Ball Challenge,
Difficulty Level 4

---

Job Opportunities



STOTT PILATES Job Board
Visit our online Job Board for a list of Pilates instructor positions worldwide.

Facilities looking for STOTT PILATES instructors may fill out a Job Board submission form.



Toronto Head Office Careers
If you're passionate about Pilates and you're looking for a rewarding, fun and fast-paced career, check out available positions.


---

Education — Where to Train



For more information on STOTT PILATES courses and workshops, please contact the Education Department or call 800-910-0001 ext. 261.

STOTT PILATES training and certification courses and workshops are available at Licensed Training Centers and Hosting Sites throughout the world. Click for details and a center near you.
What's New at Our Corporate Training Centers?
TORONTO, ONTARIO

School is calling, this September...

What better way to ring in the new school year than with courses to challenge you and help your clients in the months ahead.

Submit your application now! Spaces are filling up fast for the following fall courses:

Comprehensive Matwork & Reformer
Starts Sep 3

Comprehensive Cadillac, Chair & Barrels
Starts Sep 3

Intensive Cadillac, Chair & Barrels
Sep 5-7, 13-14, 19-21, 27-28
Fri 3pm-9pm; Sat 9am-3pm; Sun 10am-4pm

Comprehensive Cadillac, Chair & Barrels
Sep 15-18 | 9:30am-4:30pm

Intensive Mat-Plus™
Sep 29-Oct 3, 6-10 | 1pm-5pm


For pricing information and registration details, please contact courses@stottpilates.com or call 1-800-910-0001 x261

Check out our website for a complete listing of upcoming courses, workshops, and exam dates.

TRIBECA, NEW YORK

This Fall, enhance your skills with "Ivy League" STOTT PILATES training!

Contact us to reserve your space in these September courses:

Intensive Cadillac
Sept 5-7 | Sep 13-14 | 12pm-5:30pm

Intensive Mat-Plus
Sep 8-12 | Sep 15-17 | 11am-4:30pm

Advanced Matwork
Sep 18 | 9am-4pm

Intensive Stability Chair
Sep 19-21 | 12pm-5:30pm

Intensive Barrels
Sep 27-28 | 12pm-5:30pm


For pricing information and registration details, please contact tribeca@stottpilates.com or call 1-800-910-0001 x261

Check out our website for a complete listing of upcoming courses, workshops, and exam dates.

DENVER, COLORADO

Looking to start an exciting new fitness career or continue your Pilates education?

You've got to check out these upcoming courses at our newest Corporate Training Center, The Colorado Athletic Club – Inverness!

Intensive Reformer
Sep 12-14 | Sep 27-28 | Oct 10-12 | Oct 25-26

Intensive Mat-Plus™
Nov 21-23 | Dec 6-7 | Dec 19-21



For pricing information and registration details, please contact denver@stottpilates.com

Check out our website for a complete listing of upcoming courses, workshops, and exam dates.

SPOTLIGHT FAQ:

Why have a Continuing Education Credit (CEC) Program?

Click here for answer
---

STOTT PILATES Licensed Training Centers & Hosting Sites


Click here for locations closest to you and links to more info, including times and dates.

---

Trade Shows


Create Fitness History!
Join us for the World's Largest Pilates Class at Can-Fit-Pro Toronto
In honor of STOTT PILATES' 20th and Can-Fit-Pro's 15th anniversaries, we're joining forces to make it into the Guinness Book of World Records – and we want you 'in' on the action!


Bring your own Mat or buy one at the show – and leave with a unique t-shirt** commemorating your involvement in this rare experience. Don't miss out on this once-in-a-lifetime, exciting fitness event!


Co-founders of STOTT PILATES, Lindsay G. Merrithew and Moira Merrithew will be there to host this event – and Moira will lead you through this exciting workout!


When: August 16, 2008 5:15-6pm Come Early !
Where: Can-Fit-Pro Conference, Metro Toronto Convention Centre, Hall F


Come early! No experience necessary.
All fitness enthusiasts welcome! Bring a friend!
Register for this exciting event (admission free with registration to the show or $10 without registration).

---
Enter to Win a V2 Max Plus™ Reformer*!
Visit our booth and fill out a ballot for your chance to win. For complete contest rules and regulations, click here. View a demo clip of this unique Reformer.

Save 25% on demo STOTT PILATES equipment just by visiting our booth at the show,
or pre-order to avoid disappointment!

Plus, sign-up for our all-new Pre-Cons and Workshops to enhance your repertoire
and earn CECs.

**Limited quantities only – arrive early to ensure you get yours.




---
| | |
| --- | --- |
| Obliques | targets internal obliques, external obliques and legs |

| | |
| --- | --- |
| | |
| 1 Starting Position inhale to prepare | |
| | |
| 2 Exhale rotate to one side | |
| | |
| 3 inhale return to center and begin to switch legs | |
| | |
| 4 Exhale rotate to opposite direction | |
| | |
| 5 Inhale return | |

WARM UP FIRST



Remember to start your workout with a warm up
Go to www.stottpilates.com and click on "warm up" for a detailed description of each exercise.


STARTING POSITION



1

Lying supine with upper body flexed off of the Mat, maintain a neutral or imprinted position. With legs tabletop and hands behind your head, ensure that scapulae are stabilized.




EXERCISE



1

Inhale
To prepare



2

Exhale
Extend one leg as low as neutral or imprint can be maintained. Simultaneously rotate your upper body towards flexed knee.



3

Inhale
Maintain spinal flexion as your spine returns to center and legs begin to switch.



4

Exhale
Extend other leg and rotate your upper body to the opposite side.



5

Inhale
Maintain spinal flexion as spine returns to center and legs begin to switch.



Complete 8-10 repetitions



This exercise is excerpted from the Comprehensive Matwork Manual.

Find more exercises in the STOTT PILATES teaching manual library comprised of 10 titles that document the entire STOTT PILATES exercise repertoire. Three titles are also available in Japanese, French, Spanish, and soon in Portuguese.
CAUTION: Please note the following important cautions before attempting STOTT PILATES exercises.
Consult with your doctor before beginning this or any other exercise program as not all exercises are suitable for everyone. This or any other exercise program may result in injury. If you experience pain or discomfort during exercise, stop immediately and consult your doctor. To reduce risk of injury, never force or strain during exercise.
STOTT PILATES videos and manuals are sold without warranties or guarantees of any kind so the creators, producers, performers, participants and distributors cannot guarantee their suitability and safety for each individual.
Any liability, loss or damage in conjunction with any use of this program, including but not limited to any liability, loss or damage resulting from the performance of the exercises demonstrated, or the advice and information given here is expressly disclaimed.
---
Past Newsletters
Click Here to View Previous Issues of the STOTT PILATES Newsletter.


---
Unsubscribe:
If you wish to be removed from our mailing list, please click here.

Privacy Statement:
At STOTT PILATES, we are committed to protecting your privacy. We use information we collect to process orders and inform you of STOTT PILATES products and services. We will occasionally make our customer lists available to official STOTT PILATES Education Partners. If you would prefer that we not pass your name on, please click here

---