Designed for individuals with strong anatomy training, a minimum of three years experience teaching dance, fitness or movement, and familiarity with the works of Joseph Pilates, these intensive, hands-on courses will provide you with the solid foundation and skills you need to develop effective and motivating group and personal training programs. At the end of the course you are qualified to design and teach essential and intermediate level matwork classes, integrating small equipment to add variety and to meet the specific needs of your clients.

CERTIFICATION COURSES

course IR Intensive Reformer level 1
fall 2004 4 weekends 50 hours instruction
Oct 23, 24 | Nov 6, 7 | Nov 20, 21 | Dec 4, 5

---
A written & practical exam is required for certification
exam may be taken within six month's of completing course(s)

If you have previously taken a STOTT PILATES course and you would like to be examined please contact the facility where you did your training to book an appointment.

Space is limited! To register or for costs and additional information regarding these courses, contact Jane Murphy at 203-431-0006
---
---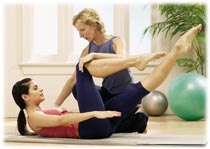 COURSE LOCATION:
Everywoman's Spirit
109 Danbury Road
Ridgefield, CT 06877-4142

To register call 203-431-0006

Getting There
see map


This course hosted by The Pilates Certification Center @ Pilates plus Yoga. For more courses in Connecticut, click here.


REQUIRED MATERIALS
for a list of required (and optional) course materials, please click here
EARN ACE CREDITS
STOTT PILATES is recognized by the American Council on Exercise* as a Continuing Education Specialist.

PREREQUISITES
The intensive courses above are recommended for certified fitness instructors, personal trainers, and other fitness & health professionals who want to expand their knowledge and enhance their business. Applicants must have, at least three years experience teaching fitness, dance or movement, familiarity with the works of Joseph Pilates, formal anatomy training and a working knowledge of muscle origins, insertions and functions, in order to attend the course.