B cube
4F Minamisemba 2nd Toyo Bldg.
4-7-23 Minamisemba, Chuo-ku
Osaka 542-0082 JAPAN

contact: Wataru Fujii
phone: +81-6-6241-6362
fax: +81-6-6241-6362
email: osaka@stottpilates.com



visit B cube
at www.bbbcube.com




The Studio: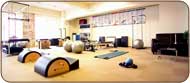 Located in the heart of downtown Osaka, a 5 minute walk from Shinsaibashi subway station.
Founded in 2005, re-located in July 2006, and expanded in 2008, the 4,000 square state-of-the-art center consists of 2 floors, which each is used separately and exclusively for studio and education. Studio floor features separate rooms for private, group and yoga sessions, plus a private lounge, reception area, 2 private changing rooms, 2 changing rooms, and 2 restrooms and is fully equipped with STOTT PILATES equipment including 2 V2 Max Plus, 2 Pro Reformers, 2 Wall Units, 5 SPX Reformers, 2 Cadillacs, 5 Stability Chairs, 2 Spine Correctors, 1 Ladder Barrel, and other light equipments.
Our 8 certified STOTT PILATES Instructors, including 3 Instructor Trainers, are led by Lead Instructor Trainer and experienced physiotherapist Wataru Kamiizumi. B Cube provides private, semi-private, and group sessions daily, and courses throughout the year.
Instructor Trainer:


WATARU KAMIIZUMI, graduated with a physiotherapy degree, and went on to directing a clinic in Tokyo, and succeeded conditioning Japan's top movie stars.
He received his STOTT PILATES Certification and training at the International Certification Center in Toronto, Canada and in June 2005, co-established Pilates & Yoga B Cube fully equipped with STOTT PILATES equipment. He renovated and tripled the size of the studio making it the largest Licensed Training Center in Japan. As a STOTT PILATES Lead Instructor Trainer and B Cube's Technical Director, he leads the studio's STOTT PILATES certified instructors in serving clients with all backgrounds, from the state of rehabilitation to the level of fine tuning the top level performers.


Instructor Trainer:


KEIKO IDETSU, graduated with a physiotherapy degree, created solid career as a physio-therapist, including the position as a Chief Physical Therapist.
She received her STOTT PILATES training and full certification at the International Certification Center in Toronto, Canada and in July 2005. She has been conducting PILATES toward her rehabilitation clients in the hospital, and also have given seminars on introducing STOTT PILATES towards medical doctors. As an Instructor Trainer, she joined the B cube studio, that shares her passion to provide authentic, medically well-explained STOTT PILATES.


Instructor Trainer:
TAKAYUKI AKATSUKA, has proven 10 solid years as a fitness professional, and achieved being the No. 1 instructor in Japan for highest monthly revenue a the major fitness club group.
He received his STOTT PILATES certification and training in 2004 and joined B Cube from 2005. Ever since he has joined studio B Cube as a Pilates instructor, not only has he acquired solid number of professional dancers and athletes, but also the clients of the educational fields who has invited him to become a lecturer of Pilates at their schools. These schools include the top level National high school, and Takarazuka Music School (Music School of the Japan's most famous and largest Women Theatrical Company).



getting there
Midosuji-line:
or Nagahoritsurumiryokuchi-line:
Get off at Shinsaibashi station, walk 5 minutes from exit number 3.
Yotsubashi-line:
Get off at Yotsubashi station, walk 7 minutes from exit number 1-A.