Body Symmetry Studio
108 West Broadway, Suite 208
Fairfield, Iowa 52556

phone: 641-472-1566
email: iowa@stottpilates.com
visit Body Symmetry at www.iowastottpilates.com
Instructor Trainer
A native Iowan and featured demonstrator on the STOTT PILATES Barrel series of professional videos, RisÎ Karns Stokstad, completed her full STOTT PILATES certification with Moira Merrithew in 1998 and was invited by Moira to become an STOTT PILATES instructor trainer in 1999.

RisÎ founded the first pilates studio in Iowa and has had more than 10 years experience teaching in private and university settings. She has danced professionally in NYC for many years and holds an MFA in dance from the University of Iowa.
General Comments
Rise's students comment on the diverse background that Rise brings to instructor training, her flexibility in addressing student needs, as well as her empowering approach to both trainer and client development.
The Studio
Body Symmetry Studio is a charming, brick and white plaster loft just off of the town square in downtown Fairfield. Several Indian, Thai, Chinese and traditional American restaurants are within one block's walking distance. Studio equipment includes three reformers, cadillac, ladders, barrels, and an abundance of mats and related equipment.
Getting There
Broadway is the street on the north side of the town square. To get to the Studio, you climb the stairs, turn right and it's at the end of the hall on the right. If you get lost, you can always call Risë at 641-472-1566 for help.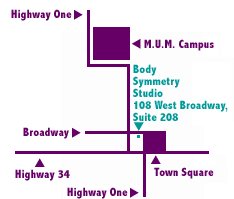 Directions from Iowa City: Take Highway 1 South to Fairfield (travel time: 1 hour)

Directions from Kansas City: Take Interstate 35 North to Osceola, IA and turn right on Highway 34 to Fairfield (travel time: 4 hours)

Directions from Des Moines: Take Highway 163 until the end of the freeway (just north of Ottumwa), turn right on Highwy 63, proceed over the Des Moines River Bridge, then turn left on Highway 34 to Fairfield. (travel time: 2 hours,15 minutes)