Pilates Balance Studio Budapest
Eszek utca (street) 11.
Budapest, 1067 HUNGARY

contact: Zsuzsanna Bokor
phone: +36-70-3196373
phone: +36-70-2408162

mail: Ulaszlo utca (street) 11.
Budapest, 1114 HUNGARY
email: info@pilates.hu

visit PBSB at
www.pilates.hu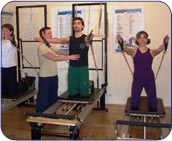 Studio
The first STOTT PILATES Training Center in Hungary and Central-Eastern Europe is located in downtown Budapest, Pilates Balance Studio Budapest is also the largest and is fully equipped with STOTT PILATES equipment and accessories.
The studio provides a friendly and professional environment for students and clients alike. Masseurs and physiotherapists are also available within the studio. With her orthopedic surgeon husband as partner, Zsuzsanna incorporates the state-of-the-art sport and dance medicine in daily exercises for lasting results.



Instructor Trainer
Zsuzsanna BOKOR, a STOTT PILATES certified Instructor Trainer, has been teaching pilates for more than 5 years and runs the Balance Pilates Studio, a STOTT PILATES Licensed Training Center in downtown Budapest.
Zsuzsanna started her career as a professional ballet dancer. She has danced at the Hungarian National Ballet and the Cincinnati Ballet for more than ten years and guest danced in the USA, Sweden, Germany and the Kirov Ballet, in St. Petersburg, Russia.

Getting There
The studio located in downtown Budapest, Hungary and easily accessible with low fare airlines (Ferihegy International Airport 1.), train (Western City Station is five minutes away from the studio), bus or car.
Click for information on local access by car and public transit.
Click for detailed information on affordable travel and accommodation in Budapest.

Accommodation
Youth hostel offers accommodation for approx 10 €, hotel private room between 20-50 €. For more information on accommodation in Budapest click here.