Note: The Rehab Reformer can also
be ordered without the Vertical Frame
Reformer Features
Footbar, spring tension gearbar and carriage stopping system adjust to regulate hip and knee flexion and accommodate different heights and abilities.
Robust footbar, wooden standing platform and pommel-style shoulder rests support a wide range of body weights.
Carriage boasts durable vinyl upholstery and dense EVA foam, finely calibrated to provide maximum comfort and faithful proprioceptive feedback.
Carriage glides over enhanced double C rails using a patented rolling mechanism to create a smooth, friction-free ride.
Easy-roll wheels make STOTT PILATES reformers a breeze to move or reposition.
High-quality materials and construction ensure superior stability and safety. Gauged to withstand continuous, high-intensity studio use.
Vertical Frame Features
multiple spring attachments
2 light arm springs with foam grip handles
2 leg springs with padded straps
maple roll-down bar with 2 springs
push-thru bar with 2 springs
safety chain with dual spring clip adjustments
Equipped with
5 reformer springs
4 x 100% + 1 x 50% tension
soft reformer loops & ropes
3 gearbar positions
6 carriage stopping positions
3 headrest positions
4 footbar positions
detachable shoulder rests
easy-roll wheels
secure spring housing system
Dimensions – Rehab Reformer
carriage width 24", length 38"
overall width 30", length 97"
carriage height from floor 22-1/2"
weight 185 lbs
extra long model available
Dimensions – Vertical Frame
width 28-1/2"
height 85-3/4"
weight 42 lbs
Accessories
Click here to see the complete selection of accessories for all STOTT PILATES reformers
Warranty
Limited Lifetime Warranty,
click for details.


Pricing
Click below to download a price list.
Requires Adobe Reader.


in US Dollars


in Canadian Dollars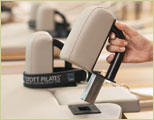 Detachable shoulder rests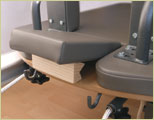 Adjustable three-position headrest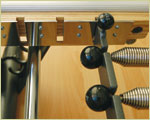 Gearbar slots into three different positions to adjust tension easily. Springs secure quickly and safely.