The ladder or high barrel is designed for core conditioning and stretching, and is a key component of the fully equipped studio. Six rungs accommodate varying strengths and degrees of flexibility. The sliding base adjusts the distance between the ladder and barrel, allowing for different torso and leg lengths. Metal construction ensures stability and durability.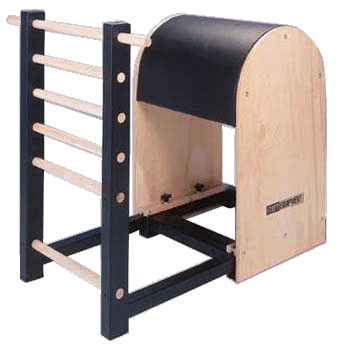 specs width 32" | height 39" | overall length 45" | weight 110 lbs
standard features sturdy metal & wood construction | adjustable sliding base | dense EVA foam | durable vinyl upholstery | multiple rungs accommodate varying fitness levels

The retail price for the Ladder Barrel is $1299US. We provide a professional discount -- if you think you might qualify, please email or call us for more information. Our toll free telephone number is 1-800-910-0001
to purchase: click here to enter STOTT store
©All material copyright STOTT EQUIPMENT SALES INC. 1998. All rights reserved.
This material, including photographs, may not be copied or used in any form without express permission from STOTT.